Integration to Other Companies' Software: Benefits Your Service Could Reap
Written by: Nataliia Popova, DocuSend.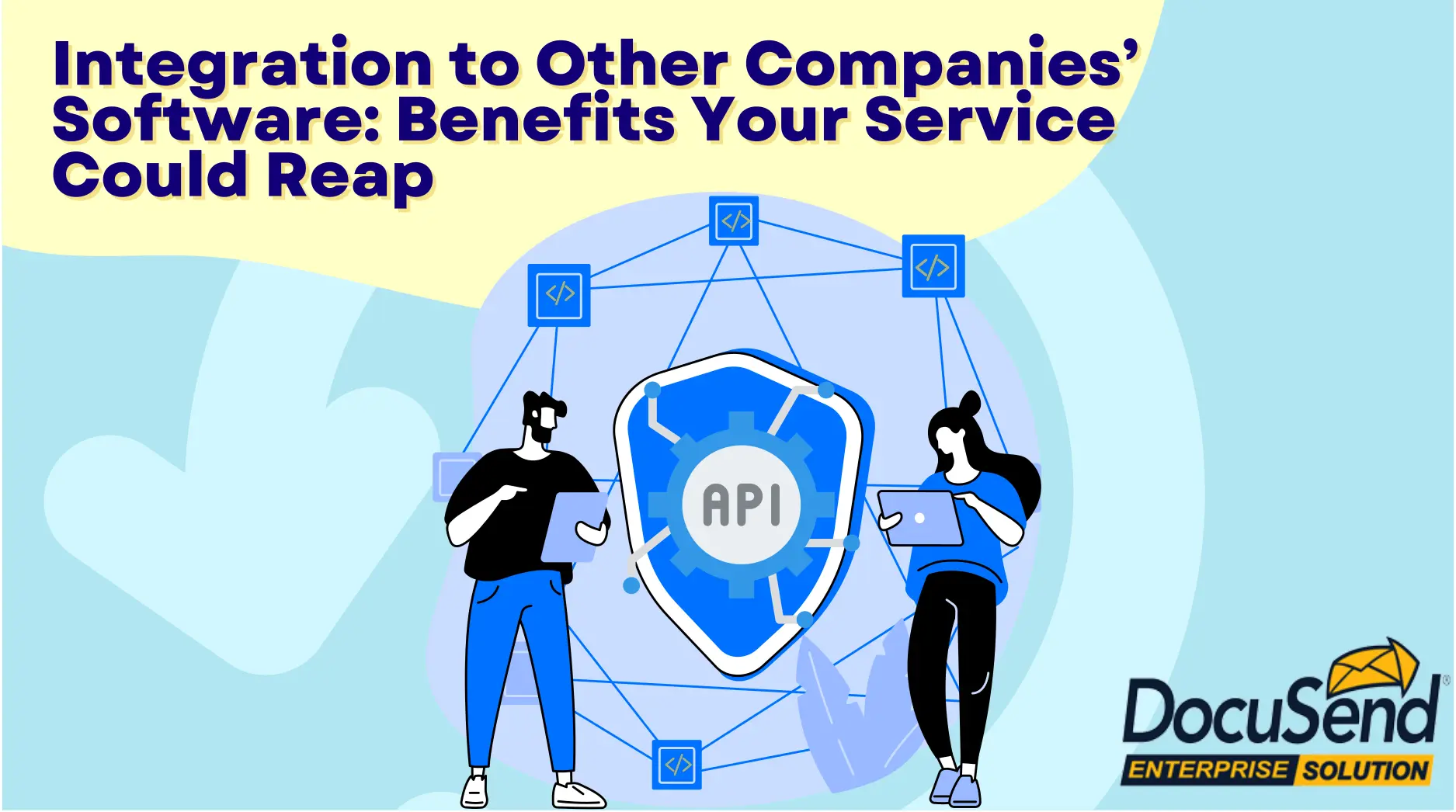 With today's dynamic technological development, software should instantly adapt to modern business needs. Integrating with other applications is an efficient way to add new functions. This model is generating new opportunities for businesses. Its economic benefits are driving all kinds of businesses to move toward developing their APIs and integrating their apps with the software of other companies. So, if you have created a unique product or online service, you could scale your profits by becoming a part of other digital services and get advantages by sharing your technology.
Cooperating with teams of other enterprises enables improvements that would be out of reach for companies to implement by themselves, which can significantly strengthen the integrator's position in the market.
Benefits of Integrating an API with Your Software
Here are the main advantages integrators can get.
An Acquisition and Retention Tool
No software should be considered a complete system. Otherwise, it will soon become obsolete. In this highly competitive industry, it is important to assess users' potential demand for particular features and offer solutions. Companies need new functions to set their software apart from the others or at least provide similar services, something that can attain and keep customers. They may invest in hiring their own developers, but often it's easier to integrate a ready solution.
Creating a Client-Focused Reputation
With integration, the happy end user gets access to more tools and required features that automate and speed up their business processes and allow them to spend less effort on tasks. Also, they can forget about using services from several sources and switching between tabs because now all the functions are in one interface. Simplifying your users' work results in increased customer loyalty.
Reducing Expenditures on IT
Ready solutions eliminate the need to develop new services from the start. The average time to develop an app is at least three months, with most taking anywhere from seven months to a year to take them all the way from the initial concept to the release. The cost of integrating existing services with your company's software is much lower than the cost of a custom-developed program.
Coverage of New Areas Integrators Don't Have Expertise In
Adding a helpful new service in an area that's related to your company's product is a bonus for your users. The integration will help both companies provide completely new functions that improve the quality of customer service.
For instance: A business that offers shipping services can provide an API to online vendors, and since it is integrated into their software, it calculates the cost of delivery and provides tracking. The shipping company benefits from serving the clients that come from these other platforms, and the vendors offer their clients access to more features without having their own technical tools. Or take DocuSend for example: After partnering with companies that provide billing and accounting services, the DocuSend cloud-based mailroom is printing and distributing the invoices of these companies' clients, using its own technical capabilities, so there is no need for the partner companies to dive deep into the mailing industry—they can stick to their own area of expertise.
Let's talk specifically about the benefits for businesses partnering to offer expanded software technologies. Here are the main ones.
Attaining More New Clients
Going to the new platforms will result in more exposure. You can turn their users into potential leads, and potential leads can become loyal customers. All their customers will have access to you—and they might not have even known about you before!
Efficient Promotion of Your Service or Product
You will be visible to the kind of viewers you need. Integrating with the software of a company that works in a sphere adjacent to yours is a great way to reach right to the target audience. And people are more likely to be interested in your product if it helps to create a complete solution for their tasks.
Spending Less on Marketing
Often the integrator will help promote your product or service to their software users, and it is much cheaper and faster for you than if you had to reach those new customers yourself. You can invest less in advertising, and positive user reviews will help you grow.
It All Results in Revenue Growth
It is a common experience that a business grows shortly after integration. That's exactly what happened to DocuSend. By helping the users of partner companies spend less time and effort on their daily tasks and replacing some of their work stages, you will get more and more clients who appreciate your service.
Making Your Application Easier to Use and Continuously Improving It
Cooperation with another company and using its technical benefits can smooth the work of your application, reduce some data processing operations or bypass some stages your service traditionally requires. In the end, it saves time and effort for users.
Serving more customers from different platforms lets you meet new challenges. You can gain valuable experience and make your product more flexible. And having a larger selection of customers and interactions with them makes it easier to investigate their average preferences and offer new solutions.
It is clear that today's demand for application integration is (and will keep on being) a key tendency as it helps to ease the workload of developers and combines the best available technologies. What is also great is that the big and small-to-medium participants in the market become on equal footing. As SMBs team up with larger companies to provide the users with a better experience, they gain a greater client base that generates more income.