Business at Home May Be the New Normal, and Here's How You Can Start
Written by: Tina Martin
Posted on June 19, 2020
---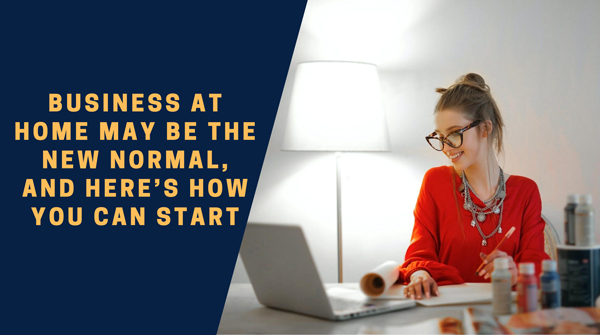 If there's one thing that we're learning in this pandemic, it's that it is more than possible to work and run a business from the comforts of home. But in actual fact, operating remotely was already prevalent long before COVID-19 came into the picture, and as the pandemic started, much of the infrastructure was already in place, which made it relatively easy for businesses and workers to adapt to the current situation.
If you've had a taste of remote entrepreneurship because of the pandemic, you might find yourself keen to make this a permanent arrangement instead of a temporary one. The benefits of working remotely are undeniable, after all. The convenience of working from home is more than compelling, pandemic or no pandemic, while the flexibility that it offers simply can't be beaten. The good news is that it can be done. Let's break down the process of how you can build and run a business from home in no time.
Communicate and collaborate.
One of the most amazing things about running a business remotely is that you essentially have access to a wider range of talent in the form of other remote workers. For this reason, you have the flexibility to hire people either on a full- or part-time basis, depending on just how much you need them and/or their skills and services. As a result, you get to keep your overhead low because you won't be obliged to cover government-mandated contributions like those required for full-time employees, plus there are no office expenses to think about as you're all working remotely.
Now, there's no question that a team composed of dedicated freelancers will potentially be the backbone that will help you grow your business. For this reason, you'll need to put some thought into your remote staffing efforts. For starters, you'll need to determine your business processes because these, in turn, will determine the roles you'll need to fill. At the most fundamental level, these will range from sales to marketing professionals, administrative assistants to creatives, and maybe even developers and designers.
Of course, there are also challenges in leading a team of workers who are unlikely to ever find themselves in the same room. Not the least of which is communication, which is arguably the most important part of running a remote work team successfully. It's important, therefore, to really focus on streamlining collaboration for your team to communicate and work together effectively. Essentially, this is making sure that everyone is in the loop and on the same page at all times, so you can all move together toward the same goals. This, in turn, will entail leveraging collaborative platforms like Slack, as well as creating a company-wide newsfeed and/or team- or project-specific channels to efficiently disseminate updates and marching orders.
Invest in tools to get things done.
And speaking of platforms, no doubt, the tools you use as you run your business remotely will figure heavily in its ultimate success. In fact, the best remote tools can streamline most—if not all—of your business processes and functions so things run more smoothly. In many cases, there may even be opportunities to automate certain tasks, crucial or otherwise. This, in turn, will potentially free up your bandwidth significantly so you have more time to focus on more important tasks, do the things you love, or spend more time with your family.
The tools you should get will largely depend on your business functions. Beyond communication and collaboration, your toolkit will likely need apps that will help you and your team perform marketing tasks, running the gamut from email marketing software to social media post schedulers to website plugins that drive conversions. If selling is a significant part of your business, you'll also need sales management tools for lead generation, sales tracking, management of sales processes and teams, and more—most of which are designed to help you make better decisions and ultimately, close more sales.
Of course, your arsenal of tools will not end there. As they say, there's an app for that, and in this case, there's software for just about every function under the sun—from acquisition to fulfillment, from customer service to your and your team's productivity, and even from payment processing to IT security—so make sure to do your due diligence. Better yet, take advantage of free trials offered by most app developers to determine which ones will serve you and your business.
Stress continuity above all.
Finally, if there's another thing that the coronavirus pandemic is teaching us, it's that things can change in the blink of an eye, especially in business. So whether you're just starting a business in the age of COVID-19, or looking to take the one you already have beyond the pandemic, it's absolutely crucial to adapt your business plan accordingly and have an actionable continuity strategy in place. This, in turn, can ensure that your business will continue to move forward and maybe even grow, even in the face of disasters and the most challenging economic situations.
In a nutshell, your business continuity plan should be able to face COVID-19 and other such disruptions head-on. This will entail planning for various scenarios and giving consideration to how each one will impact your business. Consequently, you can also come up with ways to innovate so as to keep your income stream steady and, by extension, manage cash flow and revenue while at the same time reducing expenses and other liabilities.
COVID-19 may have pushed the idea of remote, digital businesses to the forefront, but there's no denying that there are many virtues and benefits waiting for those brave and inventive enough to grab them. But regardless of whether you're leading the pack or your digital transformation has been a long time coming, there's truly no better time than now to move forward in this promising new business landscape. Indeed, the new normal doesn't look half bad at all!
Image Credit: https://www.pexels.com/photo/woman-in-red-long-sleeve-shirt-looking-at-her-laptop-3765132/