How to Mail Online Without Leaving Home
---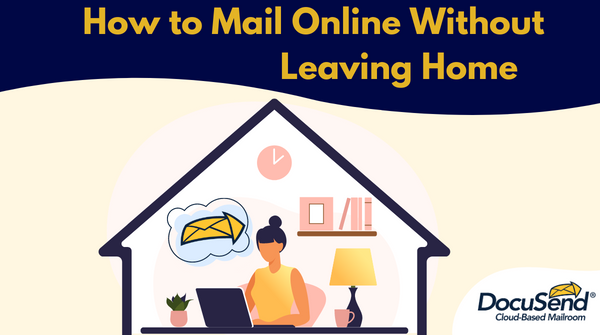 For the sake of convenience and the best use of time, the traditional methods of sending mail have undergone a significant transformation. The rise of online mailing made it possible to distribute important business documents via USPS from anywhere using just your computer and an internet connection.
We needed this because, as we learned from the Coronavirus pandemic, life is unpredictable. There are various scenarios, from heavy snowstorms or torrential rains to sudden illness, in which staying at home becomes a necessity, no matter how busy you are or how many invoices and letters you need to distribute.
Not everyone can conveniently stay home because of the nature of their work. Sending business correspondence is a vital activity that many businesses and individuals must continue without interruption, in some cases on a daily basis. Usually, individuals and companies follow a manual process that involves purchasing stamps, envelopes, paper and toner, then printing the documents, folding and inserting them into envelopes, and placing them in the mailbox or a bin. In contrast to that, online services enable us to send physical documents and letters with unprecedented ease. Whether you are working from home or have to show up at an office, there are some online services that you can take advantage of.
Online Stamp Purchases: A Thing of the Past
Maybe you are thinking, Well, we buy stamps online and all our other supplies as well, so we don't need to go to the store and the post office to get them. And that is a good choice, but you still have to spend your time manually printing and stuffing envelopes.
Even if you order in all the required materials, it doesn't make much difference if you still have to leave your place to take the envelopes to a mailbox or to the post office.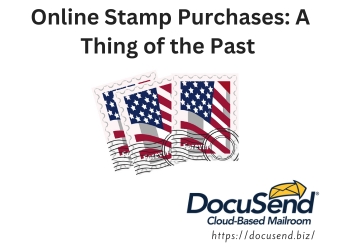 Outsourcing your invoice or marketing mail: it is faster than buying a stamp!
An online mailroom that does all the printing, preparation and distribution for you is a faster and more cost-effective way to send paper documents. It's something even better than buying stamps online and having other supplies delivered.
Yes, there is a way to remove the manual preparation entirely yet keep sending real paper documents through the post office. The innovative online tool called DocuSend eliminates any need to go out. It essentially provides you with a cloud-based mailroom.
Some of the advantages are:
All-in-one price, half the cost of handling your correspondence by yourself: Pricing for print-to-mail includes processing, printing, folding, inserting, postage and mailing.
First-class mail: All documents sent through DocuSend are first class.
Free first-class mail tracking service.
A variety of customized features and options that are easy to select: Choose perforated or plain paper, a remittance envelope, color or black-and-white printing, one- or two-sided printing, and add a PDF, PNG, JPEG or JPG insert(s) to every envelope.
Certified mail: Track sensitive documents without a trip to the post office.
No inventory management: No more ordering paper, envelopes and toner. Switching to online distribution completely frees up a lot of time and space.
Easy online PDF file upload: No programming; works with any accounting software. It takes only a few clicks of a mouse to upload thousands of documents.
Free Report Portal: Simplifies tracking of documents mailed.
Free Image Bank: Easy access to images of the mailed documents.
Mail into the USA from foreign countries: Eliminate foreign postage and get quicker delivery.
Free address clean-up and NCOA-update services: DocuSend offers a significant advantage by helping you ensure that your address list is accurate and up to date. It not only enhances the efficiency of your mailings but also reduces the probability of undeliverable mail.
Faster delivery of your communications due to Intelligent Mail barcodes we put under every address, which means faster feedback from your clients and expedited cash flow.
More professional look of your correspondence compared to stamped mail: DocuSend's polished documents and consistent printing quality reflect positively on your business image.
No monthly contracts or minimums: Pay as you go with no monthly fees or long-term commitments. As it is an online app, there is no software to purchase either. Just upload your documents whenever you want them to be sent!
Your mailing process is as fast and efficient as possible when you print and mail through DocuSend. It's equally great for the office, remote work, and the hybrid models that have become more prevalent in the modern work culture. That's why incorporating an online mailroom into your workflow is more than just a smart move—it's a revelation. Whether you're working from a traditional office, remotely, or in a hybrid model, stay at your desk and let the speed and efficiency offered by DocuSend ensure that your vital communications go out smoothly no matter the circumstances.
We'd love to hear about your experiences with online mailing and your thoughts. Please feel free to share them in the comment section below.