What Is a Cloud Security Assessment and Why Is It Important?
Authored by: Joanna Sobran, Guest Blogger. DocuSend.
---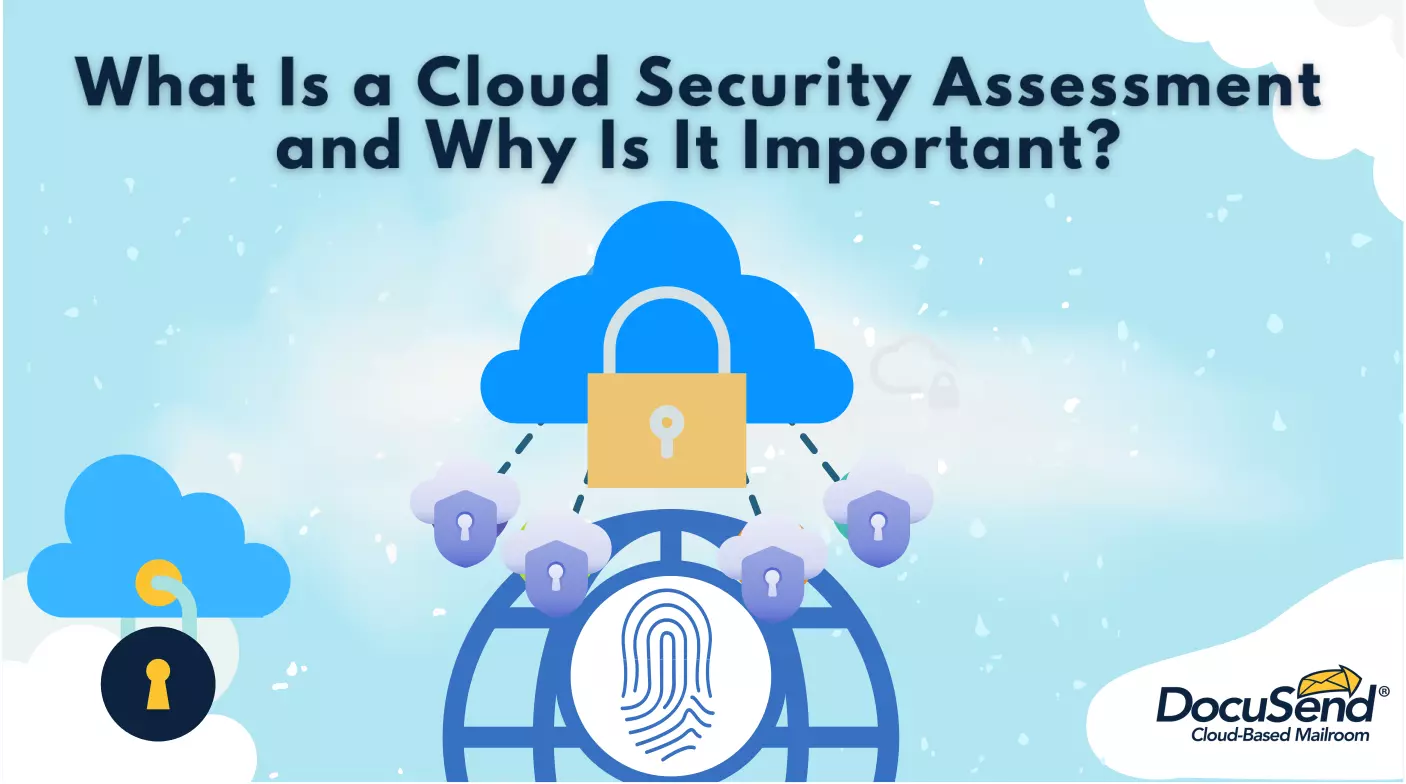 Companies are moving to the cloud. According to a study, 83% of organizations believe the cloud is critical to their growth. Further, 69% have plans to move at least 60% of IT operations into the cloud in the next two years.
Increasing cloud adoption, however, creates an expanding digital surface for potential attackers. Over the past three years, the total volume of cloud attacks has risen significantly. By the end of 2022, experts predict that 80% of attacks will include a cloud component.
As a result, businesses need a new approach to protecting IT assets. Moment-in-time evaluations and legacy solutions are no longer enough to stay ahead of evolving threats. The first part of this proactive, protective approach involves cloud security assessment.
Here's a look at what assessments look like, how they work, and how your business can effectively implement this practice.
Common Challenges in Keeping the Cloud Safe
Every cloud deployment is unique. Some organizations opt for public models that leverage powerful shared resources with cost-effective access, while others choose entirely in-house, private frameworks that afford total control.
Still others are adopting hybrid approaches that combine elements of each. For example, resource-intensive workloads might live in the public cloud, while mission-critical data stays safe under the auspices of on-premises private clouds.
No matter the model, companies experience common challenges in keeping the cloud safe, including:
Increased sprawl: To account for sudden remote work shifts and new hybrid office models, companies have leaned heavily on the cloud. It makes sense. Cloud solutions offer the simplicity and scalability needed to help ensure staff have access to the resources they need when they need them. Yet increased resource availability can also lead to increased sprawl, making it easier for attackers to find and exploit underutilized or under-monitored cloud services.
Limited visibility: Visibility is also a challenge in the cloud. As more services from more providers are deployed, it's hard for IT teams to get a clear picture of what's happening, when and where. This creates a golden opportunity for attackers. If they can deploy malicious code or carry out suspicious activities' unseen, they can extend the time it takes for security teams to detect, identify and remove cloud threats.
Evolved attacks: Attackers prefer the path of least resistance. As a result, they're willing to experiment with new vectors while also making liberal use of successful attack frameworks such as phishing and ransomware. The result is an evolving attack landscape that combines social engineering with machine learning and in-depth reconnaissance to spot cloud weak points.
What Is a Cloud Security Assessment?
A cloud security assessment evaluates, tests and analyzes your organization's current cloud infrastructure to determine the overall risk of potential attacks and identify areas for improvement.
In practice, assessments often address six key areas:
Overall security posture: How does your company respond to cloud threats? How quickly are you able to identify issues and evaluate solutions?
Access control: Who has access to what, when and why? The more users have access to critical cloud services, the greater your risk.
Network security: Are current firewall, network segmentation and intrusion detection policies sufficient to handle evolving cloud threats?
Application security: What does the application landscape look like across your cloud(s)? What type of interoperability and interdependencies exist across your application stack that could pose security risks?
Workload security: How are users accessing cloud servers? This includes consideration of authentication approaches, VPN use, and other methods to reduce user and workload risk.
Incident response: How does your company respond to incidents? How long does it typically take to identify and remediate cloud threats? What's your ideal recovery time objective (RTO), and how close are you to meeting this goal?
Five Steps to an Effective Cloud Security Assessment
What does an effective cloud assessment look like? It's one thing to recognize the need for cloud evaluation — it's another to create and deploy an effective assessment.
Five steps can help streamline this process:
Understand what you have: First, assess all cloud providers, services and applications across your network to create a unified understanding of what you have, where it is, and how it works.
Pinpoint gaps: Armed with knowledge of your current cloud landscape, start poking holes. See where systems are weak, where they fail, or where they can be circumvented to pinpoint gaps in security.
Determine what you need: Next, determine what you need to deliver improved security. This might include the adoption of two-factor authentication (2FA) and access, or the deployment of next-generation firewalls (NGFWs) capable of going beyond static assessment to dynamically evaluate traffic and resource requests.
Create a recurring framework: With your initial assessment complete, create a plan to regularly execute cloud evaluations. Given the dynamic nature of cloud attack vectors, recurring assessments can help reduce the risk of unexpected compromise.
Consider asking for help: If IT isn't your area of expertise — or your cloud environment is growing too fast for teams to keep pace — consider finding a reputable third party to help design and deploy effective cloud security assessments.
Benefits of Proactive Assessment Processes
While it's impossible to prevent every attack, cloud assessments can lower your overall risk and minimize the impact of security threats when they occur.
Cloud assessments also play a key role in the larger process of proactive protection. By seeking potential security weak points — rather than waiting for them to be exploited by enterprising attackers — businesses can develop a security posture that looks to solve problems rather than simply reacting after the fact.
This is especially critical as multi-cloud deployments become the norm. With many companies now leveraging multiple cloud vendors to address IT concerns, it's easy for complexity to outpace security and create openings for industrious attackers. By creating a robust cloud assessment program, meanwhile, and seeing that it becomes part of regular infosec operations, organizations can simultaneously leverage the benefits of expanding cloud services while reducing total risk.