The Funnel, Its Influence on Marketing Strategies and How to Create One
Authored by: Alice Witherow, Director of Sales & Marketing. DocuSend.
Posted on March 23, 2021
---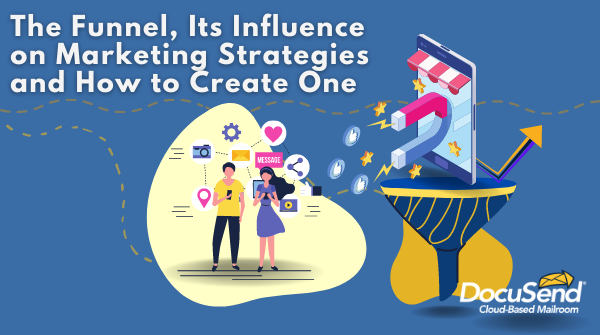 A sales funnel is the process that you hope each prospect will complete in order to convert them into potential customers, who eventually become new, repeat and loyal customers.
Funnel Stages
It's important to understand the rationale behind removing these workers from their designated responsibilities to perform this menial task. When CFOs ask managers why skilled employees are being pulled from their assigned work to stuff envelopes, chances are they will hear something like: ''Because there is no better way to do it.''
Awareness: The goal at this stage is to create a strong first impression and build a relationship with your prospective customers. Examples: blogging, social networking, marketing channels, etc.
Interest-Consideration: This is your chance to create closer relationships with customers. Engage with them. Examples: landing pages, site optimization, calls to action (CTAs), forms, demos
Action-Purchase: Leads are converted into customers.
Loyalty: At this point the customer is satisfied with their purchase and becomes loyal to the brand.
Recommendation: Satisfied users recommend your service or product.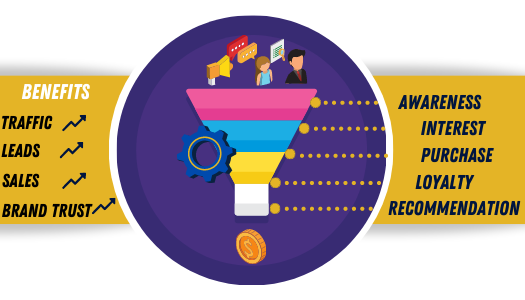 Marketing, SEO and the Sales Funnel
Marketing and SEO fuel the funnel because all marketing strategies and SEO efforts to appear on search engines in the first position—such as keywords, blogging topics for your target audience, ads and social media campaigns—generate awareness and build recognition for your product or service, which brings users to your business.
The main objective of the funnel is to support these strategies to influence visitors so they complete the journey by buying the product or service your company offers.
At the final stage of the funnel, we want customers that have completed the journey and bought our product or service to recommend it to other prospects, which will keep the cycle of the funnel running constantly.
Once users get into your site or contact your company, the funnel starts gathering data for analysis. The duration of funnels varies by industry; for example, the B2B sales funnel for an enterprise software company can last months or more, while on the other hand the B2C customer journey through an e-commerce site could take place in a matter of minutes.
When You Create a Funnel, You Can:
Increase quality traffic on your website by detecting areas where customers leave your site without completing a purchase, then improving those areas to keep them engaged.
Attract more searchers to your site because keeping visitors engaged longer improves your search engine ranking.
Increase the number of leads by knowing the names of those who come to your website and are interested in what they find on it.
Increase the quality of leads, creating real sales opportunities for your products or services.
Establish a relationship of trust with those who visit your site by improving interaction, engagement, and the brand image of your company.
Influence their purchase decision toward your brand.
Encourage them to recommend your brand.
Why Do Business Owners Need to Understand the Sales Funnel?
If you have a marketing team working with you, they can usually provide you with details about your sales funnel. However, you may be the best person to find holes on your website that can be affecting your potential buyers' journey.
For example:
Imagine you are an e-commerce business. Your business is getting a thousand visitors on your website each month, but just 30 of them complete the buyer journey, so your conversion rate is 3%.
Analysis: This business site might profile their visitors in a funnel and identify that there is a large drop-off in users between visiting the shopping cart and completing the transaction. Using this data, you and the marketing team can form a hypothesis of the possible reasons or perhaps one main reason. The company can then test creative ideas for improving the conversion rate, such as reducing the number of form fields, establishing trust with sales reps, adding more CTAs, or presenting limited-time offers. Focus on optimizing your product pages by removing conflict and doing all you can to encourage shoppers to check out.
To create a sales funnel that really works for your business, accurate research is needed, and here is where you can take advantage of a free tool: Google Analytics (GA).
How to Create a Funnel on Your Google Analytics
Log in to your business Gmail account.
Open your GA
Select the Admin tab.
Select Goals from the menu.
Select New Goal.
For faster configuration: select a template to start with a pre-filled configuration.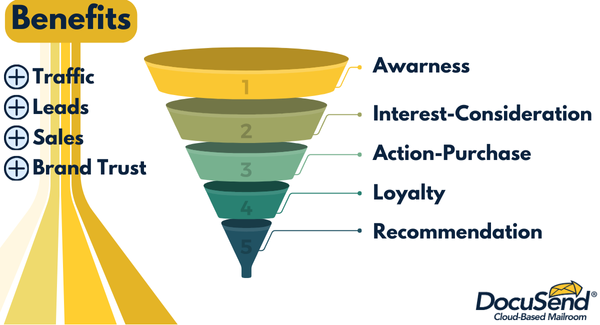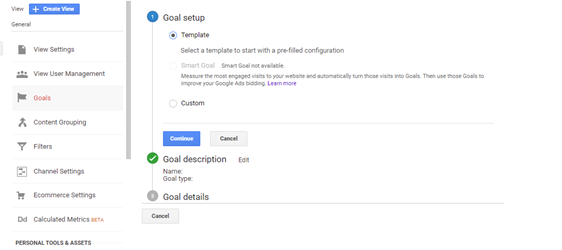 Here is a short Google video about how to create a sales funnel from GA:
With this funnel you can see the steps your users take as they move through your website to get to the stage of completing a purchase, and you can identify where users tend to drop out of the process of buying your product or service.