DocuLink: Solving the Problems Inherent in Sending Sensitive Documents by Email
Authored by: Fred Morgan, Founder DocuSend.
---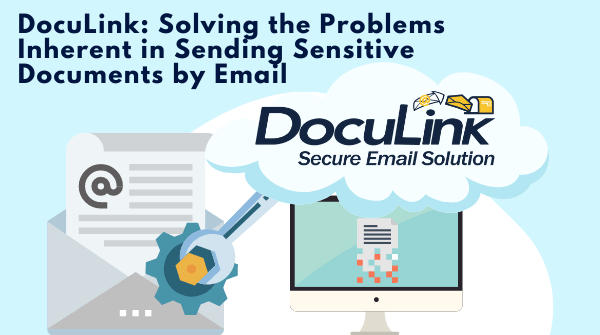 How the World Came to Depend on Email
Email seems to have always been here, but though ancient by technical reckoning, it was only invented in the early 70s. It was used inside the old ARPNET system (which predated the public internet). It wasn't until 1996 that Microsoft included a precursor to Outlook in their system.
It seems odd now, but I remember being one of the early people who got an email account from Google—and unfortunately, I didn't use it. I had "my name" @gmail.com; I was that early!
So, for only about a quarter of a century, we have been using email, and now everyone uses it. The issue? It was developed before spamming, phishing and various other threats came into existence.
Email servers work by being receivers—anyone can just send a message to them. In the early days, there was a high degree of trust among the users. Then, as with almost anything, people figured out how to make a buck from it—and not always legally.
Because a sender can be anywhere in the world, it is hard to police email. What is illegal in the USA may of necessity be tolerated in a less-developed country.
Much of the backbone of the internet was developed as open-source software (OSS). OSS is code designed to be publicly accessible—anyone can see, modify and distribute the code as they see fit, and you generally don't pay for the software of the servers. This means most email servers are based on software that relies on the kindness of developers to enhance their security.
Other offerings do exist that are much more robust, but there is a tremendous amount of junk sloshing through the system. Unlike printed junk mail, which costs money to send, email is virtually free to the sender—it only costs the receivers in having to deal with it.
To combat this as well as phishing, aggressive antispam software was developed, both on mail clients (a program used to access and manage a user's email) and on servers. These work in part by identifying phrases used by those who are trying to get you to respond, which is an ongoing battle, as these phrases evolve.
Unfortunately for those who need to get their bills paid, phishing schemes have picked up on the phrases used on invoices and use them to get people to pay fake bills, often imitating existing companies. This has resulted in many legitimate bills being labeled as junk mail, which means often, customers don't even see them. And some who do see them don't realize they are legitimate: we see from our bounce rates that 0.5 percent of bills emailed by our clients to their customers are reported by the recipient as spam.
Bulk email can get your email domain placed on the spam lists. The servers are looking for mailing campaigns, and sending too many emails too quickly from your own domain can trigger them to blacklist you. Then you have to track down the sites that have blacklisted you and get them to remove you from their list. This takes time, and during this time, all the rest of your emails are going into junk folders all over the world.
There is an ability to send with a read receipt, but many systems block the return; we tested this and it isn't reliable. The sender can't know who has received the email, much less who opened the documents sent.
DocuLink Changes All That
The vast majority of DocuSend users have hybrid databases made up of customers that can't or don't want to receive documents through the internet, and those who prefer to receive invoices electronically. We determined that to facilitate reliable electronic billing, the system must:
Send emails from a source that is white listed, and remains white listed
Allow for customization of messages and sender email address.
Be able to send large amount of emails for a low cost, without fear of being blacklisted.
Provide a secure site where the document can be read, instead of sending an attachment. Due to virus issues, more than a few businesses won't allow attachments in emails.
Be able to report which documents were not read on the secure site.
Make it easy to send the document by postal mail, if the email was not read.
Work with invoices easily without requiring programming.
These are the features we built into DocuLink, the latest addition to DocuSend's automated cloud-based mailroom service, which safely and securely distributes important customer communications such as statements and invoices using proprietary PDF technology.
DocuSend extracts only the addresses from PDF documents and rebuilds them without changing any other information on the original document. Users then upload 8.5 x 11 PDFs to a secure website, and DocuSend mails them within two business days. Any size organization can have their bills and invoices printed and mailed in about the time it would take to email them.
The New Automated Way to Integrate Email and Postal Mail
Since most organizations have a mix of clients who have opted for paperless delivery and those who prefer to receive hard copy delivered in the mail, we invented DocuLink to address the problems inherent in sending financial and other sensitive documents by email. We made it possible that if a document goes unopened, the sender can automatically or manually have it sent via USPS.
Here's how it works:
DocuLink uses a secure platform to create an encrypted link that replaces the email attachment. The email recipient opens the link in a secure portal to view their document. This process will look familiar to users, as many organizations like banks and credit card companies have the email recipient view their statement on a secure site rather than sending it as an attachment—now anyone can do that without having to support it on their own server.
The DocuLink service includes reports for the sender with the date that the document link was opened. The sender determines what action the system should take with links left unopened. For example: If the link has not been opened, the sender can choose to email it again. They can also set a parameter so that, if the recipient still has not opened the link after a certain number of days, the document enters the DocuSend print-to-mail system and is mailed through the USPS. The sender does not have to set this parameter up in advance; they can trigger the action after seeing the report.
Since 2015, DocuSend has been expanding into various ways of getting documents to users. We started off with First Class mail and black-and-white printing, and now we offer:
Color printing
Return envelope included
Inserts
Duplex or simplex printing
Oversized mail
Certified and Priority mail
Second Class mail (marketing mailings)
NCOA for larger jobs (National Change of Address)
HIPAA compliance
Foreign mailing
QuickBooks Online integration
Custom work for clients with large-volume mailings
Where do we go next? You tell us—what do you need to be able to make DocuSend your one-stop cloud-based mailroom?