Get Faster Business Mail Delivery, Lower Postage and Free Tracking Too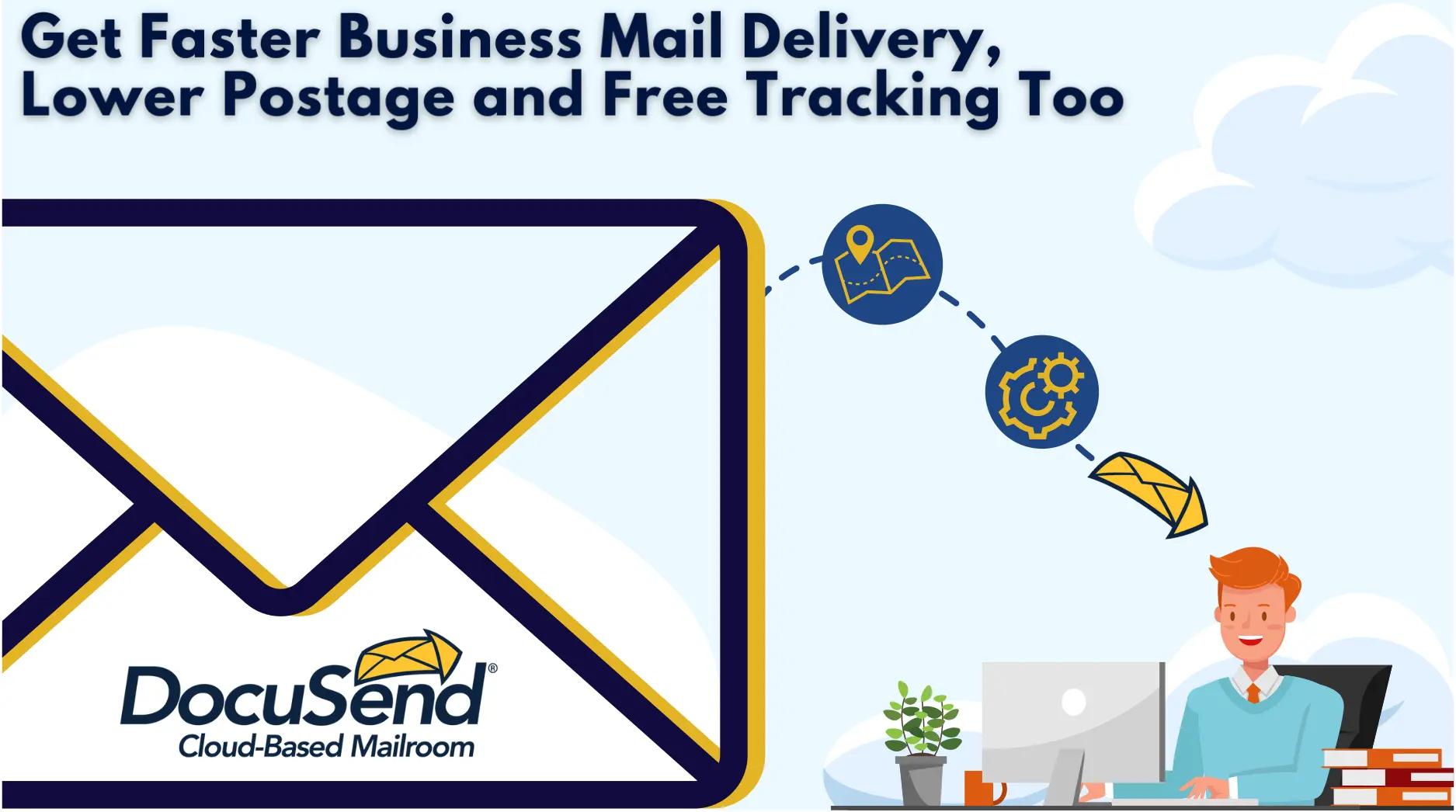 DocuSend's postal automation process significantly decreases the time it takes for your mail to be delivered, while cutting internal mailing expenses in half. We even let you know when your important business communications arrive at the postal facility that the carrier will deliver them from. We've got the data to prove it!
Your Mail Delivery Time: What You Should Know About It
"USPS delivery standards" refers to the typical number of days it takes from entry of the mail piece at a postal facility until it reaches its destination. Two of the primary factors affecting delivery time are the distance between the point of entry and the destination, and which USPS service you choose.
Automated Processes Available Through DocuSend
First Class Mail: First Class is recommended by the USPS for anything time sensitive and is mandatory for any document containing exclusive information specifically intended for only the recipient, such as financial and health care information. Automation First Class Mail is processed by the USPS before any other class of mail. A letter with a first-class stamp on it will not be processed until the automation mail has been completed.
USPS Marketing Mail, sometimes referred to as Standard Mail, is recommended for sending any information that is not required to be mailed First Class mail. Lower nonprofit prices are available for USPS Marketing Mail, but require specific authorization. DocuSend tracks your marketing mail to the USPS facility that will deliver it, same as First Class Mail. A minimum of 250 documents are required to for marketing mail through DocuSend. Marketing mail can take 3 to 5 days longer to reach its destination, but DocuSend's automation process is the fasted way to process marketing mail due to automation.
Priority Mail Express Flat Rate Boxes and Priority Mail are used to mail packages that exceed 13 oz in weight and are usually delivered within 3 business days.
The Tradeoffs
Although Marketing Mail is less expensive than First Class, the lower postage rate comes with longer delivery times, as Marketing Mail has to wait to be processed by the USPS until after First-Class mail has been handled.
There are other tradeoffs as well: the USPS does not include a tracking option with Marketing Mail, and two services that are free with First Class have a fee with Marketing Mail—return if undeliverable and mail forwarding.
Unlike with First-Class mail, the USPS has no legal obligation to deliver Marketing Mail. If the address is not "deliverable" they can dispose of the piece and the sender may not be notified.
DocuSend effectively removes two of these downsides.
We can't provide forwarding, but we hold undeliverable pieces from being mailed and notify you of the invalid addresses so you can fix them and reenter them as valid addresses.
We also provide all our clients with a free tracking service called Mail Trail, based on USPS mail tracking technology. At every intermediate mail processing center, your mail piece's Intelligent Mail barcode (IMb), which we print under the mailing address, is scanned, and we receive the information about its current location. Our users can see this information in their personal Report Portal. There you can verify the date your mail pieces entered the USPS postal stream and track them by the Zip Codes of the postal facilities they enter, up to the final one.
Presort Reduces Postage Rates
If you have enough mail pieces (250 pieces for Marketing Mail), the USPS allows you to presort by ZIP Code and receive a lower postage rate. If you send classic stamped mail, the Postal Service needs time to sort it by shape, check whether stamps are valid, scan the addresses using optical character readers, apply IMbs for further transportation and sort to the correct district. Since presorted mail requires fewer operations at the post office, the Postal Service can provide a discount.
DocuSend First Class services do not require any minimum number of documents. Your business may have time-sensitive communications or need to strike while the iron is hot as part of your business requirements. Most services require a minimum of 500 pieces to qualify for automation presorted mail. Not with DocuSend. No matter what size your mailing is, you can enjoy a lower price, as your mail is combined with everyone else's to reach the presort requirement. Not only that, you don't have to take the time to print, fold, insert into envelopes, stamp and seal, because you just send the PDFs online and our high-speed machines do the rest.
Automation Mail Is the Fastest Way, But…
For mail to be automated, it must be presorted by Zip Code, but that's not all. Far from it. The rest of the requirements for USPS Automation mail are:
* A minimum number of pieces (250 for Marketing Mail, 500 for First Class).
* An Intelligent Mail barcode encoded with the correct delivery point routing code on each piece in the address block or in the barcode clear zone.
* An address list that has been checked and CASS-certified within the last 180 days. CASS stands for Coding Accuracy Support System.
* A complete address with the correct ZIP Code, ZIP+4 code or numeric equivalent to the delivery point barcode (DPBC).
* A specific shape and size.
* No more than 3.5 ounces for automation

DocuSend will help you meet all of these requirements and more.
Because all this is done by the sender, it saves the USPS some of its costs to process the mail for delivery, so they can offer lower postage rates than for nonautomated mail.
Too much for you? Not for us! It's what we do.
How Much Does DocuSend Reduce Delivery Times?
Naturally, the USPS delivery standards are not always achievable. Busy days, bad weather conditions, holiday time with its increased workload, destination spots located in remote rural areas, cases of misrouting and other reasons can have their impact. However, the majority of First-Class mail, including what is shipped from coast to coast, is delivered within the 3 to 5-day range.
We know this because of our Mail Trail tracking service. DocuSend keeps delivery statistics per state, so you can get an overview of how many days mail sent through our cloud-based mailroom takes to travel to different states from our facility in Rochester NY. It is based on the mail of our clients for the last 6 months. You will notice that sometimes it is faster than the standards; sometimes it's even only a few days nationwide: at the time this article was first published, 35.43% of the First-Class mail going from New York to California gets there by the second day, and 25.12% by the third day.
While First-Class Automation Mail has the fastest delivery standards for Automation mail, usually 2 to 5 days, Automation Marketing Mail sent with DocuSend is not all that far behind, about 3 to 5 days longer, a little more if it has to travel longer distances.
We leave the decision to our users. The important thing to remember is that we can track the mail for you at no charge. And we can also help you split your mailing addresses geographically, so you can mail important documents First Class that are going long distances, and the shorter-distance mail can be sent through Automation Marketing Mail.
There is a minimum volume requirement of 250 pieces for DocuSend's Automation Marketing Mail service because we hold undeliverable addresses and send out the rest. We set the minimum at 250 to make sure the number of envelopes we send out qualifies for the USPS's minimum of 200.
DocuSend offers Automation letters only, typically used for renewal notices or advertising materials mailed in letter-size envelopes.
If you want your mail to get to its destination faster, use DocuSend's online mailroom. It provides tracking for both First Class and Marketing Mail, works without any contracts, monthly payments or software to purchase, and optimizes mailing for thousands of small-to-medium businesses nationwide.