How can I mail invoices without leaving my home?
Alice Witherow, Director of Business Development DocuSend, powered by MTI
Posted on April 09, 2020
---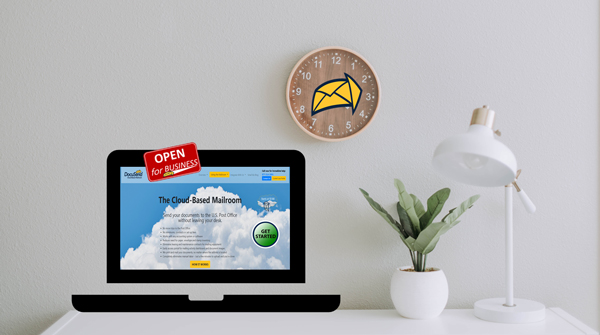 Daily life has changed, and businesses are searching for online services to fill necessities. One of the main concerns is mailing invoices and statements.
Do you have invoices and statements that need to be mailed to your customers but you're working from home? And all your mailing supplies, like your printer, envelopes, paper and stamps are at the office? By now you're probably googling to see if you can send a PDF to be printed and mailed, and if so, who provides that kind of service because like most of America, you're avoiding having to go to a public place like the post office or a mail box to drop your mail.
What you need is a cloud-based mailroom that will take care of the printing, folding, stuffing and stamping for you, and then deliver your documents to the United States Postal Service.
Services such as DocuSend, our cloud-based mailroom, can take care of your mailings for you without you having to go to the post office during this COVID-19 crisis. We hear from new customers every day that are looking for a service to print documents and have them mailed. We're thankful that we can be there for them, as DocuSend is deemed an essential business because we are a mailing service provider. (Don't worry—while most of our team is able to work remotely, essential employees follow all recommended protocols to keep safe during these difficult times.)
So, if you can create a preaddressed PDF, we can mail it for you.
How's that? Well, we made DocuSend simple to start using right away without minimum quantity requirements, contracts or set up fees. And it works with any accounting, billing or CRM software.
Not only is it possible to keep your mail going out, it's easy to upload and send PDF invoices to our secure website. You can upload one document or thousands. We give you options such as a remittance envelope, perforated paper and color printing. If you want to give your customers an update about your business, you may want to consider adding a generic insert to your mailing, as it's a cost-effective way to keep your customers informed.
And if you're a QuickBooks Online customer, find an app such as our DocuSend App for QuickBooks Online. The app is free to launch, you stay within the QuickBooks Online environment, it's superfast to upload, and you just pay for the service when you need to use it.
So what should you look for in a mailing service?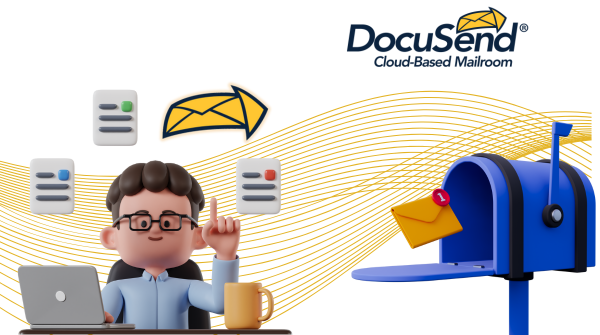 Experience – look for a company that has a good track record and has been in the mailing industry for years.
Competitive pricing that is clearly stated – watch out for those hidden charges, monthly fees and minimum quantity requirements.
Reporting – you should receive access to a customized portal with a reports dashboard and ability to view images of the documents you mailed.
Simple to use – find a service that allows you to upload PDF files.
We know that the small business landscape has changed for a lot of people in the last several weeks, and DocuSend is here to help during these trying times. If you're new to using a service to print and mail your customer documents, give us a try today.