How to Mail Letters or Invoices Internationally
Authored by: Katherine Monestel, DocuSend, powered by MTI.
Posted on November 26, 2019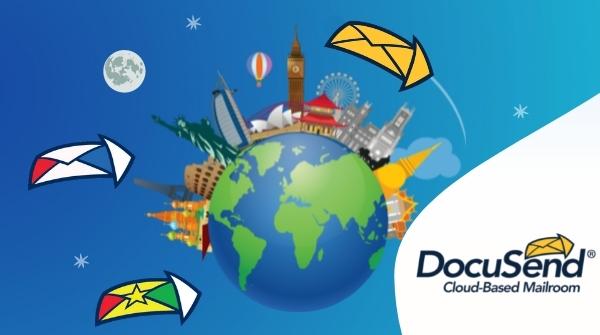 Nowadays, the internet and cloud services are providing lots of opportunities to gain an international market. This tendency is motivating more businesses than ever to extend their market outside their country's boundaries.
Mailing documents to foreign countries has turned into an essential task to keep businesses running and maintain their cash flow. But for most business owners, it can be a hassle trying to mail invoices or important documents internationally through the US mail.
Why?
Because most of us do not even know how the process works, so we spend valuable time investigating through the post office in order to get this task done.
To make our life easier, here are two different ways that we can mail letters or documents to foreign countries. Here you´ll find some steps to follow and get your international letter, invoice or document out the door.
"First Class Mail International" is the most affordable mail class to send letters or documents to over 190 countries.
The Traditional Way
Steps:
Write the letter or prepare your invoice document
Buy a stamp (you can buy it online or get in line to buy one at any authorized post office)
Go to the local post office
Weigh your letter (prices vary depending on weight)
Prepare your envelope with the proper address format:
Don'ts
Do not write the country's postal code (ZIP Code) on the last line of the address
Do not underline the country name
Do's:
Review the list at the link above to see if the country that you want to mail to is in the list of countries that USPS delivers to
Write in the center of the envelope the country name in all capital letters
Make sure the foreign country name is spelled as it appears in the list
The Modern and Automated Way
There is an easier way to send a letter, invoice or document via US mail without buying stamps or spending time in the post office. And it's not only hassle-free for you, it also helps the environment by reducing vehicle use. (Imagine if everybody used this method?)
Do you want to know how?
Follow these steps:
How to mail letters through US mail without leaving your desk:
Create a preaddressed PDF.
The name of the foreign country should be on the last line of the address block.
Your file should contain a mix of both USA and foreign addresses. We identify the foreign addresses and assess additional foreign postage. (Note: Please contact DocuSend if your file contains only foreign addresses.)
For USA addresses, do NOT list the country.
Upload the PDF to DocuSend.
Here's how you do that:
Click on this link https://docusend.biz/UploadPDF.php
Select the option Include or Do not Include Remittance Envelope
Then click Upload PDF File
Review and add to your shopping cart
Process payment (There is no contract or minimum number of documents to mail)
Documents are mailed via the USPS by the next business day
Very simple, right?
It´s faster than buying a stamp!