Is Posting Guest Blogger Articles on Your Site a Good or a Bad Idea?
Written by: Katherine Monestel, DocuSend, powered by MTI
Updated on July 29, 2022
---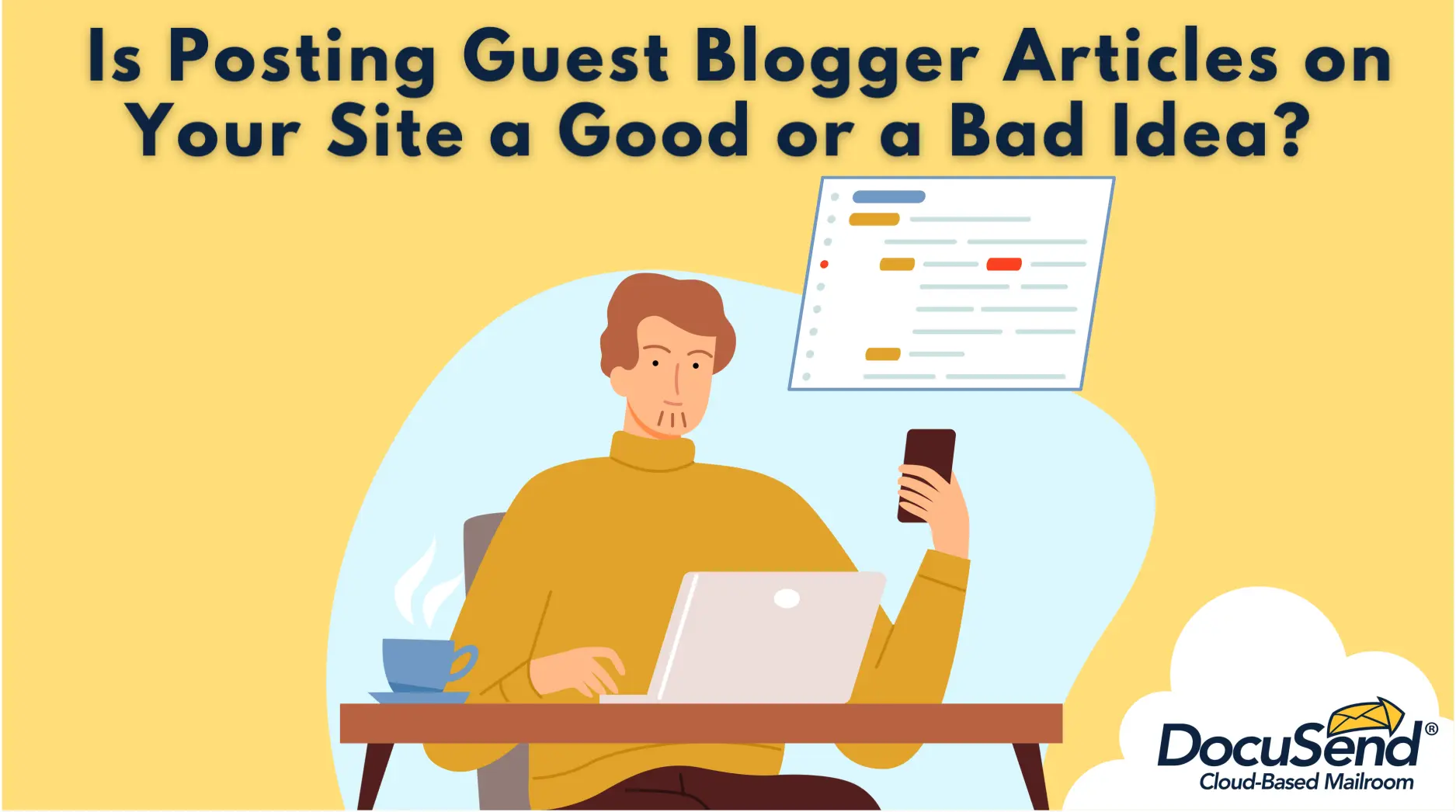 Fresh content is an important factor for Google ranking, but to keep on writing two or more articles week after week is a hassle.
Often, guest bloggers know how important it is to create long articles with great content plus valuable links that support their ideas.
Be careful, though, if you notice that a writer does not show experience or has black-hat SEO in their writings. A prime example is repeating a keyword in almost every paragraph, called keyword stuffing. This is not always deliberate, so you may want to give the blogger a chance to correct it.
Be vigilant about guest bloggers' articles; do not assume they always write content that will help your site in search engine rankings.
How do I know if I should accept an article?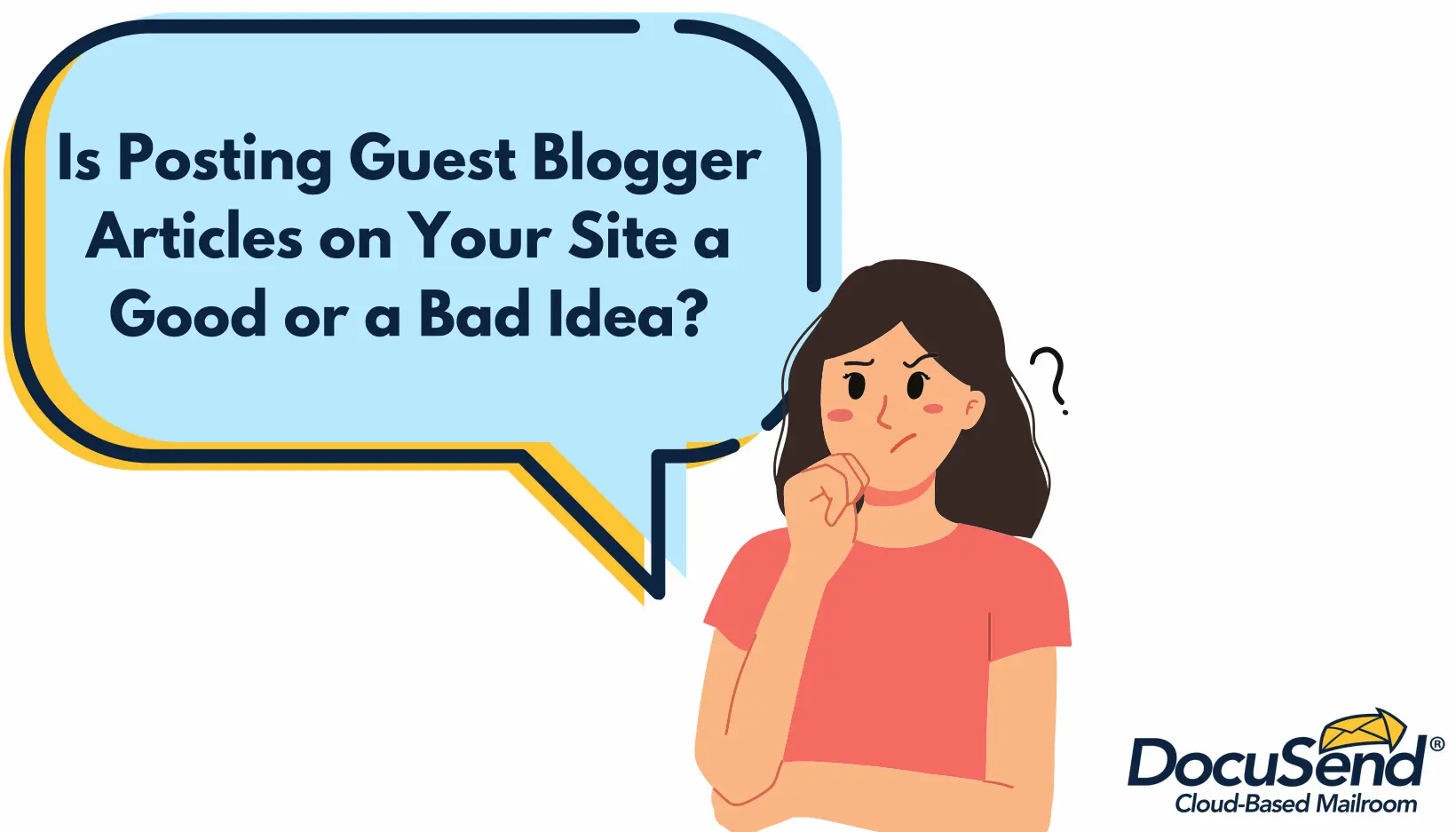 Keep reading to know how to decide.
3 Important Benefits of Accepting Guest Posts on Your Site
1.Enjoy the little free time you have.

Business owners are really busy managing their companies. It doesn't leave them time to sit and write. If you are a small business owner, you know what I'm talking about. Having guest writers on your blog gives you the chance to relax—or to focus on other important aspects of your business.

2.Diversify content to keep your website fresh.

New writers will bring fresh and valuable content to your site. Every person has a different viewpoint on any given topic, and it will be a great opportunity to learn from someone else on your own site. Having writers frequently coming to post on your site means your blog will never run out of content.

3.Access new audiences.

Every well-known writer will bring their audience with them. Sometimes it will be small, but any new audience is always welcome.
Important Aspects to Consider When Accepting Guest Posts on Your Blog
• Create guest post guidelines. Include important points such as:

- Content should be 100% original: no plagiarism, no self-plagiarism, not published on other sites.
- Pitch-free (self-promotional pieces will not be published).
- Post length at least 1000 words.
- Content should fit with your niche.
- Once their content is published, you own their article and it can be modified or removed at any time.

• Keep a link policy.

Avoid excessive external linking. Guideline: 3 or 4 external links per post. Link to reputable sources with good domain authority and no spam score. (Experienced writers know this, but just in case there is someone new to this area, you should be clear about the link policy.)

• Look for potential and well-known writers.

It's always great if you can attract well-known writers to your site, but up-and-coming talent can bring a fresh approach.
You may wonder:
Why do people like to write for other sites for free?
The main reason is recognition, or brand awareness. The truth is that they will reach far more people by combining the audiences of other blogs compared to when they stand alone.
Some other reasons are to:
• Increase referral traffic
• Improve search engine ranking
• Build trust
If you are a business owner, you need to know that, in general, Google dislikes guest posting.
Why is that?
Because some bloggers have been known to write articles with the sole purpose of linking back to their own sites.
Pay close attention to what Google says!
Google has issued a warning to remind site owners about the dangers of publishing content that is merely intended to build links.
"When Google detects that a website is publishing articles that contain spammy links, this may change Google's perception of the quality of the site and could affect its ranking." – Google Webspam Team
But stick with me here.
Accepting guest blogs is still a really great idea. However, you need to always review the draft and see if the article contains helpful information for your users and complies well with Google guidelines on link schemes.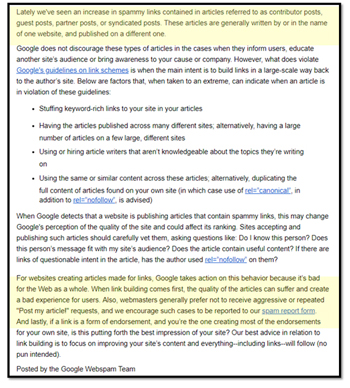 Here are some recommendations:
• If the article is not helpful for your readership, do not accept it.
• If you review the links in the article and they have high spam scores, it means danger—do not accept it.
• If content is duplicated, do not accept it (review for duplicate content on Copyscape). This will also reveal whether the content is essentially the same as elsewhere but the writer has simply substituted some words or rearranged the order of words in sentences—a black-hat SEO technique called content spinning.
• Be picky. Here are some criteria from quicksprout.com:
Conclusion
Your site represents your business; make sure guest bloggers understand that. And be strict about what can and cannot be published on it.
Remember: It's all about valuable, helpful and useful content. If you and your guest bloggers comply with Google terms, your website will be in a safe place and can gain a good reputation with Google for the great content it supplies.