What Is a Data Retention Policy and How Do You Update It in Google Analytics?
Authored by: Katherine Monestel DocuSend.
---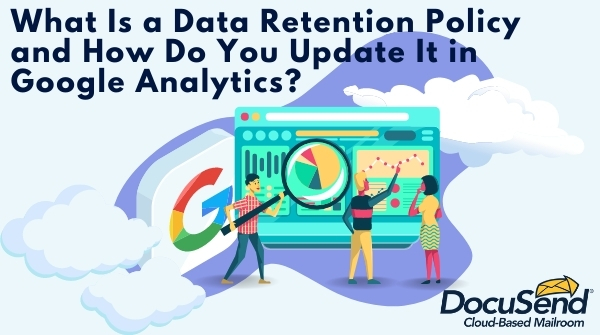 The Data Retention controls started on May 25, 2018.
What Does Google Analytics Data Retention Mean?
Data Retention controls is an option to set the time range during which you want to keep data stored in your Google Analytics account. This feature will give account owners the opportunity to manage how long user data is stored, in order to meet potential data compliance issues. The storage limitation is intended to help prevent the risk of security breaches.
Why Is Google Analytics Applying This Data Retention Feature?
On May 25, 2018, the European Union's General Data Protection Regulation (GDPR) became enforceable and brought about the greatest change to European data security in 20 years. The GDPR requires companies to limit data so that the only data kept in storage is what is necessary for the purposes for which the data is collected. Google Data Retention controls make GDPR compliance possible for its users.
If My Business Is in the United States, Why Should I Limit My Data Retention?
Google, as a company that operates worldwide, will comply with the GDPR, and so should any company that markets their products on the internet. Data they collect from users who are citizens of EU countries, if collected while those users are in the EU, is subject to the requirements of the GDPR. Therefore, all Google Analytics users need to know about this update, since they all have a web presence.
Here is a comprehensive article to read if you want to dig in and learn more about the GDPR: William Long and Vishnu Shankar of Sidley Austin LLP discuss the impact of the General Data Protection Regulation on retention and storage of personal data.
How to Change Data Retention Settings in GA
These are the instructions for changing your Data Retention controls:
Go to Admin -->

Property Settings -->

Tracking Info --> Data Retention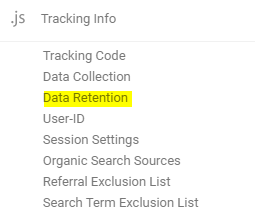 Data Retention
Here, you can choose how long Analytics retains data before automatically deleting it. It gives you options from 14 months to 50 months or "Do not automatically expire." The selection of any of these options is up to you. Most Google Analytics users like to have data stored for more than 38 months so they can evaluate their improvements on user activity, sessions, and more over a span of years.
But if you just want to keep the analytics cleaned up, and retain only the current year of your website, you can select the shortest time frame. Remember that, according to your selection, the data outside the time frame selected will be permanently deleted from your Google Analytics account. When data reaches the end of the retention period, it is deleted automatically on a monthly basis.
Universal Analytics Properties
As Google webmasters mentioned: for Universal Analytics properties, the setting applies to user-level and event-level data.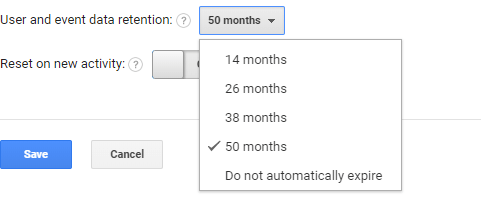 You will see also this option: "Reset on new activity." Google support explains it:

Google Analytics has made it very simple to comply with the regulations. That's one less thing to worry about!