How Long Will My Mail Take to Be Delivered from DocuSend?
Written by: Nataliia Popova, DocuSend, powered by MTI
---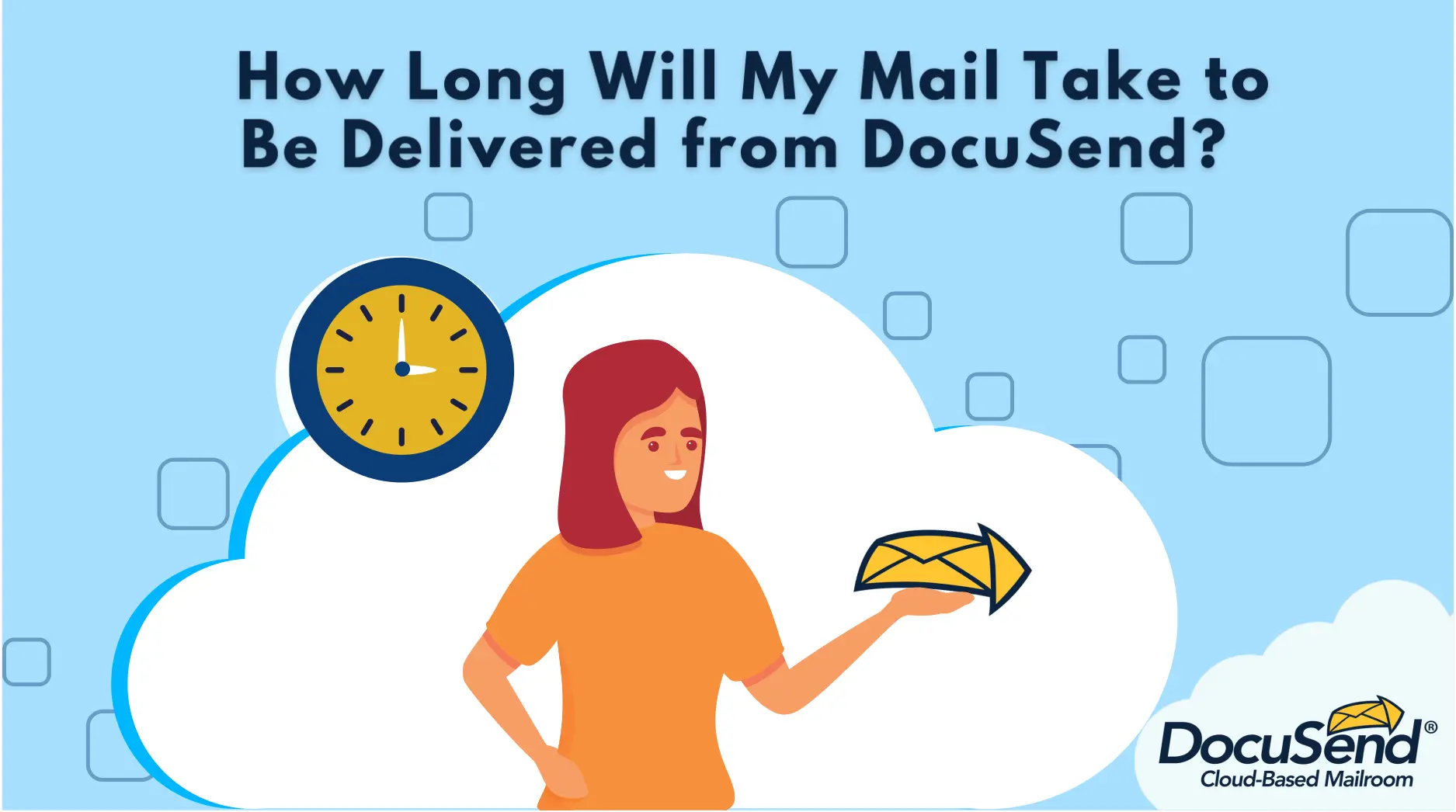 When we were little, it seemed to us that something magical and mysterious happened with letters and postcards after they were dropped into the mailbox, just like with the Christmas gifts that Santa delivered. Now that we have grown up and understand more about the postal system's processes, we want to get more details about the path of our mail. The reason for this is not simple curiosity; we need to know what is happening with important and time-sensitive business documents and invoices that are on the way to our customers. We certainly want to know our mail is being delivered seamlessly, and we want the delivery time to be predictable.
But Can It Always Be Predictable?
Here the feeling of mystery surrounding the mailing process arises again. There are factors that affect the delivery time, from bad weather conditions and busy days with bigger mail volumes being processed to the cases of misrouting that sometimes happen. Your mail can arrive faster than you expected, or sometimes the nationwide standard delivery term has passed, but the mail is still in transit.
That's why we appreciate mail tracking technologies, this great gift of the digital era. On its way to the recipient, your mail goes through a few distribution facilities, where it's sorted and scanned each time. Tracking keeps you informed of what sorting facility your mail is actually in, or was recently, which eliminates guessing and helps you predict when it can be delivered.
DocuSend Is a Cost-Effective Way to Send Trackable Letters
At DocuSend, we provide our users with a tracking service called Mail Trail, included free as a part of our first-class mail and marketing mail services. We constantly receive real-time updates from the USPS, which record the date and time your mail piece entered the postal stream and every time it is scanned in each sorting facility along your mail's route on the way toward the final one. Each DocuSend user can find this information in their dashboard in their personal portal. You can see when your mail was last scanned and the zip code of the facility where it happened. This is a brief explanation of how it all works, but what is even more interesting is that we can draw conclusions by analyzing the delivery data we have gathered. We created this page for you: DocuSend Delivery Statistics.
The information here is based on the mailing history of all DocuSend's clients, distributing documents all over the United States via our print-to-mail solution. Just select the state of destination from a drop-down menu and you will get the percentage of first-class mail deliveries being completed on the 2nd, 3rd, 4th, or 5th business days.
It is a good idea to consider this information when you are planning your mailing, and no matter what it is, whether a billing statement for your client or a renewal notice for your subscriber, now you can plan how far in advance to send it.
What Do the Official USPS Web Pages Say about Delivery Standards?
The delivery time from origin to a destination located in the same area is two days. The definition for the local area is three hours of driving between spots, or 139 miles. Distances up to 930 miles can be traversed in three days, and if it's more than that, the delivery term is four or five days. See the USPS Service Standards Maps.
At the Starting Line
The point where our clients' mail starts on its way is always the same: Rochester, New York, where DocuSend's printing and production center is located and where every morning we seemingly magically materialize the mail uploaded as PDF to the cloud by our users, fold it, insert it into envelopes and direct it to the USPS. You should see these powerful machines at work, and the atmosphere of a busy morning, with all its great smell of fresh ink!
Helping to cut the costs and time spent on mailing, we provide a truly end-to-end solution that prints and does all the other manual work for our clients, and at the same time does not require any monthly prepaid contracts, minimum mail amounts, or software purchases. We are located on the East Coast but have clients distributing invoices all over the US, including the West Coast. The interesting thing is, if you carefully look at the Mail Trail statistics, there is no total correlation between the distance within states and the delivery time.
This Is What the Mail Tracking Tools Tell Us
Part of the mail going from coast to coast arrives in a few days. At the same time, part of the mail going a shorter distance doesn't arrive in five days. As of July 2022, around 5% of our recipients in Tennessee get their mail two days after it has entered the USPS stream, 30.5% in three days. Compare that with the results for California: 35.4% of mail is already delivered in two days, 60.5% by the third day. Among the reasons that influence delivery time is that for some addresses, transportation by air still plays the main part, while for others the main load is transferred to a distribution facility by land, especially after the USPS implemented new service standards in Fall 2021. See the USPS Delivering for America Service Standard Changes Fact Sheet.
It also depends on the size of city or town where the recipient lives. Cities are big hubs, and the mail gets processed and transported faster there than in remote rural areas. Even though you may not know all the other reasons and delivery aspects, you can use Mail Trail as a helpful tool to stay informed.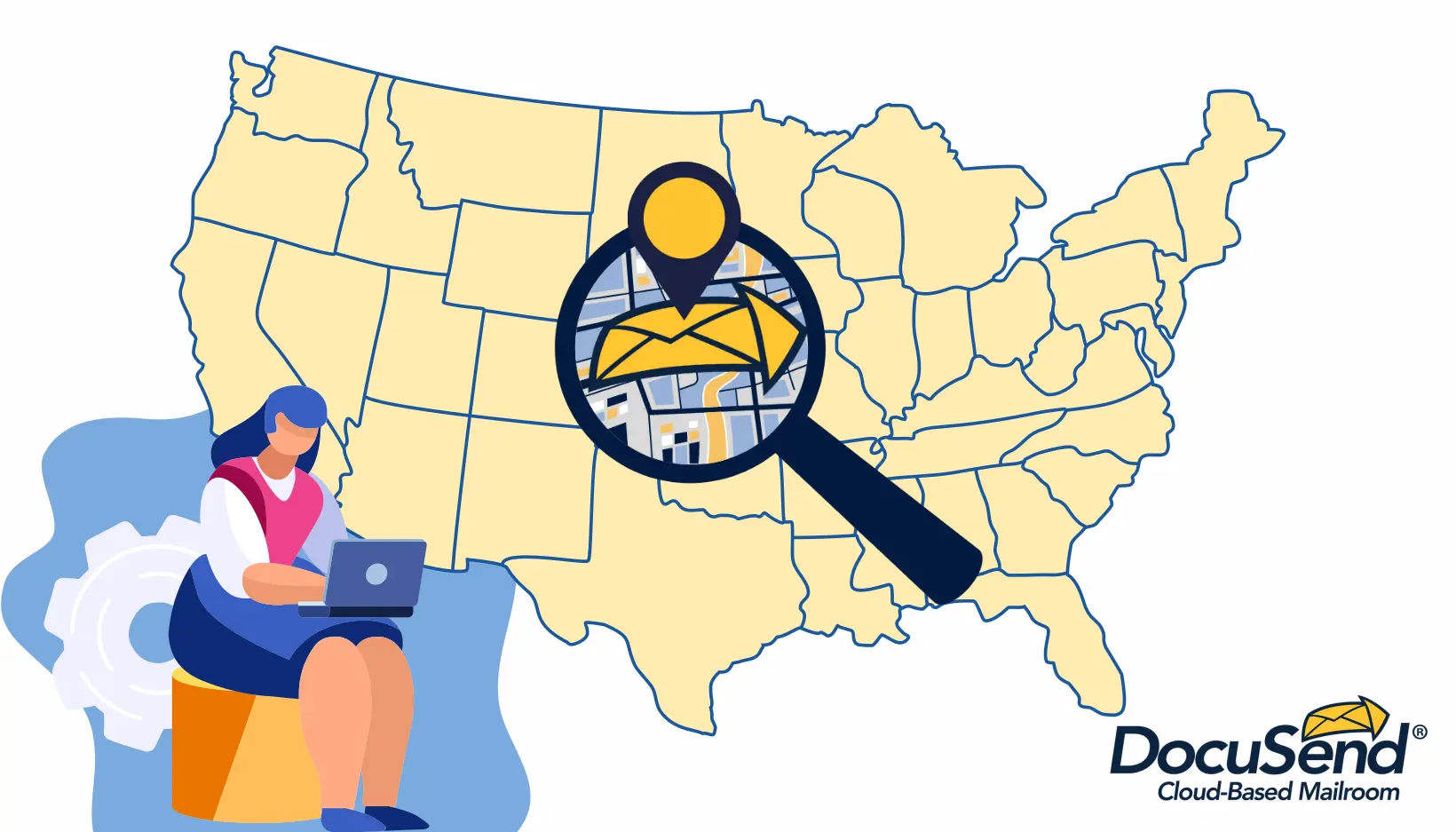 Why Partnering with a Bulk Mail Company Is Beneficial
The USPS is amazing; it is processing approximately half the world's mail! It's a complicated process, involving both people and machines. It could take extra time for your mail to be collected, checked, and sorted. But presorted first-class mail service, provided by a bulk mailing company like DocuSend, makes a difference.
It cuts costs and time, as we have already done a part of the tasks that the USPS usually does: grouping addresses that go to one area by zip code, so they are ready to be redirected from the drop-off facility to their destination. We automatically apply barcodes on your mail pieces to eliminate stamps and to efficiently speed up the process. As a result, we get a discount as we help the USPS to skip some stages of processing. All that makes mailing more affordable and efficient for you.
Distribute your mail with a couple of clicks from home or office, track its way online, and don't worry about it.