Canadian Businesses Can Use DocuSend to Mail to US Customers
Authored by: Nataliia Popova. DocuSend, powered by MTI.
---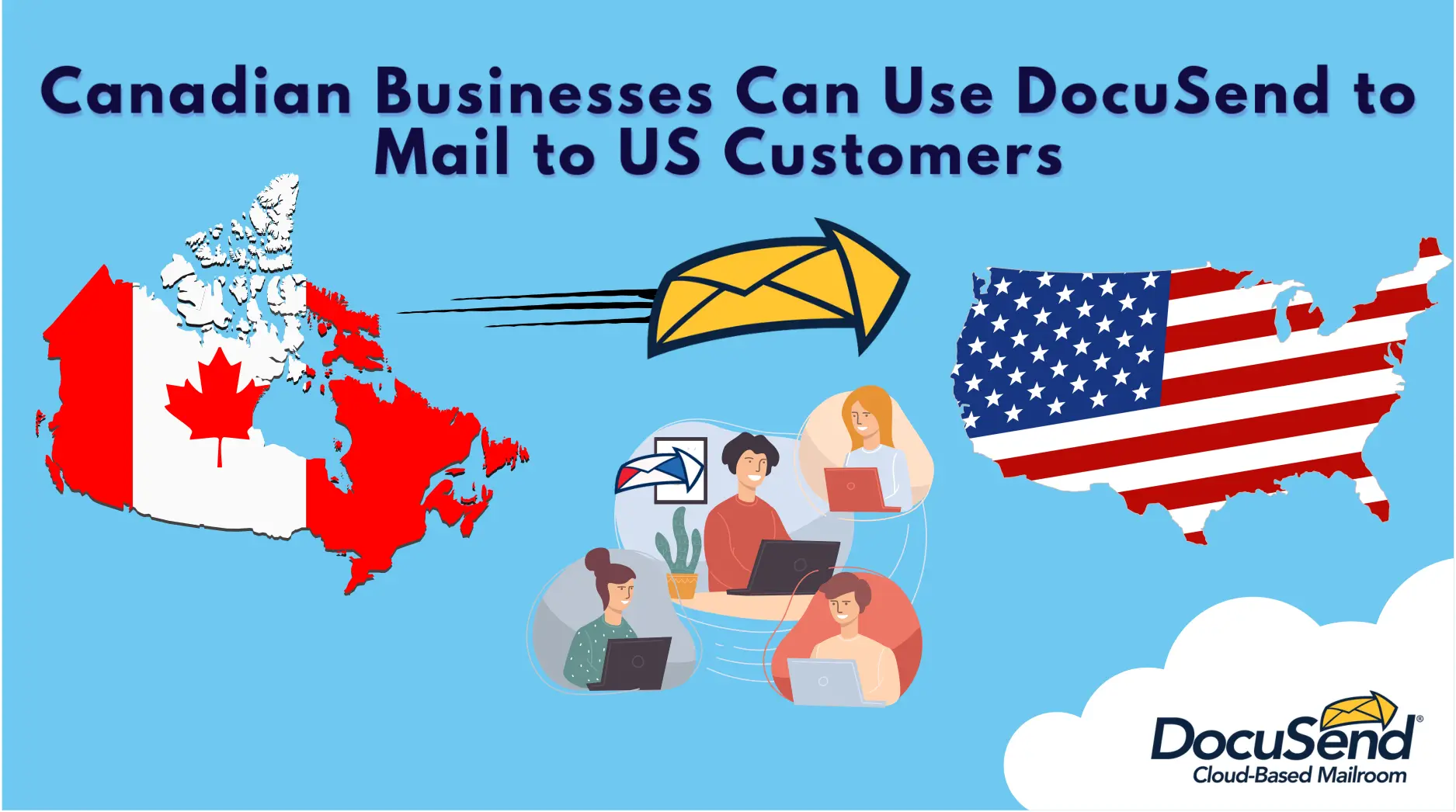 Canadian business owners that have clients in the US always want to find the most efficient and cost-saving solution for sending them business communications. There are options on the market that have their pros and cons depending on your needs. Usually, services that help you to speed up the mailing process require monthly contracts. You can also rent a postage meter, which will pay off if you send a large number of invoices, but you'll still have to print, fold, stuff, run through the meter and bring to the USPS.
But what if a small business doesn't distribute big batches of mail regularly or doesn't want to deal with the tasks of printing and folding invoices and sealing, stamping, and weighing the envelopes? Sending your invoices via regular Canada Post service for letters is the most common way, but it can take from four to six business days, which is the official delivery standard for mail going to the US (mail to other countries can take a day longer). Besides, the regular method does not include tracking, and many businesses need to track sensitive financial documents like invoice.
No one doubts the importance of borders as a necessary element of state sovereignty, but in the case of business communication and receiving payments, you want to find a way to cross borders efficiently.
Fortunately, modern technologies can help you to speed up mailing without monthly contracts, service agreements, renting equipment, or buying software. You can just send your invoices online to a cloud-based print-to-mail service directly in the USA.
How Long Will Regular Delivery Take?
There is no doubt we have greatly developed logistics between the two countries, which includes delivery both by planes and trucks. Letters and documents don't need to be examined as thoroughly by Customs as parcels do and should be quickly delivered, but in practice, there are several factors that can add extra time to delivery when you send your mail to the USA.
According to international agreements, the final delivery function will be delegated to the USPS (https://www.upu.int/en/Universal-Postal-Union) Canada Post passes your mail on to the US Postal System after it crosses the border, and the USPS performs its further delivery as first-class mail. That's why Canadians can find it difficult to get information on what happened if the mail piece is delayed for too long. Both countries have a very large territory, some parts of which are more distant. Even within Canada, it can take up to four business days to mail documents from one province to another. The longer the distance, the more intermediate stops the delivery route requires, and every distribution facility needs time to sort the arriving mail. Also, there will be more air flights and ground transportation. Sometimes the mail piece can still be examined by Customs, and this can add a few days of waiting.
While we can't influence the US part of the journey your invoices take, it is a good idea to eliminate the Canadian part to reduce delivery time. Add to this the time you usually spend on preparing your document for mailing: buying postage materials, manual printing, stuffing the envelopes, going to the post office and weighing your documents, and applying postage. The DocuSend automated cloud-based mailroom eliminates all of that.
How Long Will Mailing via DocuSend Take?
If you upload your invoice on June 27, with DocuSend it will enter the US postal system on June 28 or 29, while if you use the Canadian postal system, it can take from a few days up to a week before it happens.
The point is this: There is absolutely no need to give your printed invoice a ride through the border when it can be printed and mailed in the USA much quicker and for lower costs. DocuSend is located in Rochester, New York, and we print and mail the documents of our foreign clients here and mail them to their US customers and business partners within two business days with the regular internal USPS rates as if the mail was sent from a US address.
However, only talking about regular rates would not be accurate: DocuSend does even more and cuts mailing expenses by half, as we buy postage and supplies in bulk and mail by the truckload. The final price already includes all materials, first-class US postage, labor, tracking your documents up to the final postal facility with our Mail Trail service, and access to your personal portal with archive and all your mailing history for the last six months. And no extra charge for foreign service to mail to the US. All you need is a program to print your invoices to pdf and the internet connection to upload them to our website www.docusend.biz and pay online—any time, day or night. And DocuSend works with any accounting system.
Comparing the Prices
Mailing a one-page invoice to the USA via Canada Post will cost you 1.30 CAD. An envelope weighs 6.75 grams or 0.238 ounces, a standard sheet of paper 4.5 grams or 0.159 ounces. If there are more than five pages (or four pages and an added remittance envelope), the weight will exceed 30 grams, which costs 1.94 CAD. And we haven't even counted the costs for materials.
DocuSend's prices start at $0.99 USD for a one-page document, with all the materials included. To add a remittance envelope is only 4 cents, and it is 10 cents for each additional page. Even more, you can cut costs using our two-sided feature, when a document is printed on both sides of the sheet. Color draws the customer's attention to important elements on the page; we offer color printing at only 8 cents additional per page.
As we already mentioned, there is no extra cost for our Mail Trail tracking service. To know if mail has been delivered, you can see this information in your personal Portal, provided free to every user. You can track your documents after they were mailed all the way up to the final postal facility.
DocuSend is a pay-as-you-go service, so you can use it online only when you need it. You will not be charged monthly—just pay online for documents you have uploaded. The program automatically calculates the number of envelopes and pages, and your price updates after you select your desired specifications.
If you spend at most a few minutes to upload invoices to the cloud right from your desktop (and this is all the time it takes with DocuSend), they will be distributed to your clients faster, and you can receive payment quicker. So automation is not just time- and cost-saving, it can significantly help to improve your cash flow.