Worried about how to secure your information from internet and cyber-attacks?
© United States Postal Service. All rights reserved.
Posted on 2017
---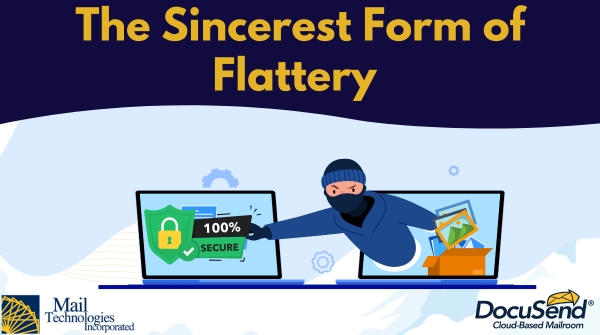 Here's how the U.S. Postal Service can help:
✅ More than 200 federal laws protect the sanctity of the U.S. Mail. These laws are enforced by the U.S. Postal Inspection Service, one of the oldest law enforcement agencies in the country. U.S. Postal Inspectors are federal agents, mandated to safeguard the nation's mail—including the people who move it and the customers who use it. Sensitive documents like invoices and statements mail First Class and receive top priority.
✅ Mail is a great communication tool. It's personal. You can keep letters and cards forever. There are no monthly plans. No signal outages. No roaming charges. Regardless of geographic location, anyone can send a letter for just 49¢ to anywhere in the United States, its territories, and U.S. military and diplomatic installations worldwide.*
✅ The Postal Service is the only organization in the country that has the resources, network infrastructure, and logistical capability to regularly deliver to every residential and business address in the nation.
✅ The Postal Service embraces the heroic service of the United States' armed forces. More than 113,000 veterans are employed with the organization, and more than 140 stamps have been issued that reflect the nation's military history, including the current Medal of Honor series (as of Jan 2016).
✅ The Postal Service processes and delivers nearly half of the world's mail—47 percent.
✅ The Postal Service has the country's largest retail network—larger than McDonald's, Starbucks and Walmart combined, domestically.
✅ Through the Carrier Alert Program, Postal Service letter carriers help monitor the well-being of elderly and disabled customers. If carriers notice an accumulation of mail that might indicate an accident or illness, they notify emergency personnel. In addition, each year postal employees go beyond the call of duty, some even risking their own safety to save the lives of the customers they serve. In 2016, the Postal Service recognized 325 employee heroes for going above and beyond.
Documents are mailed within a time period of no more than two business days, provided uploaded PDFs meet basic DocuSend criteria (Printed to PDF, not scanned, valid addresses). * For volumes exceeding 5000 documents in one day, please contact customersupport@docusend.biz for scheduling.