Small Businesses, Big Hearts
Authored by: Jim Stewart, Founder DocuSend, powered by MTI.
---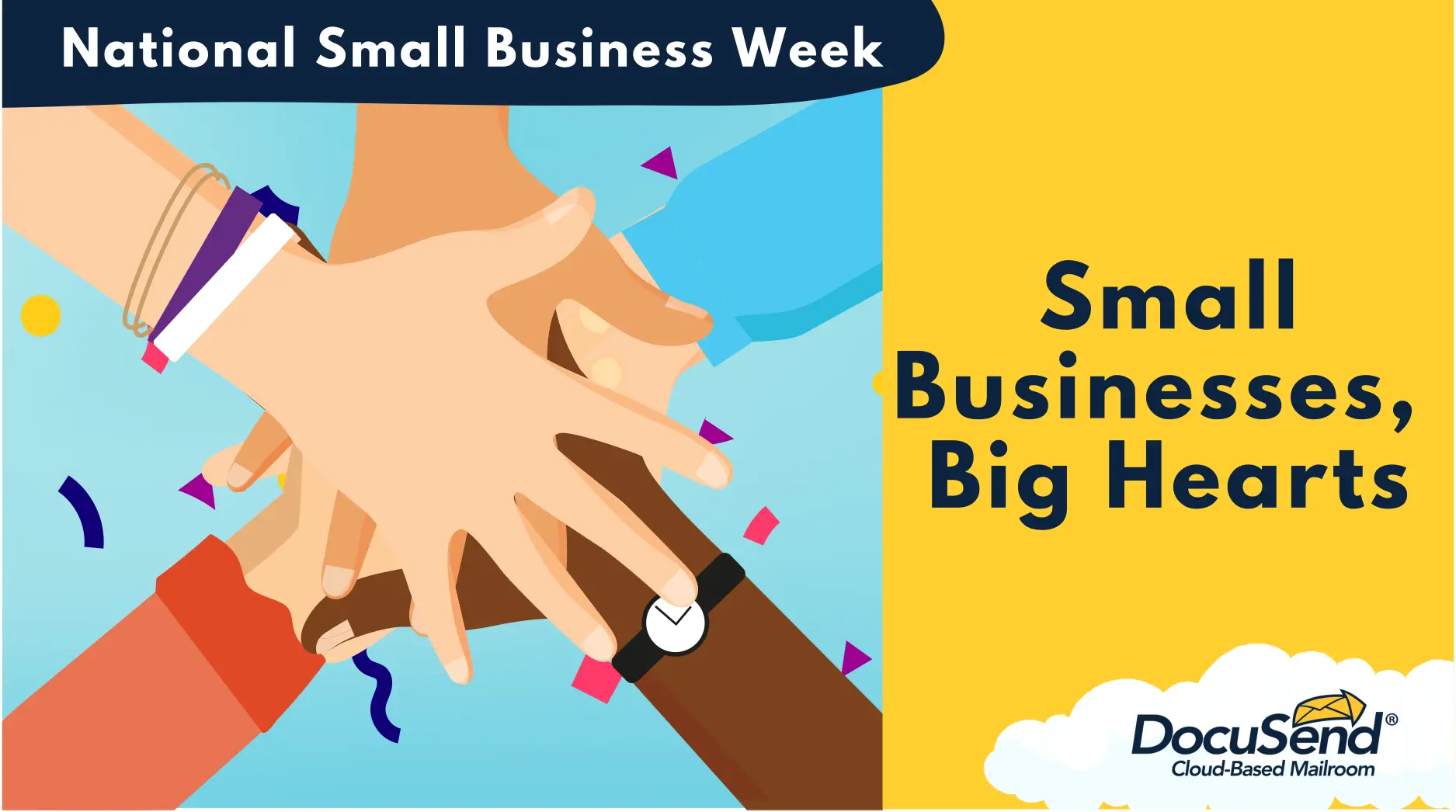 May 1-7, 2022 is National Small Business Week. Every year since 1963, this event has recognized the critical contributions of entrepreneurs and small business owners. DocuSend serves small businesses every day, so it seems appropriate for us to join in and lift up the unsung heroes among small business owners.
Small business has been called the engine of the economy and the heart of our communities. According to the U.S. Small Business Administration (SBA), there are 32,5 million small businesses in the USA right now, and they create the majority of job positions: two out of every three new jobs come from small businesses, and half the workforce either works for or owns a small business.
But they do so much more than drive the economy. Small business owners are known for the heroism of bootstrapping a startup from a garage or basement with passion and enthusiasm. They inspire others by overcoming obstacles and hardships—both in business and their personal lives—and using these as opportunities to learn and grow. And while small business owners are under no obligation to use their limited resources to give beyond their workspace, they are often the people leading the way in making meaningful changes in their communities.
What the SBA praises small businesses for
Each year brings new challenges. In 2021, the event was focused on recovering from the consequences of the pandemic and staying in business with SBA's support. The 2022 NSBW theme is "Building a Better America through Entrepreneurship," and it highlights resilience, creativity, and ingenuity. However, every year small businesses are traditionally recognized for:
Their social or environmental impact
Contributing time and money to local and regional charities, civic groups and schools, and other community-oriented projects
Their innovative spirit, creating hundreds of jobs for their communities
Implementing the principles of adversity and inclusion
Going above and beyond for their people—like the companies that lost all their income due to the COVID crisis and continued to pay their employees anyway.
We want to take this opportunity to express appreciation for the many small business owners who go the extra mile for their employees, their communities and the environment. After you've read the stories we share here, if you have any to add, we'd love to hear about them in the Comments section below.
Inspiring Stories of Overcoming Adversity
For many small businesses, theirs is a story of overcoming adversity and beating the odds. Their owners and operators might be at a disadvantage because of who they are, but that doesn't hold them back from being successful and giving back.
John's Crazy Socks is an online sock store founded by a young man with Down syndrome, John Lee Cronin, along with his father. Theirs is a "business built on love" that is on a mission to spread happiness with crazy, colorful socks. Because of his dad's support, John was able to put his entrepreneurial spirit to work. John is the face of the business, while his father runs the more technical aspects.
This startup is inspiring enough on its own, but the story doesn't stop there. The Cronins donate 5 percent of their profits to the Special Olympics, a cause close to John, who has competed in several events. They also sell socks to raise Down syndrome awareness and autism awareness.
Bitty & Beau's Coffee, which started its first store in Wilmington, North Carolina, serves "more than a cup of coffee." Founder Amy Wright opened the store as a place for people with intellectual and developmental disabilities to work with pride. This nationally featured enterprise provides a unique customer experience and creates a culture where diversity is celebrated as it employs dozens of people. It now has a second location.
Amy Wright has a passion and vision to bring people together. She has two children with Down syndrome and knew from the time they were born that she would be their advocate. Now she is also an advocate for many more.
Brongo Contracting & Supply is a Rochester NY–based construction company that specializes in construction recycling, wholesale landscape supply and trucking services. Owner Jenny Brongo took over the family business in her early twenties when her father unexpectedly passed. At the time, it was known for excavation. While she initially faced rejection in the industry due to her age and gender, she successfully adjusted by focusing on going green.
Keeping the family construction business running is only half of Jenny's story. The other half is Homesteads for Hope, which Jenny organized and built with her leadership skills and knowledge of construction. She was inspired to found this nonprofit because of her brother Chucky, who has autism. After finding that the institution he was living in was not providing him with the care he and hundreds of other intellectually and developmentally disabled adults in the region deserved, she decided it was time to do something about it. Homesteads for Hope combines residential, vocational and recreational options in a community that promotes independent living for adults with disabilities.
More Ways Small Businesses Are Going the Extra Mile
Not all small businesses overcome extreme adversity or show up in the national spotlight, but all can nonetheless seek ways to give back to their communities, employees and the environment by going the extra mile.
One way small businesses give back is by providing a supportive work environment for their own employees. Workers perform best with the emotional support and the mental health resources they need. While it can be a difficult balance to maintain professional boundaries while showing compassion, it ultimately is in the business' best interest to keep its employees happy and healthy. Providing time off, flexible schedules and resources and referrals for better health are all ways businesses go above and beyond for their workers. They also provide financial relief by helping employees repay their student loans.
Another way businesses go the extra mile is with social impact. Maybe a small business owner isn't in a position to start a new nonprofit, but they might still find ways to be socially and environmentally conscious with their business partnerships. By sourcing from and partnering with other businesses and services—like Brongo Contracting and Supply—that put community and environment first, a business can provide significant support in improving the community locally and beyond.
We know that for many small businesses, their efforts to overcome, to grow and to serve go largely unnoticed. But that doesn't make them any less heroic as they are changing lives. From the developmentally disabled barista who loves her job and her life to the playground made with recycled materials, each small business is making an impact, one step at a time.