Hi-Tech Innovations in Document Distribution Systems Focuses on Safety and Cost
Posted on October 23, 2020
---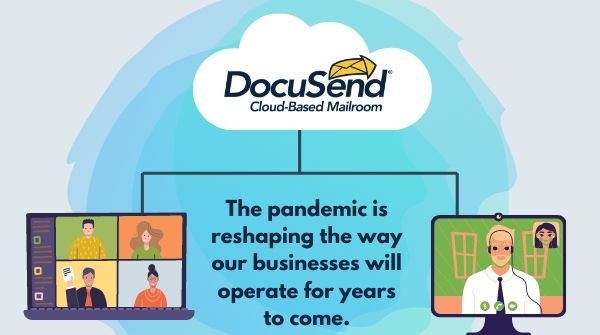 The pandemic is reshaping the way our businesses will operate for years to come. A June 2020 article by consulting firm McKinsey & Company reports that 90% of US executives expect that COVID-19 will fundamentally change established business practices for the next five years. Efficiency is now a matter of survival – literally. Our physical wellbeing and that of everyone we care about is on the line.
At the same time, the worldwide epidemic is confirming that technological advancements are significantly accelerated by adversity and are frequently the origin of high-tech innovation.
But can pioneering technologies rein in the debilitating consequences presented by the pandemic?
They've already begun to.
The COVID crisis fueled new tools like personal and public monitoring devices for the body and the workplace, indoor climate and air purification systems, and remote group alliance technology. Highly vulnerable and hard-hit businesses like manufacturers, restaurants, and retail outlets are being targeted by high-tech companies to help keep workers and patrons safe. New products and methods are being created and tested analogous to vaccine research.
Although many recent innovations are designed specifically to address this infectious disease, some of them will not actually survive the pandemic itself.
Which ones will carry over into the post-pandemic world? Once the epidemic ends, and it will end, what happens to the products that were specifically designed to combat it?
Products to support trends such as working remotely are likely to be permanent. But wide scale distribution of masks specific to the disease probably won't. The other significant factor in prolonged product sustainably is purely financial. The technology must unilaterally support the economic platforms of the users.
DocuSend's ROI Begins the First Day You Use It
If you are an owner, manager, or operator of a business of any size, ask yourself the following questions:
Does my organization print and mail financial or other sensitive documents?
Does my organization own or lease any mailing equipment?
Does my organization purchase stamps online from a third-party vendor?
Does my organization employ manual labor for mailing important documents?
Does my company have to deliver mail to a postal facility or public mailbox?
Does my company send documents via certified mail?
Does my organization mail documents at full postage rates?
If you answered yes to just one of the above, you are spending at least 50% more to distribute sensitive documents than you should be. And you're almost certainly enduring preventable health risks as well.
Just take a look at some simple comparisons between using an online stamp service and mailing through DocuSend: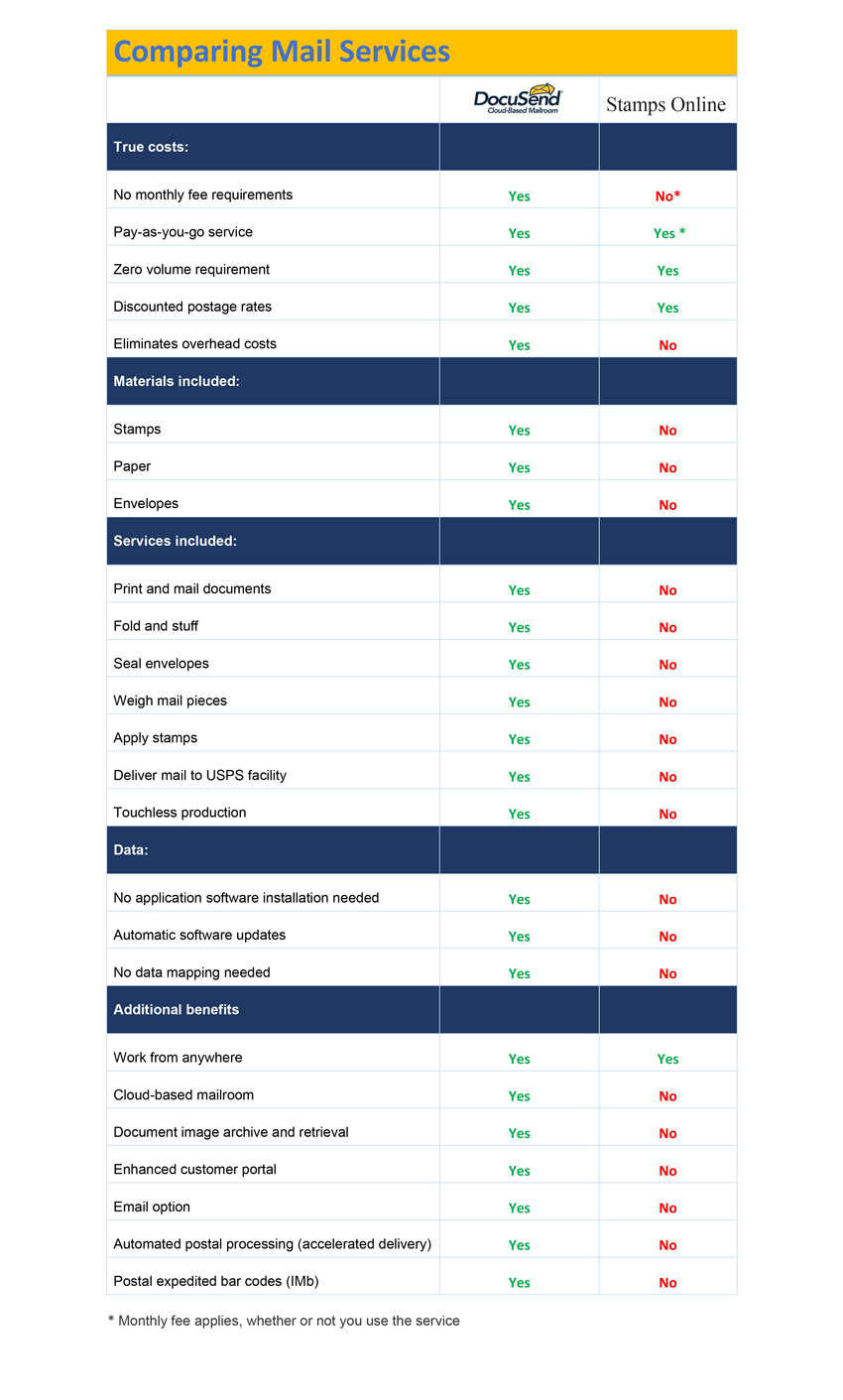 As you can see from the chart, DocuSend eliminates the work associated with ordering stamps online. All of your documents can be sent from the safety of your remote work station.
How Does the Technology Work?
DocuSend invented a proprietary software system called PDFxTract&Rebuild. It is the primary reason we don't require your data. Only the address information is targeted and extracted from your PDF document, processed through licensed postal software, and rebuilt on the original document with postal compatible barcodes. The variable and static information on the source document is not altered in any way. The integrity of the information that is uploaded is completely preserved.
Why DocuSend Will Sustain Well Beyond the Epidemic
Why will this technology survive the pandemic? When factoring in the cost of the employees' time, the materials, and full postage rates, the cost is about 50% of what companies spend to mail internally. It not only keeps everyone associated with your business safe, it supports itself by cutting internal mailing costs in half.
Space allocation, taxes, maintenance, inventory, insurance, payroll, hardware, and building and equipment leases are all replaced by an employee taking a few minutes to upload documents that need to be mailed. You simply print them to a PDF file instead of a physical printer and upload them to the DocuSend cloud-based mailroom website.
APIs for Resellers and Special Applications
For developers and resellers, DocuSend's REST API can be implemented in as little as one hour using your own code, platform, and language. That's because it uses the same basic PDFxTract&Rebuild technology that drastically reduces the number of fields that must be mapped. Developers have complete freedom to change invoices/documents without incurring any fees, and the privacy of the integrator's data is protected. The system is HIPAA compliant for those requiring it.
In conclusion, if you want to make sending First Class Mail, Certified Mail, Foreign Mail and Priority Mail as easy as sending an email, and much safer and more cost-effective than mailing documents internally, take advantage of this advanced technology.