What Do Those Postal Sorting Machines Being Dismantled Actually Do?
Jim Stewart. Founder DocuSend, powered by MTI
Posted on November 11, 2020
---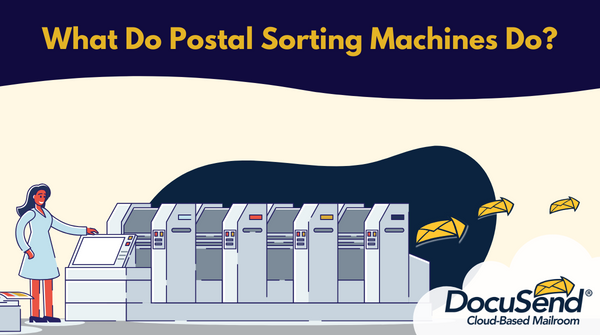 Our country's two-hundred-and-forty-year-old United States Postal Service is currently at the center of numerous politcal debates, and one of the most contentious involves the dismantling of high-speed processing equipment, which they operate to automate, sort, and distribute our mail. So what do these machines do?
The short answer is that different machines perform many and varied functions. That's because the billions of letters and packages the USPS processes come in all kinds of shapes and sizes, not to mention the thousands of fonts and type styles, different ink colors, and even addresses that are handwritten. These amazing USPS sorting machines, are designed to automate and handle all this and much more. Here are just a few highlights:
They are equiped with OCR (Optical Character Recognition) scanners that read the addresses on letters and packages, translate the information into a barcode launguage, and print the barcode on the package prior to sorting it.
They can process and sort up to 36,000 pieces of mail per hour.
USPS sorting machines are roughly the size of a city bus.
It would take a crew of 20 to 30 people hand sorting mail all night long to do what one of these machines can do in a couple of hours.
Their power cords are as thick as a firehose.
Some of these machines scan special barcodes into a database that gives businesses the ability to track their mail pieces throughout the delivery cycle.
Many are modular in their construction, so they can be shortened or lengthened to fit diverse applications.
The first known sorting machine was believed to have been installed in Rotterdam in 1930.
Postal sorters led the way to the reduction of First-Class automation rates, resulting in huge savings for mailers and businesses.
The first Optical Character Reader (OCR) that could handle preliminary sorts automatically was installed in the USPS.
Today, systems can scan and archive mail-piece images during the sorting process for compliance and proof of mailing.
The accuracy rate of these machines exceeds 99.7 percent, nearly eliminating the number of packages that are missorted.
Hope you found this interesting. Thank you for taking the time to read it and please share your comments below.