What is the safest way to mail sensitive documents?
Authored by: Jim Stewart, Founder DocuSend, powered by MTI.
---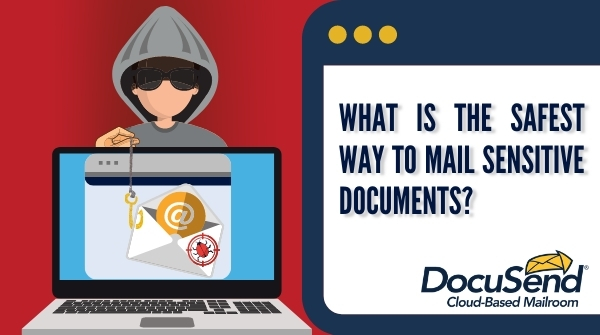 Criminals Make Email a Weapon of Choice:
One in 101 emails contains malware
SMBs beware: Symantec reports that employees in smaller organizations are more likely to receive email threats, including phishing, malware, and spam.
Nowadays, the most effective bank robbers are armed with computers, not guns; billions of dollars have been stolen from financial firms using emails.
The United States was the biggest—and softest—target for ransomware attacks. Symantec found 64 percent of Americans are willing to pay a ransom, compared to 34 percent globally..
Why Crooks Make Invoicing a Prime Target
Manipulation – An email stating an invoice is attached can provide enough interest for the user to consider opening it.
Urgency – The user is concerned there may be penalties involved if a financial document is not addressed expediently.
Simplicity in the Request – It's easy to ask the user to click a link—and then they're hooked.
Drive-By Emails – A particularly dangerous class of cyberattack email is threatening to infect PCs without the user opening an attachment. The user will not even be warned this is happening—the only message that appears is that it's ''loading.'' Malicious software begins downloading the moment the user clicks to open it.
Draw Your Own Conclusions
As we've all seen recently, even the world's biggest tech companies aren't immune to data breaches and cyberattacks. The vast majority of cyberattacks use social engineering, such as phishing, to trick employees into taking actions detrimental to the company. Many large and high-profile breaches have started with successful phishing attacks. Threat-management provider Cofense found that 91% of cyberattacks start with a phish, and upping technology-based defenses can't address those kinds of vulnerabilities. Here is a partial list of data breaches that occurred in 2020:
123RF, Activision, Ambry Genetics, Amtrak, Ancestry.com, Animal Jam, Avon, Barnes & Noble, Beaumont Health, Blackbaud, BlueLeaks, Broadvoice, Cannon, Carnival Cruise Lines, Children's Hospitals and Clinics of Minnesota, Chowbus, Claire's, Clubillion, Cognizant, CouchSurfing, Dave Mobile Banking App, Dental Care Alliance, Dickey's BBQ, Drizly, Dynasplint Systems, Estee Lauder, Expedia, Hotels.com & Booking.com, Facebook, Fifth Third Bank, FireEye , Fragomen, Del Rey, Bernsen & Loewy, Freepik, Fresenius Group, General Electric, GoDaddy, Hanna Andersson, Health Share of Oregon, Home Chef, Imperium Health, Instagram, TikTok & Youtube, J-Crew, JM Bullion, Key Ring, Magellan Health, Marijuana Dispensaries, Marriott International, Mashable.com, Mathway, MGM Resorts, Microsoft, Minted, MyCastingFile.com, Nintendo, NorthShore University HealthSystem, Paay, Peekaboo Moments, Pfizer, PhotoSquared, Polk County, Pray.com, Promo.com, Quidd, Razer, San Francisco International Airport (SFO), Slickwraps, Small Business Administration, Spotify, Staples, Telmate, T-Mobile, Town Sports, TrueFire, Tufts Health Plan, Aetna, Blue Cross Blue Shield & EyeMed, Twitter, U.S. Marshals, Utah Pathology Services, Vertafore, Warner Music Group, Whisper, Wishbone, Zoom. If the security of organizations like these can be hacked, how challenging would it be to target your database, or that of your clients? That's why more and more companies are thinking twice before sending their sensitive documents through the internet. And one of the safest ways to deliver invoices and statements is the United States Postal Service (USPS).
United States Post Office: Protect Your Business and Your Clients
About two-thirds of American households prefer to receive invoices and statements through the mail, many of them stating internet security concerns. Consumers just are not afraid to open a document delivered by the US mail—and with good reason. There are more than 200 federal laws that protect the sanctity of the US mail, and all are aggressively enforced. That's more than 200 reasons criminals don't even try to exploit the mail.
To keep up with today's ever-changing technology, software users and their consumer-based clientele want expanded and optimized delivery and payment channels. They want providers to offer more choices to interact with them. Americans have a passion for better alternatives, and being forced into receiving documents and payment methods they are not comfortable with can result in resentment and disappointment. Especially when it involves their security.
DocuSend's cloud-based mailroom provides security for both paperless and paper invoicing.
It takes a couple of minutes to upload a PDF file to DocuSend's secure server. After that, it's your choice: have the invoice or statement sent via US mail or our DocuLink option allows you to offer paperless billing in a secure way. It does this by replacing your email attachment with an encrypted link that the recipient opens in a secure portal. You receive a report that shows whether the customer opened the link, and if they didn't, you can select the option to have the document mailed through the postal service.
It's a rock-solid solution for the document distribution channel. Give it a try and find out why we have an exceptional customer retention.
PhishTank is a free community site where anyone can submit, verify, track and share phishing data.