Can Snail Mail Be an Insurance Policy?
Jim Stewart. Founder DocuSend, powered by MTI. Updated on November 16, 2020
---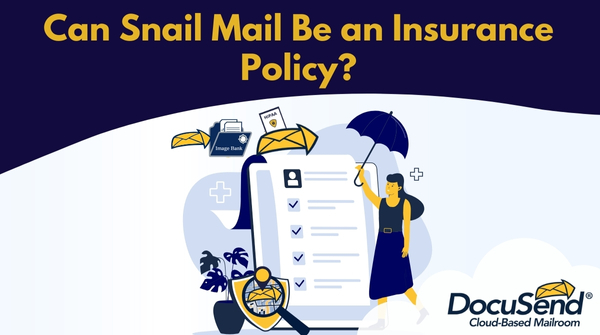 Despite providers' push for paperless delivery, research shows nearly 75 percent of all transactional communications (bills and statements) are still being delivered to U.S. households by postal mail. It's a clear indication that consumers still want the choice to receive sensitive documents through the U.S. mail, and security is among the top three reasons why they do.
And can you blame them?
Who can blame American households from shying away from what seems to be a less-than-secure technology? According to the ICO (Information Commissioner's Office), data breaches increased 75% between 2015 and 2017. Right or wrong, it makes the internet a scary place for many consumers. Facebook announced they had 90 million user accounts compromised by hackers in 2018. And it is increasing at an alarming rate. An April 2020 article from csoonline states:
Not long ago, a breach that compromised the data of a few million people would have been big news. Now, breaches that affect hundreds of millions or even billions of people are far too common. About 3.5 billion people saw their personal data stolen in the top two of the 15 biggest breaches of this century alone. The smallest incident on this list involved the data of a mere 134 million people.
Until recently, most billing and invoice software developers were unable to offer a print-to-mail solution for their software users. Offering a traditional print and mail service was too expensive to operate as a standalone service. This was particularly true for low volume, high frequency applications. But not anymore. Snail mail and electronic billing are now just two sides of the same coin. Software providers and accounting services can now offer both, and let their users decide right on their print menus.
Does That Resemble an Additional Layer of Cyber Insurance?
Not in the form of a policy. But companies that have taken legal precautions to protect themselves from data breeches still wind up with a public relations disaster in the event their email server is hacked. Not offering alternatives to electronic billing takes the decision out of your customers' hands and puts the responsibility back on you. The DocuSend API reduces your possible exposure by providing software users with the ability to mail their sensitive documents through the US Postal Service.
So yes, you can think of it as insurance—if something happens, you want to be able to say you offered the option, but the client chose to use email instead.
Our DocuSend REST API is a cloud-based mailroom that your users pay for only when they need it. That's right: zero overhead. And it is every bit as fast to upload a file for mailing as it is to send an email. Almost all businesses have clients that are reluctant to open attachments for fear they may contain malware or a virus, even if they are familiar with the sender. And their number is growing as hackers get increasingly more sophisticated at cloning email addresses and websites. That's why more and more companies are blocking all incoming emails with attachments that are sent to their employees.
And it can get even worse…
A far worse scenario is when security is breached. We have all recently witnessed the viral press coverage that can occur when sensitive data is exposed. The damage to an organization's reputation can be harder to recover from than the legal repercussions.
Now There Is a Choice
We invented DocuSend's cloud-based mailroom to complement electronic invoicing, not compete with it. In addition to invoices and billing statements, it's commonly used for mailing documents that are triggered by an unscheduled event. Shut-off notices, renewal or welcome letters, mandated notifications, legal notices, and product recalls are just a few examples.
DocuSend's print-to-mail API solution is some of the least expensive ''insurance'' you'll ever get. Implementing a ''Send U.S. Mail'' button or dropdown menu item can be integrated in days or hours, not weeks or months. DocuSend's enterprise mailroom is a fully supported revenue-generating REST API, and integration is free. No cost, no risk, and it generates revenue for you while providing a valuable service for your clients. How's that for an insurance policy?
✅Let our experts take you through the process. Learn more.