Are You Taking Your Business for Granted?
Authored by: Jim Stewart, Founder DocuSend, powered by MTI.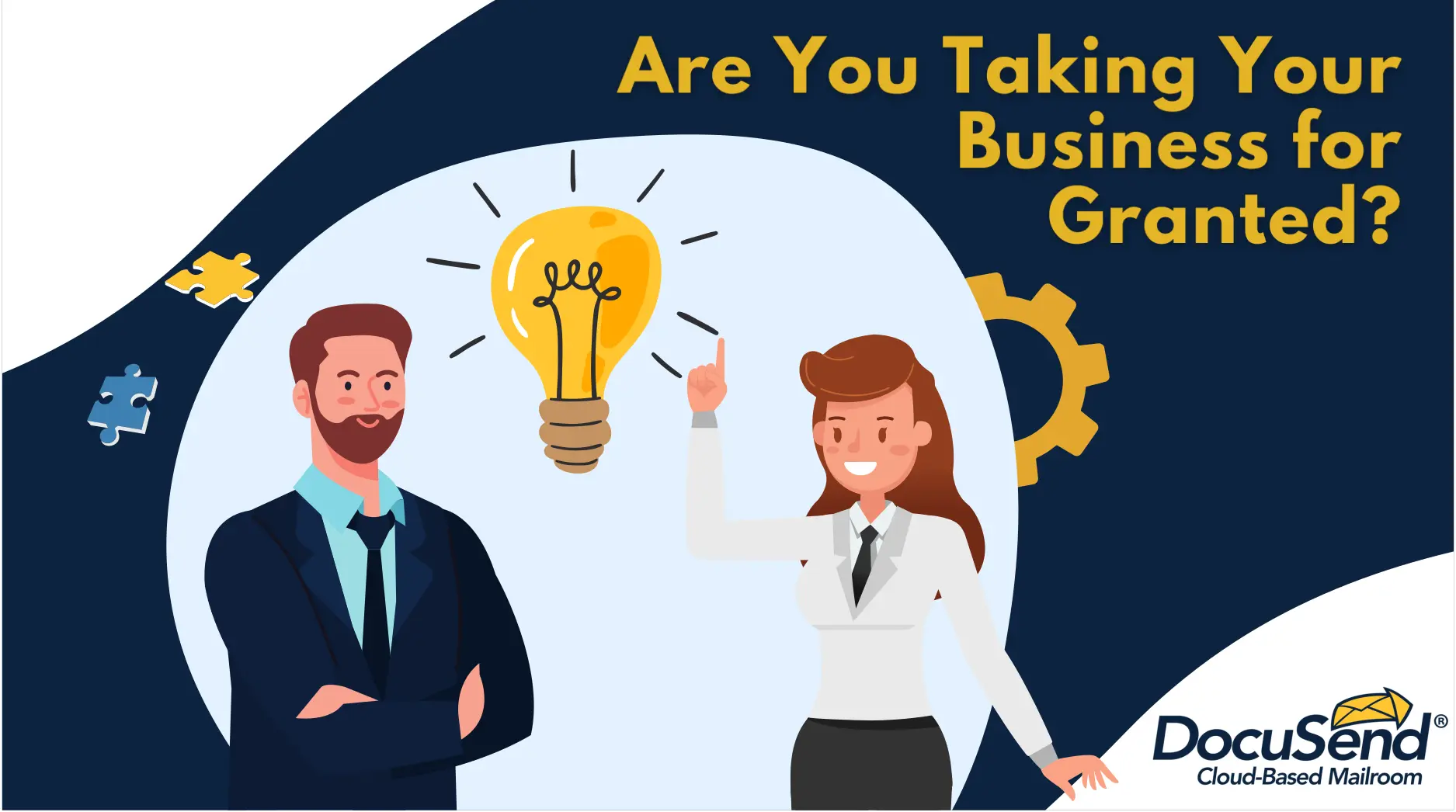 Starting a business is not for the faint of heart. To many people, being your own boss and not having to answer to anyone sounds appealing.
Actually, that's far outside the bounds of reality. For starters, lots of people think that everything consumers want has already been thought of. Those people should never start a business.
Consider yourself for a minute.
If you have ever had an idea you thought had the potential to improve people's lives, you have the basis to launch an enterprise. But you still need to learn what is involved and be willing to act on it.
Filling the Holes
Most startups prosper because their founders learned how to fill the holes left by established companies. If you want to dip your toes into the entrepreneurial pool, look for those gaps. They may not be apparent, but they are there.
Keep your eyes open for the flaws in products and services and how you think they could be improved. Any time you're not happy with something you've purchased and find yourself thinking, "I'm pretty sure I know how to fix this," there is your foundation for a business.
But that doesn't mean it will be easy—far from it. The right mindset is crucial. There aren't many genuine risk takers, and if you're not emotionally and psychologically prepared for the challenges of building a company, chances are you won't last long. It's probably going to require about 80% of your emotional intelligence and 20% of your physical capacity. And you have to be in it for the long run. It's going to be a marathon, and you can't expect to compete in a marathon without some training.
For most people, getting a business off the ground will be the biggest career challenge they will ever take on, by far. You will face compromises to your job security, recreation time, personal finances, investments, social life, medical benefits, and sometimes even your happiness.
What do you get out of it?
The unparalleled exhilaration of building something truly valuable from the ground up. Is it worth it? It is for some, as long as they follow their own instincts and are prepared to live with the outcome, whether that takes the shape of rewards or consequences.
Consider George.
The Biggest Fan
George was one of football's biggest fans. He took pride in having all the latest NFL cable package and streaming channels. He attended live games when he had the chance, tailgate parties and all. But attending a Super Bowl was a dream George never expected to come true. That all changed one day when his employer gave him a ticket left over from a sales promotion. And what a ticket it was! George was in pigskin heaven.
The day of the Super Bowl came, and his seat could not have been better. Right on the fifty-yard line, third row up from field level. George's excitement was building as the kickoff approached, but something was bothering him. The seat to his right was empty. He looked over to the man on the other side of that seat and said, "Gosh, I can't believe it—the best seats in the stadium and there is a no-show at a Super Bowl."
"Oh, that's my wife's seat," the gentlemen replied. We went to every Super Bowl together since 1967, but she passed away."
"Oh, I'm so sorry," George said. He was a little embarrassed, but not able to contain his curiosity. "But it's the Super Bowl, and with seats like this, wouldn't your wife have wanted you to give her ticket to a relative, a son or daughter?"
"No" the man replied, "they're all at the funeral."
What's the point?
You may or may not agree with someone who chooses a football game over his wife's funeral, but that's not the point. For all we know, his wife may have wanted him to go to the game and be happy rather than attend her funeral and be sad. One thing is for certain, he followed his passion instinctively and was willing to face the outcome, be it rewards or consequences.
And that is what it takes to start a business.
A Hole in One
I spent more than twenty-five years in the printing and mailing business, a service industry so mature that most people assume any possible improvements have already been thought of. They erroneously conclude that it would be very difficult to compete with huge mailing companies that have been established for decades.
But our amazing DocuSend team did not accept that. They relentlessly looked for those holes and found them on a massive scale. Not surprisingly, the gaps we found had a common thread: The print-to-mail industry was completely ignoring the needs of small to medium-size businesses and even the low-volume mailing applications of large organizations.
So, what did we do?
We built an online mailroom in the cloud that any business can go to and upload their documents to mail via USPS within two business days, with absolutely no contracts or minimums, and they also get free tracking.
Don't believe me?
Go see for yourself. And keep your eyes open for those holes in your own markets. They might be hard to detect.
But they are out there.
They may be your equivalent to getting a ticket to the Super Bowl.
And if you fill the gaps you find, your team will win the game.