Some Amazing (and Hilarious) Statistics About How Your Invoices Reach Their Destinations
Authored by: Jim Stewart, Founder DocuSend, powered by MTI.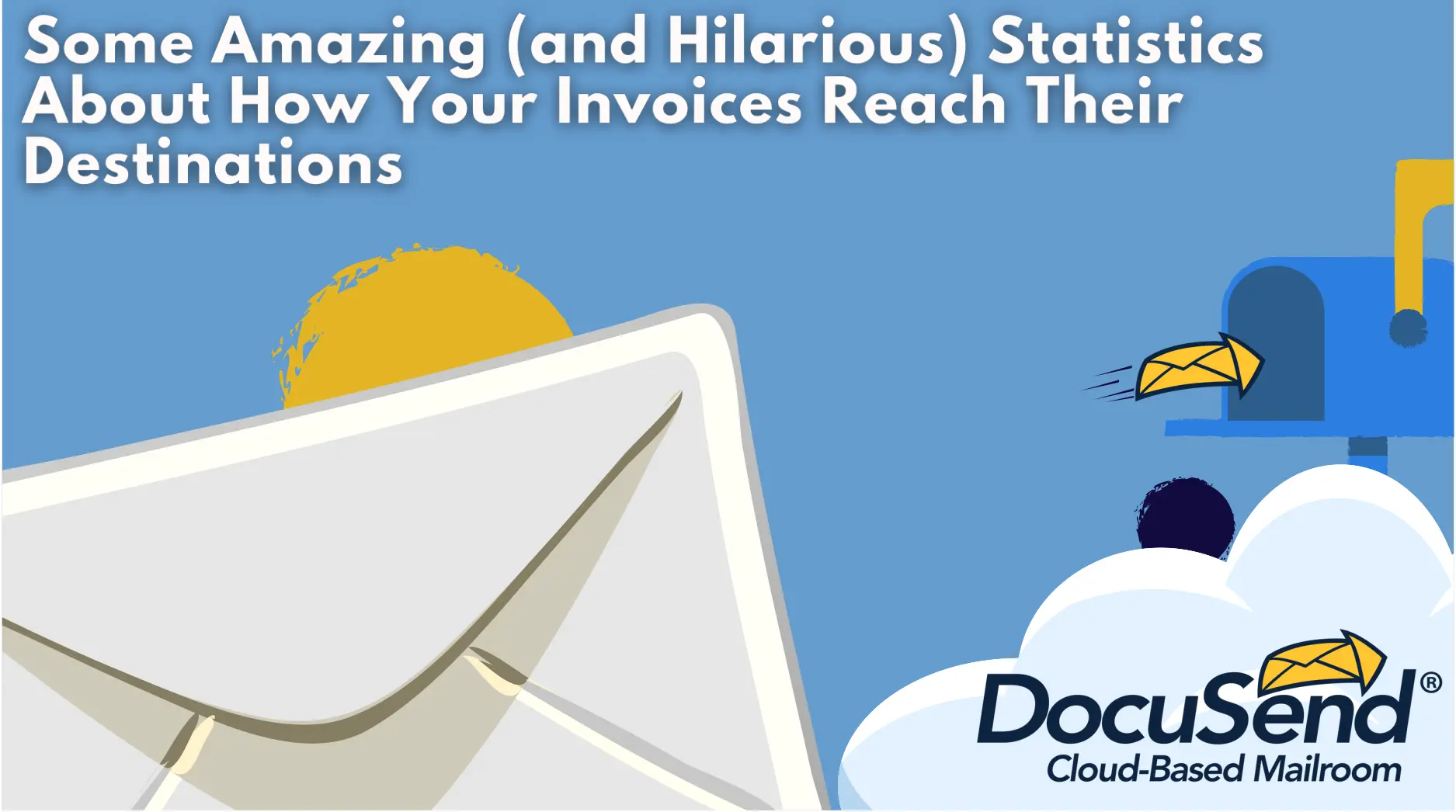 You think delivering mail has been simple over the last few centuries?
Think again.
Here are a few facts (along with some exceptionally witty comments from me) about what makes the Postal Service and living in the USA so great.
Mail Delivery: The Postal Service moves mail by planes, hovercraft, trains, trucks, cars, boats, ferries, helicopters, subways, bicycles, and feet. The most unusual delivery method is by mule train in Arizona. The mules carry mail, food, and supplies down an 8-mile trail to the Havasupai Indians at the bottom of the Grand Canyon. They say some people in the Grand Canyon celebrate Christmas by sending each other mule-tide greetings.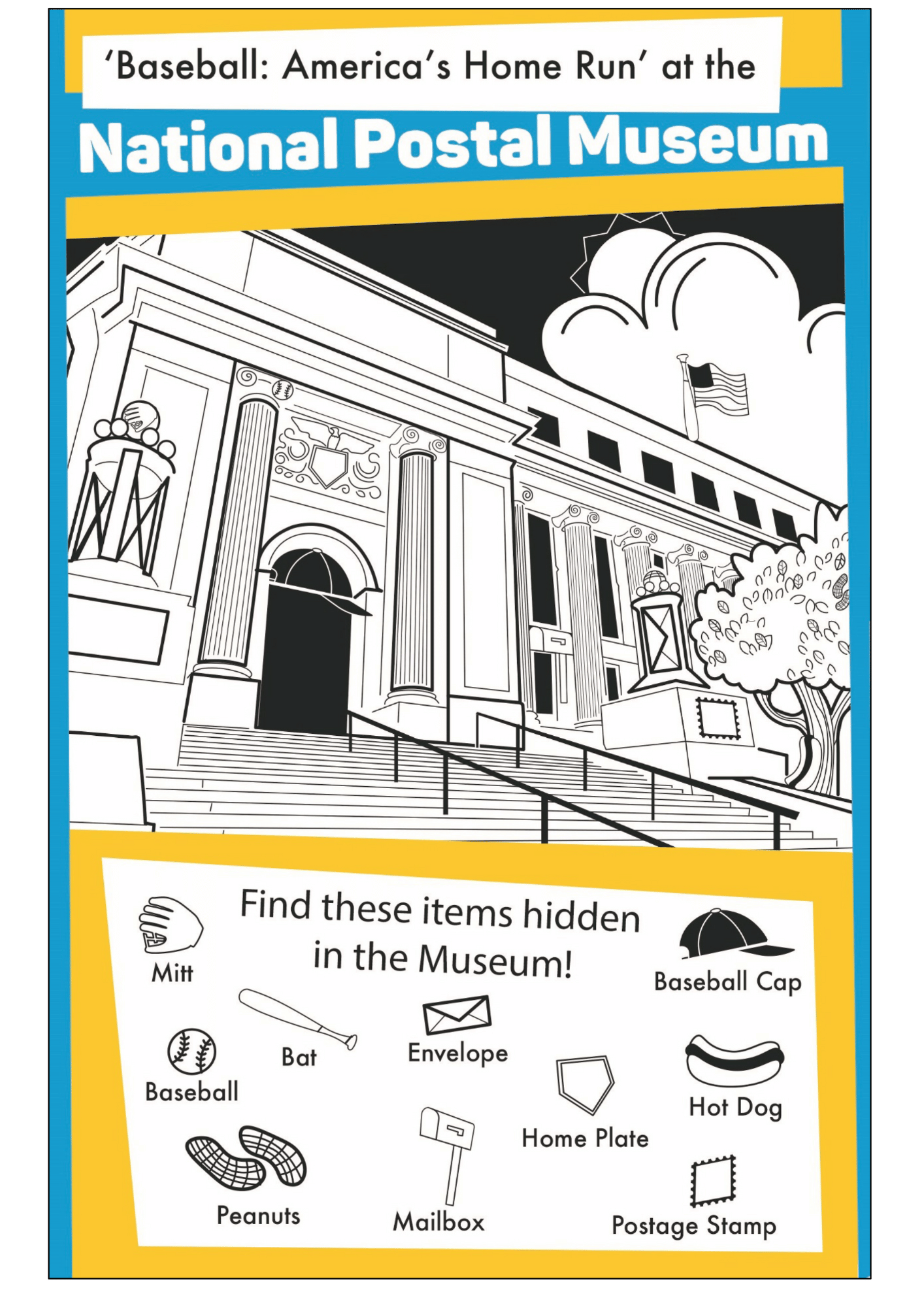 Graphic taken from https://postalmuseum.si.edu/baseball-hidden-image
City Names: Franklin is the most common city name with 28. Clinton and Washington are tied for second with 27, and Chester, Greenville, Marion, and Springfield come in third with 25. The most common post office name is Clinton, with 26 locations, followed by Madison with 25 and Franklin and Washington tied for third with 24. If you mail something to one of these cities, you better make sure to include the state and ZIP Code!
Main Street America: The longest Main Street is in Island Park, ID and is 33 miles long. Main Street is the most common street name in the country, with 21,514 of them, and the second most common is, believe it or not, Second Street, with more than 17,000. They say the marching bands in the Island Park Main Street parades go through two pairs of shoes.
Street Deliveries: The ZIP Code with the most possible street deliveries is 10025 in Cathedral Station, New York, with 46,395! I bet the library in Cathedral Station has a lot of stories.
Coldest Post Office: Fort Wainwright near Fairbanks, Alaska is the coldest, with temps as low as 65 degrees below zero. Utqiagvik, North Slope of Alaska—formerly Barrow—comes in second, with temperatures as low as minus 50 degrees F. They don't use credit cards in Fairbanks because they prefer cold hard cash.
Shortest and Longest Rural Delivery Routes: The shortest is in Parker, CO, where the carrier travels a mere 2.3 miles to deliver mail to 869 boxes. The record for longest goes to Clarinda, IA, where the carrier has to travel 181.4 miles to deliver to 234 boxes! According to the 1970s hit song "Short People," mail carriers in Parker, the shortest route, got no reason to live. If that's the case, the ones in Clarinda sure do.
Easy on the Memory: The easiest ZIP Code to remember is 12345 in Schenectady, NY. I thought of a joke about this, but I can't remember what it is.
Highest and Lowest ZIP Code Numbers: The highest is 99950 in Ketchikan, AK, with the lowest number 00501 in Holtsville, NY. I've heard rumors that some of the larger potholes in the US have their own ZIP Codes.
Dock-to-Dock Delivery: A 15-foot contract mail boat delivers to 176 dockside mailboxes on a 31-mile stretch of the Magnolia river in Alabama. I hear the people that live along the Magnolia River keep their money in riverbanks.
Boat-to-Boat Delivery: The Post Office contracts a 45-foot mail boat to deliver mail to passing ships on the Detroit River in Michigan. Incredibly, the boat even has its own ZIP Code: 48222. The mail carriers for ZIP Code 48222 must be pretty crafty.
The USPS Goes Underground: The Post Office operates a facility in Kansas City, MO that is located in a limestone cave 150 feet underground. It is named Stamp Fulfillment Services and was designed to keep inventory and employees safe from the snow, flooding, winds, and tornadoes common in the Midwest. They may feel a little caved in during a long winter, though.
The USPS Exclave: The definition of exclave is "a portion of territory of one state completely surrounded by territory of another, or others, as viewed by the home territory." The Post Office in Point Roberts, WA can be reached by land only by driving through British Columbia, Canada. Only a boat or float plane can travel directly there. Talk about needing a bridge. There have been rumors of building one, and people can't stand the suspension.
Remember the Mule Train Delivery?The Post Office in Peach Springs, AZ houses walk-in freezers for food destined for delivery to the bottom of the Grand Canyon by mule train. If you remember the mule train delivery, then you should remember the joke at the end. Okay, okay, here it is again: Some people in the Grand Canyon celebrate Christmas by sending each other mule-tide greetings.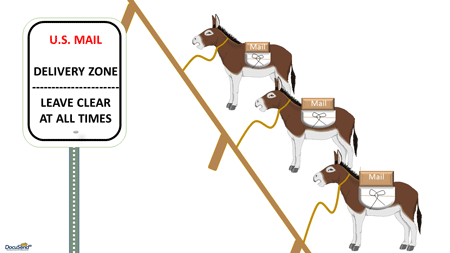 Oldest Post Office Location: The Hinsdale, NH Post Office has been in the same building since 1816. The second oldest location is in Castine, ME, from 1833. They say when the Hinsdale Post Office opened, the Dead Sea was only sick.
Tiny Post Office: The smallest Post Office is located in Ochopee, FL, at 61.3 square feet. The building was once a storage facility for irrigation pipes for a nearby tomato farm. It was converted to a Post Office in 1953 after a fire destroyed a general store that contained the Post Office. If this one caught fire, you could put it out with a squirt gun.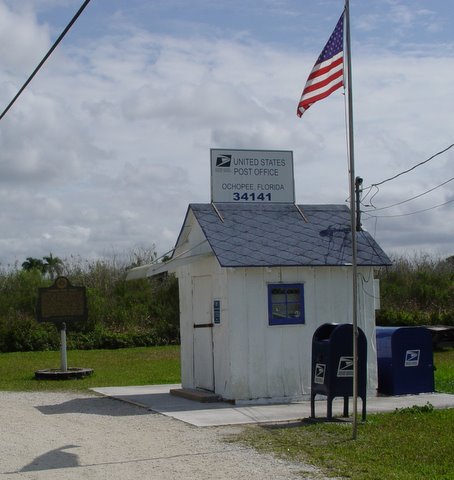 Graphic taken from https://en.wikipedia.org/wiki/Ochopee_Post_Office
Central (geographically) Post Office: The most centered Post Office in the 48 contiguous states is located in Lebanon, KS. The most centered Post Office of all 50 states is in Belle Fourche, SD. Like my mother-in-law, they must like being in the middle of things.
Wettest Post Office: The Kapaa Post Office is located near Mt. Waialeale, Hawaii, where they have an average rainfall of about 450 inches annually. It is often called the wettest spot on earth. What do you call two days of rain in Kapaa? A weekend.
Lowest Post Office: The lowest US Post Office is located in Death Valley, CA, at 282 feet below sea level. This is also the driest and hottest Post Office location. I bet students in Death Valley never get grades above C level.
Highest Post Office: The highest Post Office is located in Alma, CO, at 10,578 feet. Once you've seen the mountains in Alma, it's hard to get over them.
Another thing that's hard to get over, once you've seen it, is DocuSend. It uses all the resources above, and much more, to make sure your documents arrive safely and securely in the hands of your clients, so you can get paid quickly. It's like having your own mailroom in the cloud.
I hope you enjoyed this little article about the amazing things that go on at the amazing United States Post Office. Not to mention my spectacular jokes. Okay, okay, maybe they weren't so spectacular. I challenge you to do better. Put yours in the comments below. And your observations and ideas are always welcome. If you do have jokes better than mine, I promise I'll let you know.
Information is taken from USPS Postal Facts
If you want to learn more, visit the website of the Smithsonian National Postal Museum