Where's My Mail? 9 Things to Check if Your Mail Doesn't Arrive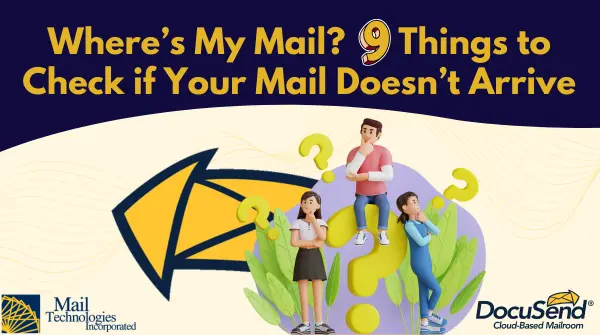 DocuSend clients can verify the date their mail pieces entered the United States Postal Service mail stream and track them all the way to the postal facility that the carrier works out of. But what about those that can't or don't want to use DocuSend? Here are some helpful hints if your mail does not arrive when you expect it to.
There can be several reasons behind an empty mailbox, but the good news is, the chance of some serious issue resulting in lost mail is extremely small. Even though the USPS handles the largest volume of letters and packages in the world—almost half the world's mail—its delivery accuracy is stellar, and its processes are well organized and highly automated, which makes the occasional shipping issues a fraction of a percent. An example of that can be seen in the ballot-delivery analytics during the 2022 elections, when public attention was drawn to ballots being delivered via USPS to election officials: 98.96 percent were delivered within three days, and within seven days the number was 99.93 percent.
So, if a letter you have been waiting for has not shown up yet, there is a good chance it is still on its way. The USPS statistics show that more than 90 percent of letters arrive within the term set by delivery standards, and the rest are in transit for a bit longer than the standards say. But in rare instances, there can be situations that might prevent people from getting their mail, some of them you wouldn't expect. Here is what you can check to be calm as you wait for your letters.
Possible Reasons Why You Are Not Receiving Your Mail
1. Something Is Blocking Access to Your Mailbox
Make sure there are no inconveniences for the carrier that limit access. Postal workers are not obliged to deliver mail if free and safe access to the mailbox is not provided. A vehicle may be parked in front of it, or a fallen tree limb, a huge pile of snow, or some other object could be blocking the way. In rural areas, the delivery can be stopped if there is no safe road to your property. Contact the post office that serves your zip code to clarify the reason, and if the problem with access is permanent, consider receiving your mail to a PO box and picking it up from the local post office.
2. There Are Safety Risks for the Carrier
The USPS prioritizes the safety of its workers over delivery, and possible threats to a carrier can be a reason to stop their visits. Natural disasters and dangerous conditions in your neighborhood are considerable factors that affect your mail arrival. Loose dogs can make postal workers skip some of the addresses on a street. Owners should keep their dogs away during delivery hours, no matter what size the breed is. In this case, as well as in the case of limited mailbox access, you will be notified by the Post Office regarding the reasons for the delivery cancellation, and the service will be renewed as soon as the Post Office ensures that the problem is solved.
3. Your Mailbox Is Broken
Sometimes it is just impossible to put new mail in. The mailbox can be damaged, for instance, if it was hit by a car. The door may not be opening and closing properly, there can be dangerously sharp details, or the house number may be missing.
If your mailbox is in bad condition, the delivery can be held until the problem is fixed. You should replace the damaged box (or notify the management if you rent an apartment). Meanwhile your mail will wait at the post office for you to pick it up.
4. Your Mailbox Was Already Full
If you haven't been picking up your mail for some time, one day your box may be too full to fit in more envelopes. In this case, the postal worker must take away all that the mailbox contains and leave a notification for you. In ten days, if you have not picked up your mail at your area post office or requested another delivery attempt, the First-Class letters will be returned to the senders as undelivered, while the marketing mail pieces will be thrown away.
5. You Moved and Forgot to Apply for an Address Change
If you moved to a new address, or your business changed its office location, it is impossible to individually notify everyone who sends you mail of the address change. Some senders will inevitably still be mailing your bills and other important communications to the old address. The NCOA (National Change of Address) database tracks all the updates. After you apply for an address change, your mail will be forwarded. The easiest way is to apply online. You can do that here: Official USPS® Change-of-Address.
6. The Mail Is Being Forwarded or Was Put on Hold
If there is no mail arriving, even ads, it's possible that the post office is forwarding your mail because someone erroneously applied for a change of address for your location. Maybe a mistake was made while entering the information. If you've moved, you may not be receiving mail at your new place because the previous occupant put a mail hold for this address.
Although it happens rarely, if there are two people in the same area who have a similar name, one of them may receive the other person's mail.
7. The Mail Is Being Delivered to a PO Box
If you recently moved, you can find out if your new address is included in the postal database by contacting the local post office. The previous resident of your house or office could have been using a PO box. They also could have been sharing a mailbox with a neighbor.
8. The Address Format Is Wrong or Parts of the Address Are Missing
If most of your mail arrives successfully, but you are not receiving letters from a particular sender, the problem is probably in the mailing address information they are using. The format may be incorrect, or the address in their company's database is incomplete or contains mistakes. If the mail is expected from abroad, maybe there was no country line added, informing the sender's post office that it should be sent to the USA.
The last line should contain the city, state and at least a 5-digit zip code. The wrong zip code can cause a break in your mail delivery. If you have doubts that you provided senders with the correct mailing address information, you can always check at the USPS zip code lookup page. If your address is in an apartment building or a business center, the sender should put your name or your company name on the envelope as the first line and make sure the apartment or unit number is included.
9. Your Mail Was Stolen
Thieves don't take the time to sort through your mail; they just empty out the mailbox and run. You may think: "What for? Who needs other people's mail?" Scammers steal mail either because they are searching for personal data for identity theft, or they are looking for checks that can be altered. The tools to alter checks are becoming more and more sophisticated. According to the US Postal Inspection Service, theft related to checks that were taken from mailboxes has become a widespread problem in recent years.
The USPS issued a recommendation not to mail checks and financial information using drop boxes in the evening and during weekends, when the mail is not picked up for longer periods; they suggest using in-wall retail locations instead.
What to Do
If you're not receiving any mail, the best decision is to call or visit your local post office and ask them what the issues could be with your address and what further steps you should take. They can also ask your carrier in person.
If you are expecting a particular letter and it is not showing up, the official term when First Class mail is considered missing is seven business days. You can request a missing mail search on the USPS website. However, after the seven-day term, mail may still be on its way and not completely missing; as was mentioned before, sometimes it just needs more time to make it, especially during times of heavy mail volume such as holidays and when tax form mailing deadlines approach. To be informed about what envelopes and packages are supposed to arrive, you can sign up for USPS Informed Delivery. You will receive emails with a preview of your daily mail.
One More Thing You Can Do
DocuSend provides a free tracking service called Mail Trail for all its users. If the sender had used DocuSend's cloud-based mailroom, the mail piece would have been tracked, and the person who sent it could tell you the last postal facility it entered. Why not let them know about our easy, pay-as-you-go service so they can use it next time?
Because DocuSend does First-Class automated mail, it has the highest priority you can get for First-Class mail. We always do our best with the documents distributed via our mailroom, from checking and correcting invalid addresses with special software to presorting the mail pieces by zip code to speed up their delivery. Besides, we take care of all the printing, inserting into envelopes, and buying materials. People and businesses can send USPS mail via DocuSend any time they need to, without any contracts or minimums, just by uploading the PDFs of their documents online.
We hope this article was helpful to you. And if you have experienced some other obstacles to mail delivery that we didn't mention, share your story in the comments section.