Work from Anywhere, Mail from Anywhere
Authored by: Fred Morgan, CTO, DocuSend, powered by MTI.
---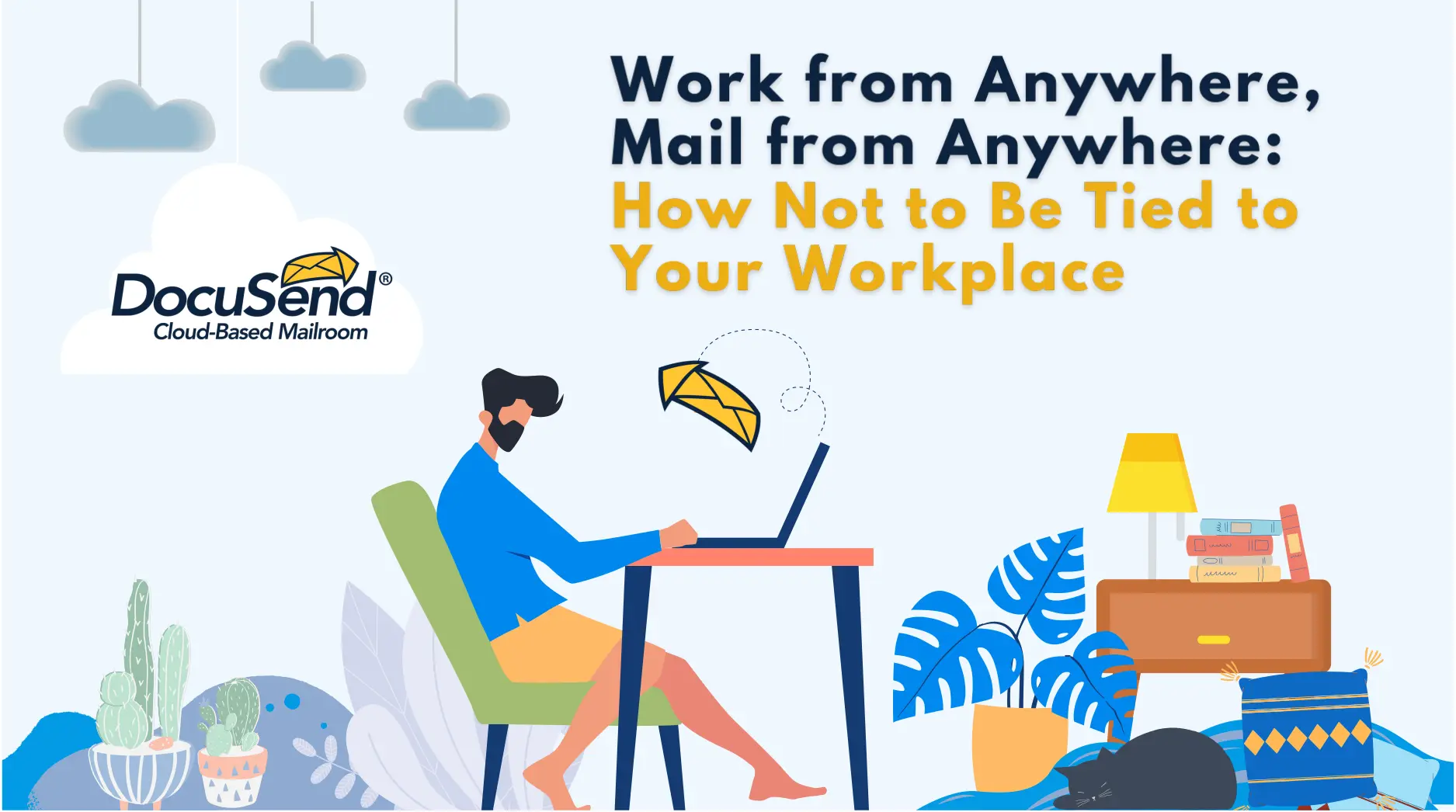 The gig economy and decentralization of the work force are in the news these days. This trend was boosted by the active development of technology and innovations for business communication, making the transfer to remote work easy for every regular internet user. The number of remote workers in the US keeps on growing: 3.9 million people worked from home in the US at least half the week in 2018, but by 2025, labor market analysts expect the number to reach 36.2 million.
It seems a growing number in the workforce prefer to set their own schedules. Statistics say that almost 70% of millennials consider the flexible schedule as a priority over other benefits.
Another motivation behind this trend, especially among millennials, is to cut down on vehicle use.
Using DocuSend is one more way to do both.
Skip the run for printing and mailing supplies and cut that trip to the post office out of your schedule.
Some (Obvious) Benefits of Less Driving Time:
It reduces greenhouse gas emissions.
It makes cars last longer. (Self-driving cars are set to revolutionize taxi and car rental services as well as ride-sharing, so some drivers are deciding to hold off on buying a new car until they see which way the wind blows.)
It cuts down on the stress of driving.
It reduces the probability of car accidents.
And of course, it saves money and time.
Something you may not know is that when you upload your mailings to DocuSend and they go to the US Postal Service, they are going to an environmentally minded organization.
Surprised?
The USPS has announced the large-scale modernization of its delivery vehicles, the biggest change to their fleet in three decades. It is replacing the old type of vehicles that were used for so many years with ones that have lower fuel consumption, as well as implementing alternative-fuel vehicles. The USPS operates a fleet of nearly 34,000 alternative fuel-capable vehicles, most of which are equipped to use ethanol, and their National Recycling Operation uses their existing transportation network to backhaul recyclables from post offices to central collection points.
Thousands of letter carriers drive to neighborhoods and then deliver the mail on foot. Furthermore, there are 51 biking routes helping to reduce emissions, and some mail is delivered by electric vehicle. There are 6,614 walking routes where mail is delivered solely on foot. The postal service has achieved a 25% reduction in greenhouse gas emissions since 2008 and is planning to reduce even more. *
People can greatly help the environment by not driving to the office and back every day and eliminating trips to the post office when they need to manage business communications.
DocuSend Is Ideal for People Working from Home
Here's why:
With no minimum quantity, invoicing can be done any day—or even every day.
You'll never again have to rush to get things in the mail before the carrier comes or to make it to the post office before it closes.
And of course, it saves money and time—when you add up the cost of the paper, envelope, ink, and printer operation, along with the time to fold, stuff, seal, and apply a stamp, the cost of mailing an invoice through DocuSend is less than if you do it yourself.
Get Away!
Odds are, you've already taken advantage of today's technology to get some work done wherever you happen to be.
If you can access the internet, you can use US mail delivery via DocuSend. This is not about being a workaholic who never wants to take a real vacation. Many people who work from home own their own business, and for most owners, it's about being able to get away at all!
Now, Timely Mailing Doesn't Have to Tie You to Your Office
In many cases, mail sent across international borders does not arrive at its destination with anywhere near the reliability of mailing within the country. And then there's the cost. If it's important enough to send from outside the US, you probably need to track it all the way to delivery, which gets expensive. DocuSend is as reliable and secure as mailing it from your office, and you can even send your mail certified and have it tracked all the way to its final destination, unlike from a foreign post office. When certified mail is sent to the US from other countries, the tracking ends when the mail piece joins the USPS mail stream.
Attention, expats: Here is the solution you've been looking for to send mail from any foreign country and have it reliably enter the US postal system!
So, you feel good about using less fuel, and you enjoy the freedom and flexibility of working from home. Now free yourself up even more—don't stick around to stuff envelopes and get them in the mail.