Turn Your Customer Invoices into a Marketing Instrument
---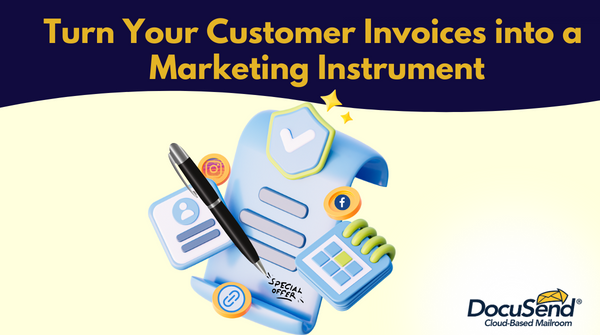 You may be surprised to learn that you are overlooking a marketing tool that's right there in your hands.
It's the invoice or account statement you mail out every month.
Follow the advice below for touting your business, keeping your customers loyal, and even getting invoices paid faster. Since the mailing cost is already covered, can you find a better bargain than that?
6 Tips for Turning Invoices and Statements into a Marketing Tool
1. Organize your invoice. What do we mean by that? Group your pertinent company info. Keep all your contact information together (email, phone number, website, store location) either at the bottom or in the upper right corner of your invoice.
2. Put your logo in your return address. Your logo should go in the top left corner of the invoice with your return address under it so it will show through the envelope window. This is brand promotion you can't afford to miss.
3. Make the messaging area easy to spot. A consistent location on the invoice for messages will tell your customers exactly where to look for basic account information and bulletins like changes to store hours or service schedules, location changes, and news about your company. But don't let those messages get stale or out of date, or your customers will get in the habit of never looking in the messaging area. For static info like account details, direct customers to the appropriate page on your website.
4. Make what you want them to see first pop with color. Quick, name the McDonald's company color. Exactly! Color is part of brand recognition, so use it in your logo too. Invoices don't have to be black and white to be cost effective. It's a small fee to highlight your message area with color – preferably your company color. Your customer's eyes will be drawn to what you want them to read first.
5. Ditch the clutter. Don't try to cram too much into your invoice; it will just confuse your customers (see the next tip for a better way to send extra information). The basics, of course, are the invoice number, date, service performed, total due, due date, and payment terms. If a quick scan of the invoice is not enough to let your customer know it's ready to process, you may need to pare it down.
6. Inserts give you more bang for the buck. You're paying to mail an envelope, right? So why not make it do double duty to keep your clients informed about special offers, promotions, service changes, and more?
People tend to open statements and invoices first and leave the purely marketing mailings for last (if they don't immediately toss them).
DocuSend, a web-based service for printing and mailing invoices, lets you insert a black-and-white PDF document for as little as $0.12 per page or $0.2 for color. Try to get a better return on your investment than that!
We've said it before, and we'll say it again: that invoice or statement you mail out every month is likely the most cost-effective marketing tool you may have overlooked.