Can My Small Business Afford Bill Distribution Outsourcing?
Written by: Alice Witherow, Director of Sales & Marketing, DocuSend.

---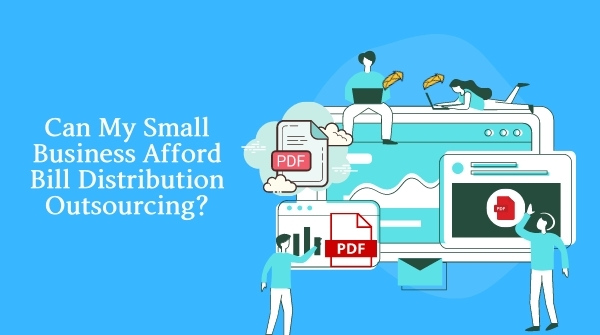 Bill processing vendors traditionally target companies with large, multidimensional client bases, offering complex, long-term service contracts that take months to negotiate, program, and implement. The services can vary substantially in price, but most provide significant savings over internally managed billing operations.
But can your SMB take advantage of their services?
Probably not—but read on!
Businesses with client lists under 5,000 per billing period are often left out because they are considered too small to fit within the vendor's financial goals. The result is that many companies with small but important client bases use up valuable internal resources each month just to get their statements into their customers' hands. And during the COVID-19 pandemic, almost all small businesses stopped bringing extra help onto their premises to get the monthly bills out.
Businesses like yours are the very ones DocuSend was designed to help!
Just as small businesses use a service to distribute payroll, DocuSend does the same thing for your bill distribution. DocuSend addresses the concerns of managers who think of outsourcing as an expensive and time-consuming process.
If you find the high upfront costs and expensive service charges just plain discouraging, we don't blame you.
DocuSend offers all the benefits of large billing contracts with none of the costly sting of long-term written agreements. With no monthly minimums, you can upload 5, 10, 100, or 1000 pdf documents in minutes for as little as 83 cents (includes first class postage) per mailed envelope. Also included in that price is a report portal and an archive and retrieval (Image Bank) system.
According a wikipedia article called Print and mail outsourcing: "Outsourcing can offer greater budget flexibility and control by allowing organizations to pay for the services and business functions they need, when they need them. It also reduces the need to hire and train specialized staff, makes available specialized expertise, and can reduce capital, operating expenses, and risk…. Reasons include reducing and controlling operating costs, improving company focus, gaining access to world-class capabilities, freeing internal resources for other purposes, streamlining or increasing efficiency for time-consuming functions, and maximizing use of external resources. For small businesses, … outsourcing might be done to improve work-life balance."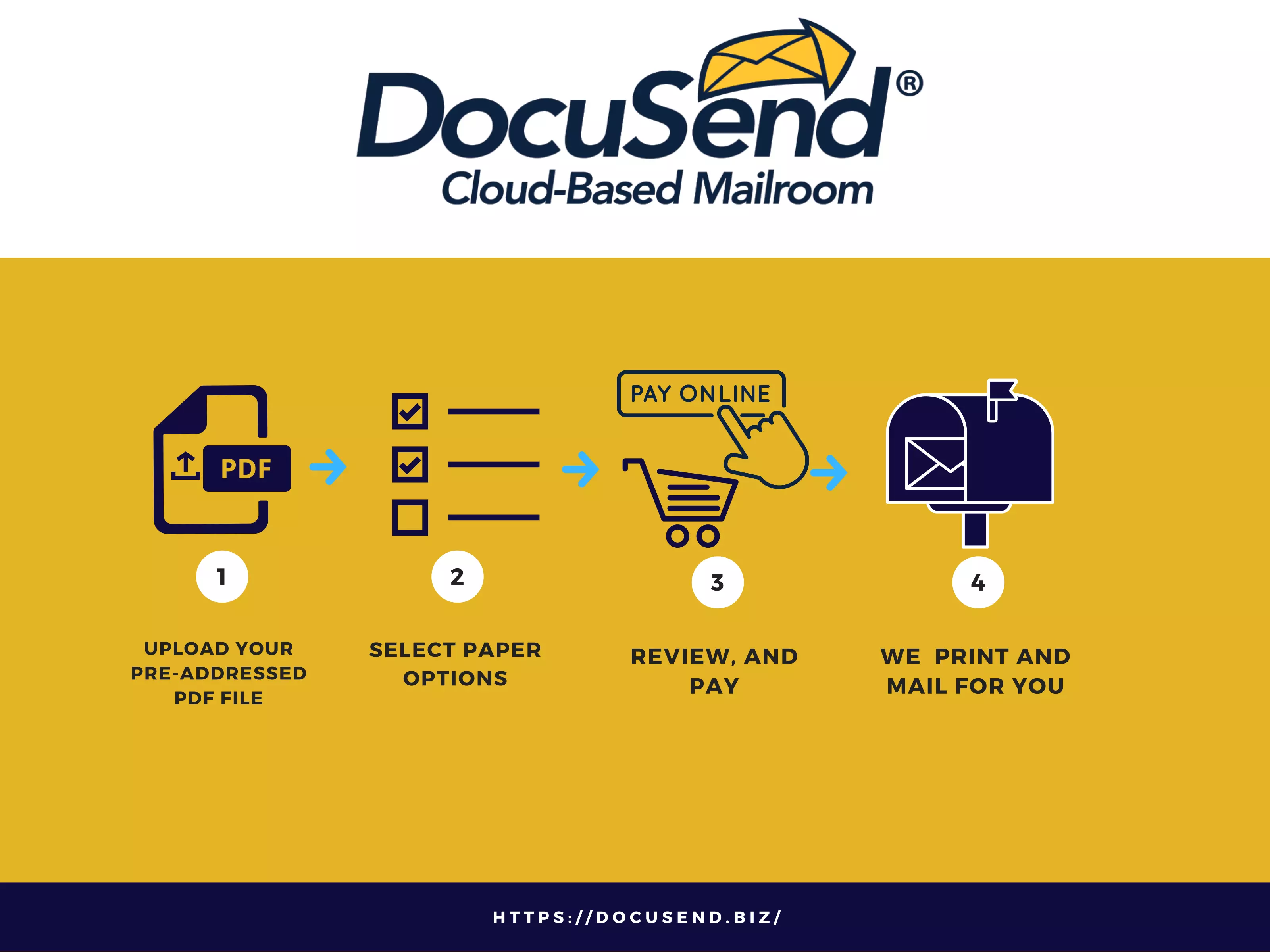 Those are all good reasons why management guru Peter Drucker coined the phrase: "Do what you do best and outsource the rest."
As for print-and-mail outsourcing, it has been said that it "provides additional transparency, allows for more tightly controlled budgets, and can reduce expenses, saving hundreds, if not thousands of dollars per year. Additionally, the equipment and expertise required to create professional and customized pieces of collateral are often expenses that many small to mid-size firms can no longer afford. By outsourcing, some estimates show that companies can save approximately 20% on their annual printing budgets. Using a web-based service for invoicing and other important must-deliver documents can save up to 50% of the cost associated with performing this task in-house when considering envelope, paper, toner and internal labor."
Think it's too good to be true? Just try it.
DocuSend has had an outstanding customer retention rate since it was launched in July 2015. So whatever size your business is, you can have your own mailroom in the cloud with DocuSend. It's a rock-solid way to distribute your important documents and make your company more efficient.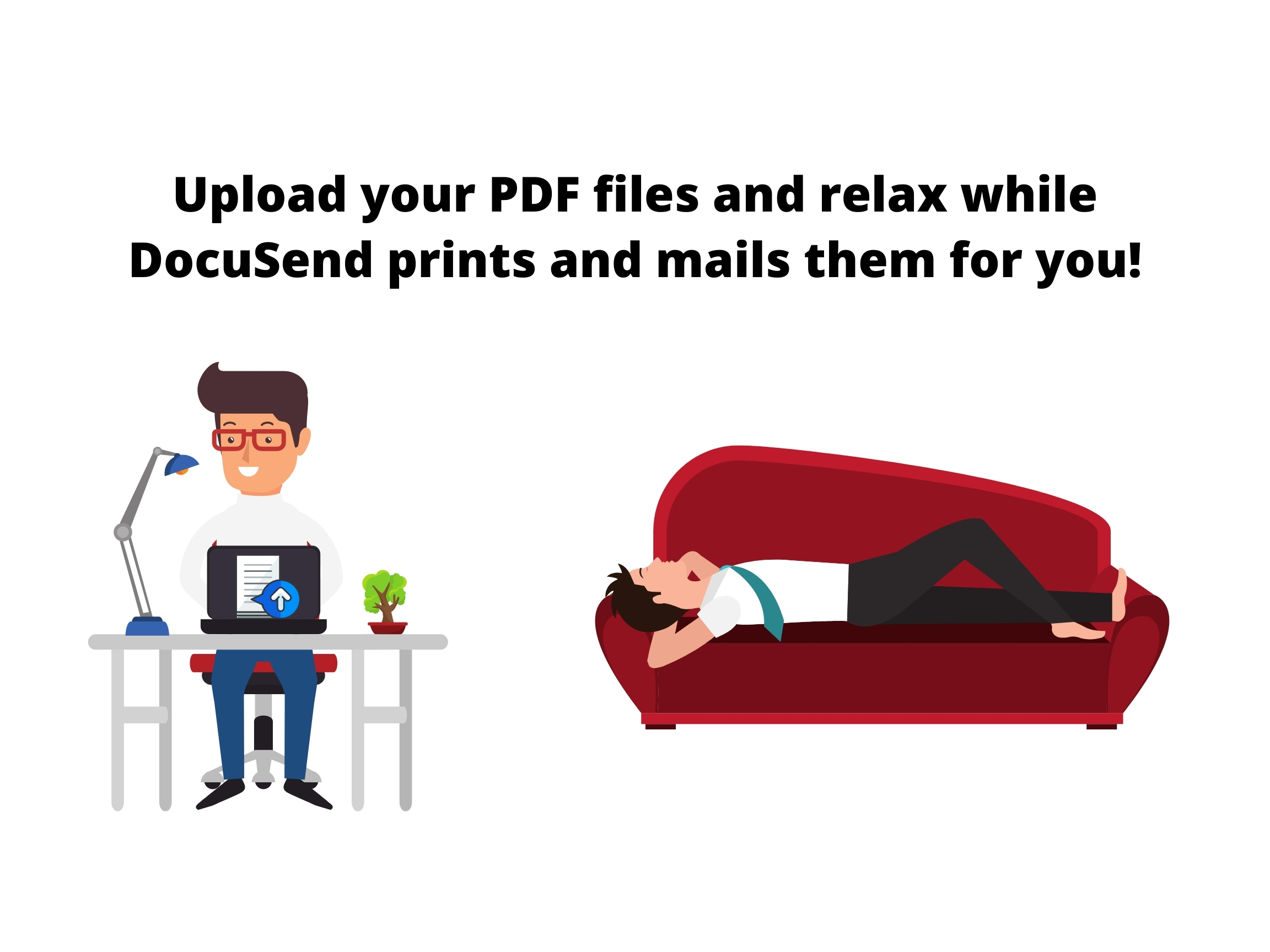 Read about Five MORE reasons to choose print and mail outsourcing.