The Cloud-Based Mailroom: A Tremendous Resource for Any Organization That Mails Documents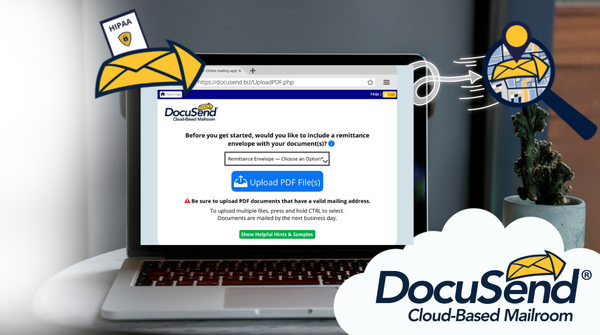 What Exactly Is a Cloud-Based Mailroom?
DocuSend's cloud-based mailroom is a secure, on-demand, 24/7 mailing facility open to businesses, organizations, and even individuals that need immediate document distribution services.
The mailroom accesses computer networks, storage, applications, and other resources via the internet through Amazon's shared cloud computing infrastructure. It allows organizations to upload their documents for processing and delivers them directly to the United States Post Office within two business days of file receipt.
This great resource is commonly used to mail invoices and financial statements; however, any letter-sized PDF document containing a valid mailing address can be sent to the mailroom for processing. Our proprietary software checks the mailing address for proper formatting and compares it to the National Change of Address database.
10 Reasons Businesses Benefit from Using a Cloud-Based Mailroom
1.  It doesn't take up any space. It has all the advantages of having your own mailroom with a zero-square-foot space allocation. No more having to take over the conference room or breakroom to stuff envelopes. Even better, forget the expense of dedicated office space. Some small business owners even take their invoices home and stuff them over the weekends.

Now the only thing they'll be taking home is a smile.

2. You don't need any equipment.   Many organizations don't realize the hassle and expense of operating mailing equipment part time until they try it. The leases and maintenance contracts that go along with running folding, inserting, and metering machines detract from focusing on growth. The point of acquiring any machine is to fill it to capacity as soon as possible, and that's hard to do in any internal mailing operation. The lease still has to be paid when equipment sits idle.

The cloud-based mailroom is sitting there too, but you pay nothing until you use it.

3. It eliminates manual labor costs. The average time it takes to manually print, fold, stuff, seal, and stamp 200 documents is about 2 hours. DocuSend: 1 to 2 minutes to upload.

And that's it—you're done with that bulk mailing!

4. You pay for it only when you need it. Most businesses run on a predictable schedule. Someone needs a product or service, and an estimate is produced that includes the time of completion. Even businesses selling off-the-shelf products have to estimate inventory.
But when it comes to communicating with customers, many documents cannot be prescheduled for distribution because they are triggered by an unscheduled event. Printing and mailing these documents is difficult to manage because there is no accurate way of predicting the volume or frequency of service interruption notices, rate changes, delinquency letters, and many other low-volume communications.

With no minimums, DocuSend's cloud-cased mailroom solves this problem immediately, regardless of the file size.

5. It doesn't require any inventory. he cloud-based mailroom's cost for a single-page black-ink document is between $1.07 and $1.12 cents depending on what paper and envelope options you choose.
And yes, that includes postage.
One of the reasons it's so inexpensive is our inventory. We purchase paper and envelopes by the millions and pass the savings along to you, the mailroom user. Some clients tell us they would like to use their inventory up before taking advantage of the mailroom. But realistically, when you add up all the savings in labor, time, materials, and cash flow, our advice is to find another use for inventory or donate it to a good cause.

The return on investment is just too fast to waste time using up supplies internally.

6.  It maintains a record of everything you mail. Each user receives access to a proprietary portal that provides a six-month record of every file uploaded to the mailroom. Users can retrieve file dates, mailing volumes, invalid addresses, cost per file, and more. You can add, delete, or modify user information and determine each user's level of access.

The complimentary portal is available 24 hours a day, 365 days a year.

7. You can reprint any document you mailed in the last 6 months. Ever have a customer say they never received their invoice?
Now you can respond: "OK, what's your email, and I'll send it while we're still on the phone."
Each user is provided with a complimentary electronic storage and retrieval archive system called an Image Bank. It's provided at no additional charge and contains searchable images of all the documents mailed over the last 6 months. You can view, print, save, and e-mail the document directly from the Image Bank screen. You can give as many people as you like access at no additional charge.

There is no limit to the number of documents you can store.

8. When you include inserts to communicate with your customers, the postage is already paid for. The cloud-based mailroom includes a popular communication tool that allows a generic 8.5 x 11 PDF to be included with each addressed document.
After your file is uploaded and you've selected your job specifications, just select the "Add an Insert" option and upload a PDF of the insert you want to include in your mailing. You can choose black ink or color, and the insert is automatically placed as the last page of your customized invoices or letters. It is typically used to mail letter-size flyers, announcements, advertisements, coupons, and notices to your clients. The only limitation is your imagination.
And the postage is already included in the base price.

It's a fraction of the cost of sending a standalone document.

9. You can mail just about any document, no matter where the address is located.  Top, bottom, middle stub—DocuSend handles just about any document regardless of the address location(s). You can design your own forms so the address shows through our supplied window envelopes, but if you don't have the time, inclination, or resources, we'll do it for you. When you upload your file and the address(es) don't line up, just follow the on-screen prompts.
DocuSend even handles W-2 and 1099 tax forms that normally would have to be mailed in special W-2 tax envelopes that are so small they are very difficult to stuff documents into.

Dread the tax form deadline no more!

10. It increases cash flow with ZERO risk. No minimums. Stop any time.  Mail every day if you want to. There is no risk, and the return on investment is immediate.
In fact, businesses will find the cloud-based mailroom is a technology so advanced and easy to use that by trying it just once, they'll know instantly whether it will save time and money managing resources. In other words, businesses don't even have to go through the expense of conducting an ROI analysis to calculate its value. As an example, the average cost for a company to manually mail a one-page invoice is about $2.06 per envelope. That includes forms, materials, printing, folding, stuffing, applying postage, and labor. Sending it to the cloud-based mailroom costs $1.07 per envelope. So, per annum, typical savings average $1.07 X their annual volume. An organization that mails 100 invoices a week will save about $4,944 per year.
It's a pay-as-you-go service, so there's nothing to cancel. Just stop using it if you ever find a better way to mail.
But we think you won't.
We encourage any organization that wants to save the tedious hours it takes to do the menial task of printing, folding, and mailing any important documents to try DocuSend and let us know what you think.

We don't think you'll ever stuff another envelope by hand again.
Thanks to all the SMB owners and operators out there for taking the time to read this. We'd love to know what you saved by using the DocuSend mailroom. Please share your ideas and innovations in the comments section.