Why Does DocuSend CASS My Addresses?
And What Is CASS Anyway?
---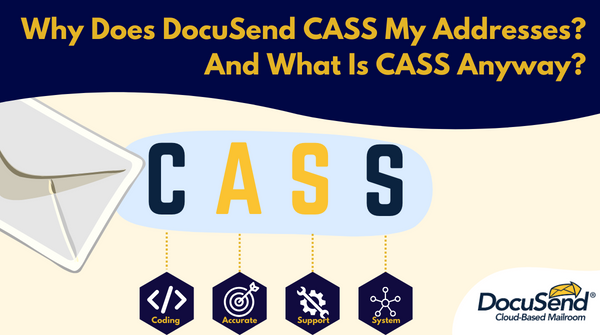 Have you ever wondered how The United States Postal Service delivers your mail to the right place in a timely manner? Or perhaps you were curious about how DocuSend manages to offer you those advantages in an all-in-one pricing deal? In this article, we're going to explain one more element of our process that helps to increase efficiency: US mailing CASS certification.
CASS certification contributes to postage cost savings.
First things first, what does CASS mean? This acronym stands for Coding Accuracy Support System. It is a software-based certification and address validation process used by DocuSend through software providers licensed by the United States Postal Service. The USPS maintains a database containing every US address to aid in its automation and precision.
We match our customers' addresses against this database to give you the full benefit of this powerful tool.
By going through the CASS certification process, mailers can ensure that their clients' addresses are valid and up-to-date, reducing the likelihood of undeliverable or returned mail.
CASS certification enables us to assist the USPS in handling your mail.
Now, you might be wondering, "Why should I care about CASS certification?" Well, it's not just a virtual stamp of approval.
It's one of the tools for significant savings on postage, and implementing this process allows mailers to qualify for postal discounts. Every day, the USPS is faced with an ocean of mail to process. When we CASS your addresses, the postal service grants us a work-sharing postage reduction. This is one of the reasons we can give you DocuSend's low all-in-one pricing.
A Story of Over 10 Years
To put it in perspective, CASS certification has been around for quite a while. The USPS' work-sharing discount program began in 1983, and CASS certification became available in the late 1980s as an extension of it. So, you can trust that this system has been tried, tested, and perfected over the years.
How Coding Accuracy Support System Works
Before printing and mailing out your documents for you, CASS-certified mailing providers can:
Verify the accuracy and completeness of mailing addresses.
Standardize your address formatting to USPS guidelines.
Correct any errors, misspellings, or inconsistencies in addresses.
Update addresses with any changes or new information in the USPS database.
Append ZIP+4 codes to addresses, providing a more precise location for delivery.
The CASS certification system uses software that compares entries in an address list with entries in the USPS national database via AMS (Address Matching System).
Coding Accuracy Support System Features
The CASS matching process verifies that addresses are either correct and deliverable or incorrect and undeliverable. The USPS provides feedback regarding the results, which you will see when you review your documents. The DocuSend website shows you how the address should look.
In addition to CASS certification, DocuSend provides the update of the mailing addresses according to the National Change of Address database, which helps mailers keep their mailing lists updated when recipients move.
The Bottom Line
CASS certification enables mail senders to hold the cost of mailing in check. But in the grand scheme of things, CASS isn't just about cost savings, it reduces the chances of mailing out documents that will be returned or undelivered. Additionally, and certainly not minimally, it improves the ability of mail carriers to deliver mail accurately and in a timely manner.
So, that's a short explanation of how and why we CASS your addresses. Your feedback and thoughts are valuable, so don't hesitate to share them in the comment section below.