To Mail or Not to Mail? That Is the Question to Ask Yourself About Sending Invoices
Written by: Alice Witherow, Director of Sales & Marketing, DocuSend.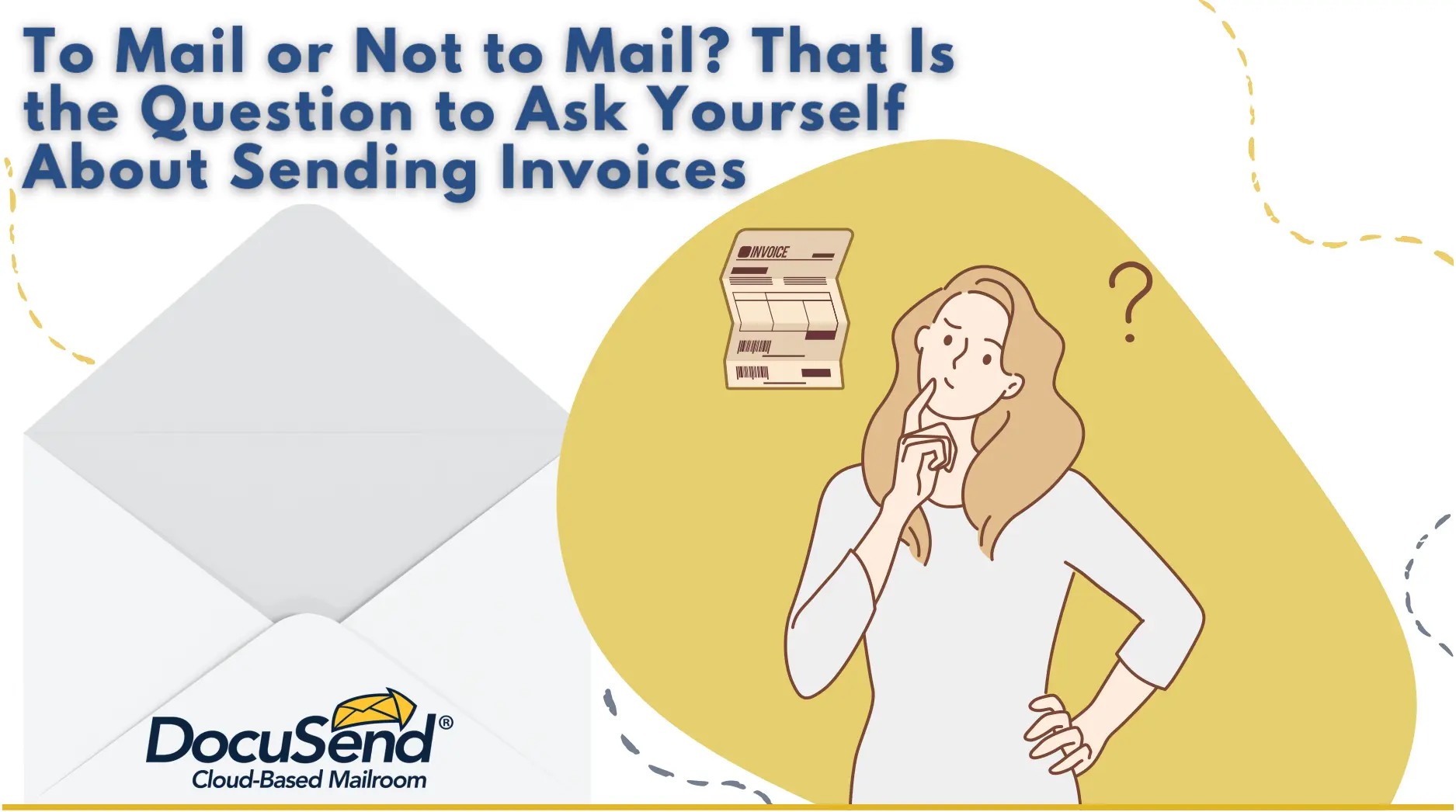 Surely every business owner at times asks some form of the question:
To do or not to do?
Often it's asked and answered in relation to a work process or the potential effect on customers or employees.
In the world of electronic delivery, it's tempting to always use email, as it's a fast, efficient and cost-effective way to communicate with your customers and distribute documents to them.
Unlike emailing, the traditional way of sending paper documents usually involves waiting a certain time for the mail to be delivered by the USPS.
But that leads to three even more important questions.
Is Email Secure? Does It Even Get to the Inbox? Is It Being Read?
When it comes to sending important financial documents such as invoices and billing statements, research indicates that many consumers prefer to receive a paper bill through the US mail.
Why is that?
Email inboxes are flooded with a deluge of emails, so sometimes vital emails are ignored or deleted without recognizing their importance. And then there's the security issue: Is it a legitimate email? People are apprehensive about clicking on attachments or unsecure links due to phishing and malware.
Even though email is convenient to send, what good is it if it's not being seen by your customers?
Hence the reason to question your communication process – to mail or not to mail?
For important communications such as invoices, billing statements and mandated announcements, mailing through US Mail is an essential good business practice.
Why?
You know it will get there in a timely and secure manner. The majority of B2C customers want a paper bill because it doesn't get lost among their emails and it helps them keep track of their outstanding balance and due date, which in turn gets you paid on time. And they like the convenience of having a printed history of their transactions with you.
Secure Online Mailing
If you calculate how much time and money is required for printing, buying postage, inserting the documents into envelopes and mailing, you can easily conclude that manual processes would be better replaced, as they are a distraction from important tasks related to improving your business. A modern cloud-based mailroom service such as DocuSend can provide the assistance you need and eliminate all the disadvantages of handling your paper document distribution yourself.
Mailing invoices does come with a cost component. But using DocuSend will keep your costs down while ensuring that your documents are delivered in a timely manner. In fact, you'll save money off using internal resources to mail. Our research shows that it costs a small business at least $2.00 to print, stuff and stamp mail internally. So why not outsource it to a company that can do all the work for about half the cost? It's a winning proposition all around – you accommodate your customers' request for a printed bill as well as encourage them to open your invoice so they pay it promptly.
Besides, DocuSend is more than just a mailroom. It not only prints and mails your documents for you, but also provides many additional features to fit your business needs.
The two-sided printing option helps to cut expenses even more by reducing the weight of over-sized documents, color printing will make your communications eye-catching and highlight important information, and with the HIPAA compliancy feature the PDF documents will be destroyed right after mailing and sensitive personal information will not be retained.
It is easy to add generic inserts to each document, as well as a remittance envelope.
There are time-efficient international and certified mail services.
All the users' mailing history is stored in their personal Report Portal, which makes it convenient to review all their mailed documents and expenses for the last 6 months. DocuSend also provides its customers with free access to the Mail Trail service, which provides the date your mail entered the postal system and tracks its journey to the recipient's postal facility. It's a convenient, one-stop shop.
It's amazingly easy to use this service. It requires just a few simple steps. It takes at most two minutes to upload your preaddressed PDFs, review, and process payment, and the rest will be done for you.
One more reason to try this method is that it's pay-as-you-go. There are no contracts or monthly minimums, and no need to download any software.
DocuSend's cloud-based mailroom can be integrated with any accounting software and can be connected to FreshBooks and QuickBooks Online as an app to send your created documents to print in a moment.
If You Still Prefer to Send Emails
We are all used to paper: it is convenient and understandable. It was invented in China in the beginning of the 2nd century, came to Europe in the 11th century, and ever since Johannes Gutenberg invented an efficient method of printing, has had a special place in our culture.
But more and more people are becoming environmentally conscious and prefer less paper use. For them, receiving invoices via email seems like a suitable alternative.
Now your company can have it both ways to send invoices, taking advantage of each method in turn: you decide when you need to send a hard copy. The DocuLink email solution makes this process totally flexible. DocuLink is aimed at eliminating the security risks related to using attachments. It does this by providing your client with a link to a secure portal to receive sensitive financial documents instead of sending them as attachments. DocuLink also informs you which of the links haven't been opened, allowing you to review the stored documents in your personal Report Portal and resend them as a hard copy via USPS.
When faced with the question "To mail or not to mail," using US Mail is still the best answer. It is impossible to completely replace paper bills with electronic ones, and that's why with DocuSend you will always have an option to get them printed and mailed for you.
How do you send your important customer communications and why? We'd love to hear your comments.