Why Billing and Invoicing Software Companies Are Outsourcing Their On-Demand Mailroom Service
Written by: Alice Witherow, DocuSend, powered by MTI.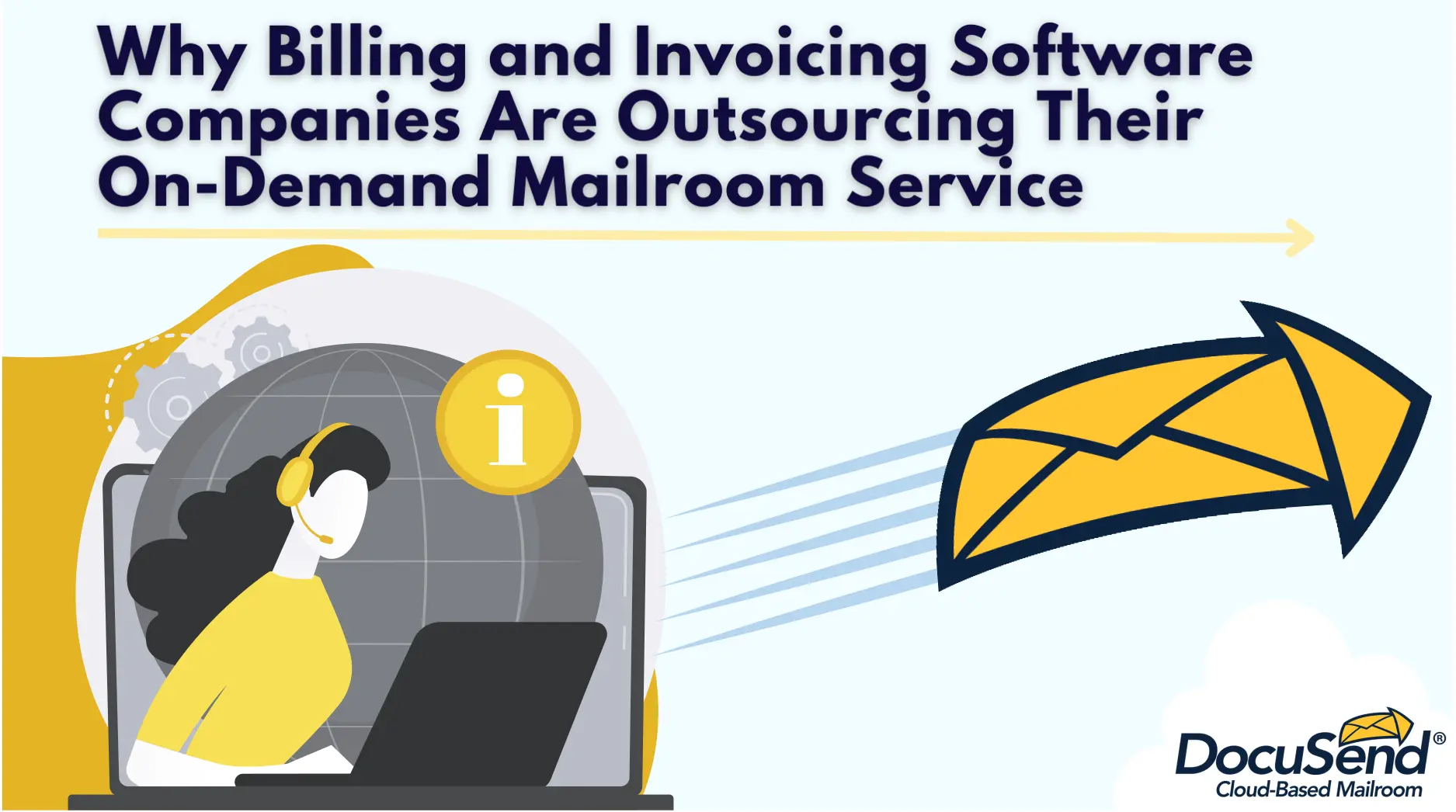 ---
Time and time again, our software vendor partners have told us that adding a mailing service to their invoice, billing or CRM software provides them with a leading-edge technology that helps them acquire new customers and retain existing ones.
Let's face it: Statistically, mailing sensitive documents through the US mail isn't going away anytime soon. Software providers who want to give their users all available distribution options certainly don't want to ignore mailing documents as an important alternative.
Adding a mailing option that is as easy to use as email provides leverage to software companies that want another technological edge. But how did they decide which company was the best outsourcing vendor to partner with?
Before we take a look at why outsourcing was the best solution for them, let's first start with the definition of outsourcing from Enterpreneur.com.
Definition: The practice of having certain job functions done outside a company instead of having an in-house department or employee handle them; functions can be outsourced to either a company or an individual..
In our 31 years in the mailing business, we have only come across one or two invoice software companies that have the in-house expertise to print and mail the documents they produce for their clients.
Why is that?
It's because mailing is a volume-based, complex and costly business. It involves purchasing and maintaining machines such as commercial printers and inserters, the use of technology-based equipment like OCR scanners, and obtaining people with the skills required to operate the equipment, programmers to map the data, and developers to write code, not to mention complying with all the complex regulations of the US Postal Service and the mailing industry.
This makes it prohibitive for a software provider to enter the arena, because they would have to be proficient in all these areas. So they turn to experts in the mailing industry, typically called mail houses, to partner with them to provide this valuable service to their clients.
Here is our top-five list of reasons why you should consider outsourcing your mailing service, culled from conversations with our software-vendor partners that have integrated our API into their software.
Reduces the Risks of Providing a New Service
These companies know their end users are printing and mailing documents internally, very often a manual process for printing and folding, then stuffing and stamping envelopes. Here they were, offering a service to create invoices but not providing their users a cost-effective way to mail them
By partnering with an existing mail house, they mitigate the risks involved in launching a new feature. By affiliating with a company like DocuSend, they incur no expense other than the internal cost of development, which typically is minimal, as API integration can be completed in a few days.
You can't get much more low-risk than that
Lowers Operational Costs
By outsourcing, you do not have to create a new department, hire mailing experts, or purchase or lease expensive machinery. There's no training involved, few internal resources are needed, and there is no learning curve
It's more cost effective to partner with a mail house that has already invested in development, infrastructure, programming and equipment. It basically costs you nothing to offer this service, yet you reap the benefits.
Adds a New, Recurring Revenue Stream
Who doesn't love incremental revenue?
Management, sales and development teams are focused on the bottom line, and who doesn't want to generate more profit? Your ROI on this is extremely high, especially with a service like DocuSend, where API integration is free, you're not hit with upfront costs or registration fees, and you have no contractual minimums to meet.
Enhances the Value of Your Software
Retention rates of existing clients can increase because you are helping them automate the tedious and time-consuming task of printing and mailing invoices.
You are also able to set your software apart from your competitors by offering your users a cloud-based mailroom that is available 24/7. Since many people feel uncomfortable if they don't receive paper bills, you help your users satisfy their customers.
And with API integration, you imbed the option to "Send Mail" right into your software. Users access this feature with the click of a button, all while staying within your environment.
Allows You to Stay Focused on Your Core Product
According to Flatworld Solutions, by delegating responsibilities to external agencies, companies can wash their hands of functions that are difficult to manage and control while still realizing the benefits.
And what does this mean for you?
You can provide an added-value service without having to manage it yourself, meaning you can focus your time and energy on growing your core product base.
The only downside to outsourcing is selecting the wrong vendor. This can be a little complicated, so be sure to consider the following qualifications before making your final decision:
* Works with PDF technology, essentially eliminating data mapping
* Has an easy-to-integrate API and can accommodate multiple programming languages
* Offers white label as well as direct solutions
* Provides a revenue-sharing program
* Has a proven track record in the mailing industry
* Is responsive and provides excellent customer service
* Integration is straightforward, and the service is simple and easy to use
Outsourcing mailroom services to a company such as DocuSend gains you a valued business partner without your firm having to become expert in the mailing industry. You close the loop for your customers who need a way to easily get sensitive documents in the mail.
DocuSend's proprietary PDF technology and our dedicated staff differentiate us from other cloud-based mailrooms. Be sure to check out our API information including working examples on our website.