Become a DocuSend Affiliate Partner and Reap the Rewards
DocuSend is a super useful software tool for printing and mailing: Do you know people who spend hours each month printing, stuffing and mailing invoices, billing statements and letters? Then you should consider becoming a DocuSend Affiliate partner as part of our DocuSend referral program.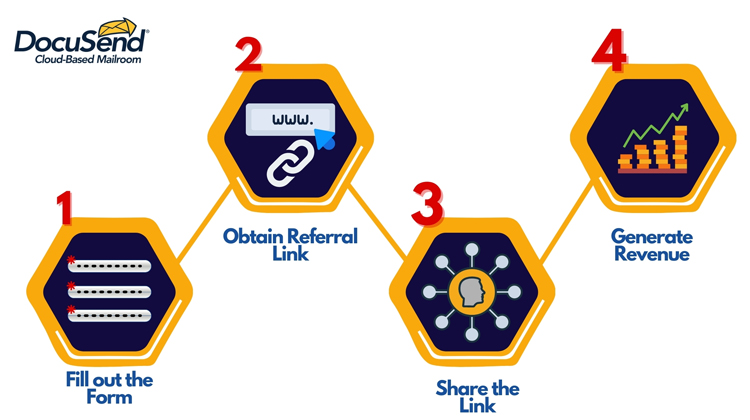 Affiliate with DocuSend
How Does the DocuSend Revenue-Sharing Structure Work?
It's as simple as sending a referral link so they can start using DocuSend, and you'll earn revenue from their mailing activity.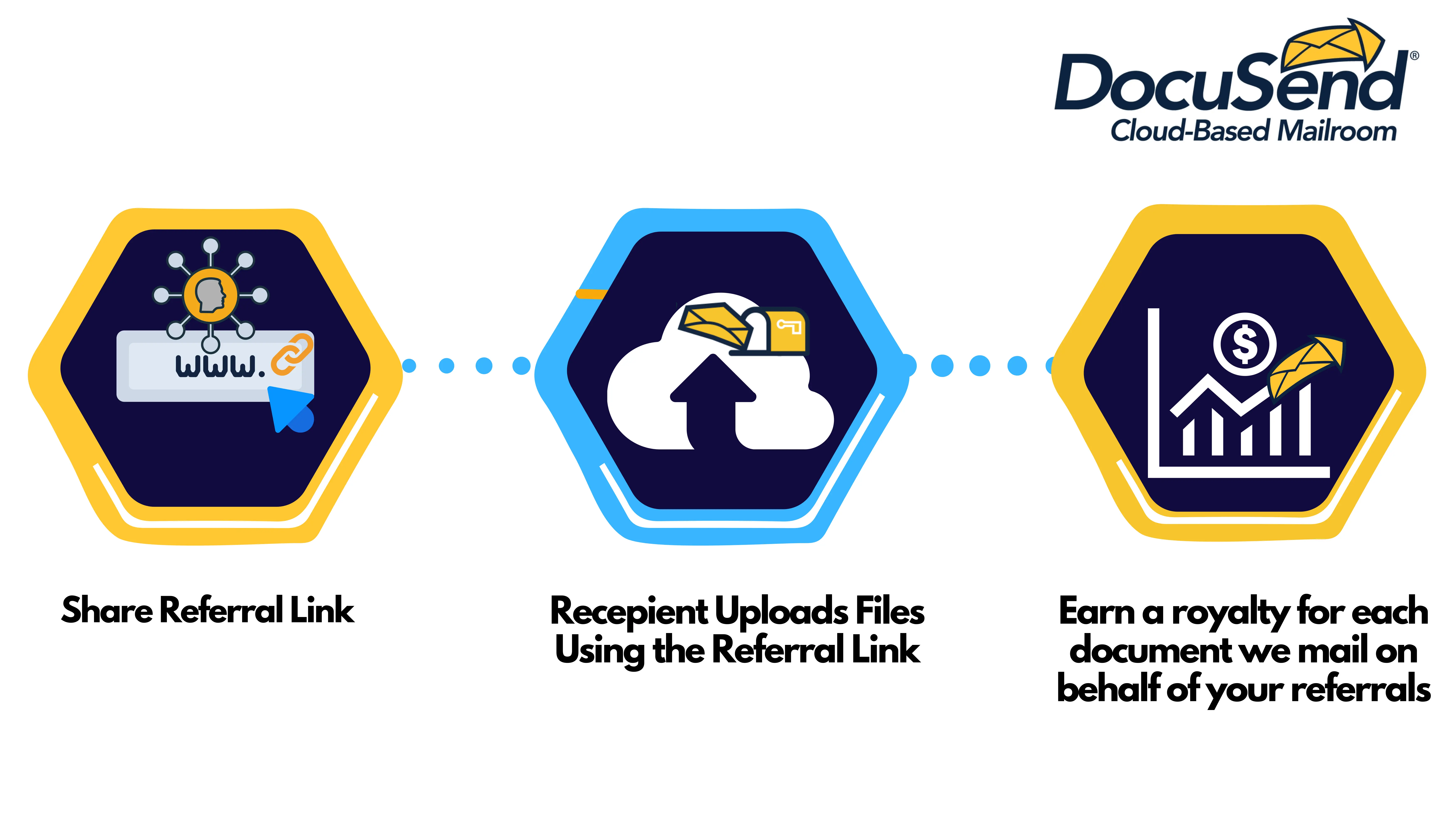 The result will provide you with an easy-to-use print-to-mail service for your clients and contacts that makes sending paper mail as simple and efficient as sending email. Your customers will be tethered to your master DocuSend account, and you'll have your own DocuSend portal to track activity and totals by individual users.
DocuSend Affiliate Partners can earn incremental revenue with our document-delivery system. When you partner with DocuSend, you provide your customers with a referral link to our cloud-based mailroom, and you benefit from their mailing activity.
Generate Recurring Revenue
You will receive a royalty for every envelope your clients mail through the DocuSend Affiliate Partner Program. Our revenue-sharing structure is based on the same principles as DocuSend: simplicity and ease of use. You earn $0.02 for each document we mail on behalf of your referrals, regardless of volume or materials.* Your royalty is calculated quarterly based on prior 3 months activity from your affiliate link. Royalty is credited with a DocuCredit to your DocuSend account to be used towards your own mailing activity, or with higher royalties, can be paid via ACH transfer.
Risk-Free from the First Use
There's no risk for your contacts to try DocuSend because there are no contracts, minimums, or set-up fees. They'll save money from their first use too, by eliminating almost all the time it takes to print, fold, stuff, and apply postage—usually about 2 hours just for a few hundred invoices. DocuSend allows your referrals to complete their entire billing process in a few minutes. Your referrals will find it's the easiest way to mail paper documents. Once they've tried it, why would they ever go back to doing it manually?
Affiliate with DocuSend
Enterprise Solutions
If you have your own invoicing or billing software, you may be interested in our API solution that allows your clients to send mail via a "Send US Mail" button in your software. Print-to-Mail REST API.
Questions?
Fill out the contact form or reach out to Alice Witherow at awitherow@docusend.biz to learn more about how you can offer DocuSend's document distribution services to your customers and earn revenue through their mailing activity.