What that means for your HIPAA regulated business is: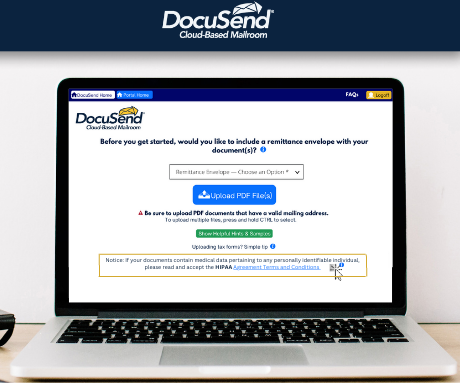 No retention of your PDF documents.
We do not retain any of your images in our system once they are printed and mailed.
Your DocuSend Portal will only contain a summary of mailing activity.
You'll have access to mailing activity totals by day including the file name, number of documents mailed, total cost, etc., but will not be able to access images of the mailed documents.
Special handling of your documents through the printing and mailing process.
Our procedures ensure that your documents are processed, printed and mailed with the highest standards of document integrity and security.
You are responsible to tell us if the documents you upload fall under HIPAA regulations.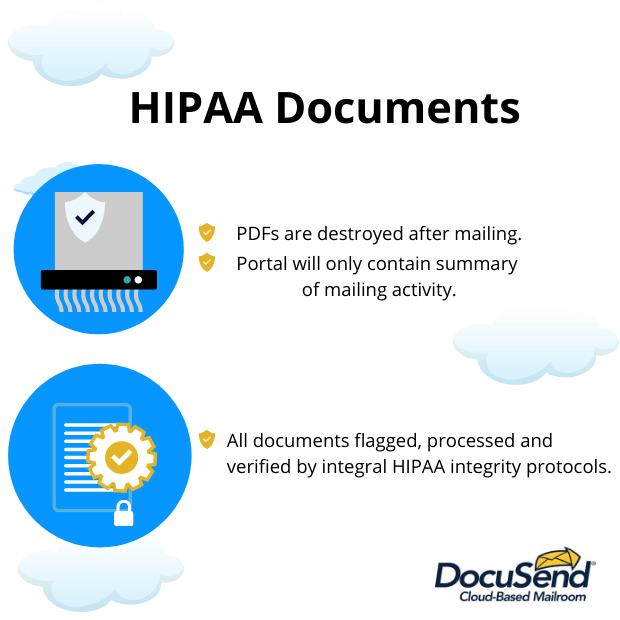 To mail HIPAA documents, review the Terms and Conditions and check the HIPAA box on the upload page.
Click on the Terms and Conditions link to review documentation and then check the box.
Uploaded PDFs are destroyed after mailing. No retention of your PDF documents.
Portal will only contain summary of mailing activity. Document images are not retained.
All documents flagged, processed and verified by required HIPAA integrity protocols.