Cloud-Based Mailroom Features
DocuSend's cloud-based mailroom minimizes bill rendering and document processing costs, increases efficiency of receivables, and allows more time to focus on growing your core business. Our buying power diminishes your cost for paper, envelopes, printing, and mailing supplies. That and labor cost savings are bundled into one single low rate that includes postage. Here are a few of the benefits your own personal mailroom in the cloud will provide:
| | |
| --- | --- |
| Web-based Mailing Features | Benefits of Using Cloud-Based Mailroom |
| ✓ Mail into the USA from foreign countries | Eliminate foreign postage and mail is delivered quicker. |
| ✓ Certified Mail | Track mandated or sensitive mail without a trip to the post office. |
| ✓ Low all-in-one price | Minimizes costs and increases cash flow. |
| ✓ No monthly contracts or minimums | Pay as you go with no monthly fees or long-term commitments. |
| ✓ Easy to select options | Choose perforated paper, remittance envelope, color, and a PDF, PNG, JPEG or JPG insert. |
| ✓ Automated mailing service | Increases efficiencies and productivity. |
| ✓ Inventory management | No more ordering paper, envelopes and toner. |
| ✓ Easy online file upload | No programming; works with any accounting software. |
| ✓ Accurate and timely delivery | Expedites receivable revenue. |
| ✓ Secure document delivery | Suppresses mailing of paper documents. |
| ✓ Convenient payment options | No monthly invoice to pay. |
| ✓ Free Report Portal | Simplifies tracking and analysis. |
| ✓ Free Image Bank | Easy access to customer documents. |
Mail Service Comparison
If you're purchasing stamps online and sending mail manually, DocuSend has many cost-saving benefits to keep you healthy and safe. Mail your documents from your remote workplace without having to print, stuff and deliver them to a postal facility yourself.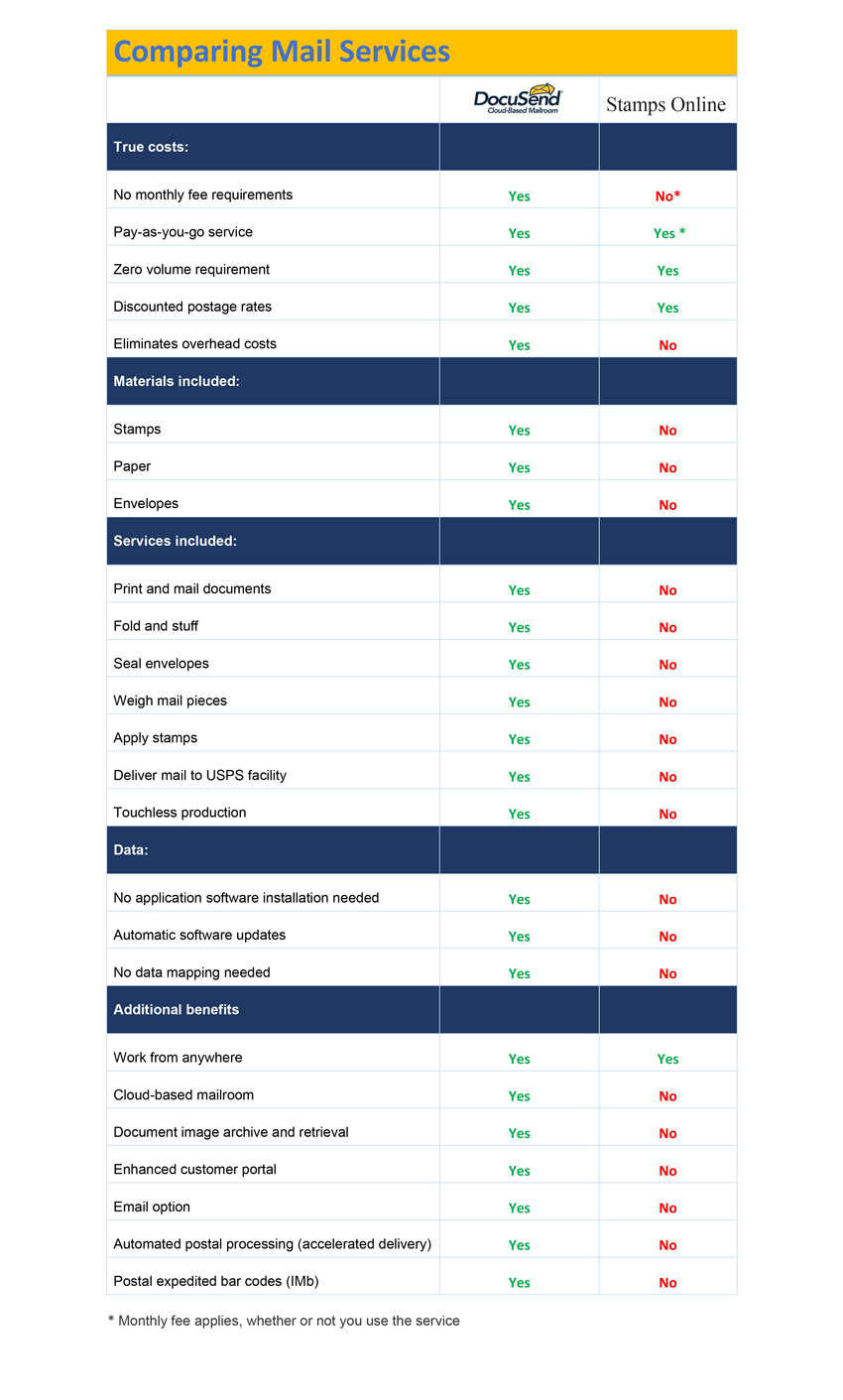 Why More People Are Choosing DocuSend
Send Documents, Letters and Invoices Via US Mail Right from Your Computer, Simply and Securely.
It's faster than buying a stamp!
Upload PDF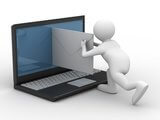 Accessible & Easy to Use
It only takes minutes to upload your PDF file to DocuSend compared to hours spend printing and folding invoices, then stuffing and stamping envelopes.
DocuSend works great for mailing any type of document: invoices, billing statements, estimates, late notices, collection letters, renewal letters, welcome letters and more! And DocuSend works with any accounting software.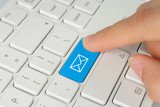 All Inclusive Service
Yup...our pricing for print-to-mail includes processing, printing, folding, inserting, stamping and mailing.
Manage your documents mailed from anywhere through the free report portal and image bank. Plus you get our great customer service...even though DocuSend is so simple to use, you probably don't need our help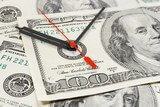 Save Time and Money
How, you ask? As a fully automated web-based print-to-mail service, we buy materials in bulk and can pass the cost savings on to you. Pricing starts at just $0.83 for a one-page document— you're probably spending at least twice that amount to print and mail documents yourself! Think of not only the money you'll save, but the time you can spend focusing on growing your business when you automate a very manual process by using DocuSend.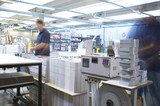 Beneficial at Any Quantity
DocuSend works great for small quantities as well as for larger volumes. No matter the number of documents you mail, our all-inclusive pricing will save you about 50% off the cost of managing the process internally. If you mail more than 5,000 documents a month, contact us for additional savings.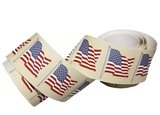 Quick Turnaround Time
We print and mail your invoices, statements and letters by the next business day. And you don't have to lick a single envelope! How's that for a document mailing solution?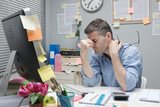 Stop the Frustration!
Time–consuming, menial tasks don't help your business grow. Using DocuSend has many benefits for businesses that have smaller volumes of mail.