Faster Than Buying a Stamp: And Delivered Quicker Too. How the US Post Office Will Deliver Your First-Class Documents Faster
OK, you probably already know that printing your own documents, stuffing and weighing them, purchasing online stamps and having to drop them in a mail box is not the best use of your time. Especially when it only takes a few minutes to upload the same documents to an on-demand mailroom like DocuSend, a service that prints and mails them within two business days. But did you know that the United States Post Office will actually deliver them faster when you upload to DocuSend?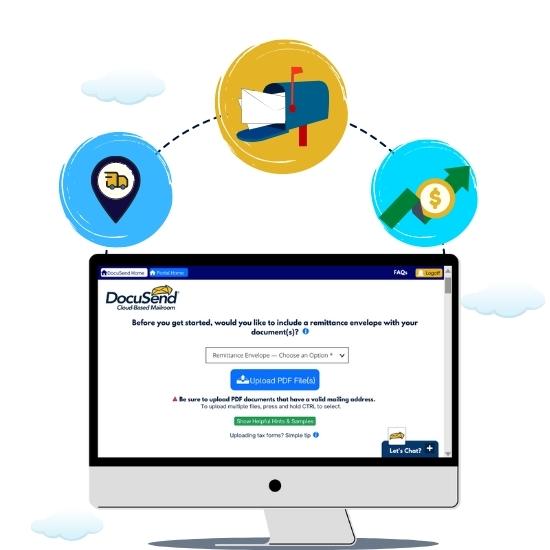 That's because all your letter size mail pieces are processed through a rigorous postal automation system that adds an Intelligent Mail barcode (IMb) to each qualifying address. The completed documents are submitted to a postal acceptance facility and verified with the required USPS documentation. That allows the documents to be immediately entered into the USPS's highest level of barcode scanning equipment in the world. On the other hand, if you use the online stamp method and mail it yourself, the Post Office must complete all of the steps DocuSend would have already completed for you. And while postal workers are doing that, DocuSend's mail is already making its way way to your recipients.
Here's just a few of the advantages DocuSend users enjoy:
Faster delivery
Elimination of printing, folding, stuffing, stamping
Mail Trail– tracks your documents through the USPS system
Cuts the cost of mailing internally in half
No hidden fees, contracts, volume requirements
Creates more time to grow your business
So, DocuSend is not only faster than buying a stamp, it also helps the USPS deliver it faster.
Cloud-Based Mailroom Benefits
DocuSend's cloud-based mailroom minimizes bill rendering and document processing costs, increases efficiency of receivables, and allows more time to focus on growing your core business. Our buying power diminishes your cost for paper, envelopes, printing, and mailing supplies. That and labor cost savings are bundled into one single low rate that includes postage. Here are a few of the benefits your own personal mailroom in the cloud will provide:
| | |
| --- | --- |
| Web-based Mailing Features | Benefits of Using Cloud-Based Mailroom |
| ✓ Cloud-Based Mailroom Service | No Software to Install. |
| ✓ Mail into the USA from foreign countries | Eliminate foreign postage and mail is delivered quicker. |
| ✓ Certified Mail | Track mandated or sensitive mail without a trip to the post office. |
| ✓ Low all-in-one price | Minimizes costs and increases cash flow. |
| ✓ No monthly contracts or minimums | Pay as you go with no monthly fees or long-term commitments. |
| ✓ Easy to select options | Choose perforated paper, remittance envelope, color, and a PDF, PNG, JPEG or JPG insert. |
| ✓ Automated mailing service | Increases efficiencies and productivity. |
| ✓ Inventory management | No more ordering paper, envelopes and toner. |
| ✓ Easy online file upload | No programming; works with any accounting software. |
| ✓ Accurate and timely delivery | Expedites receivable revenue. |
| ✓ Secure document delivery | Suppresses mailing of paper documents. |
| ✓ Convenient payment options | No monthly invoice to pay. |
| ✓ Free Report Portal | Simplifies tracking and analysis. |
| ✓ Free Image Bank | Easy access to customer documents. |
Documents are mailed within two business days provided that uploaded PDFs meet basic DocuSend criteria (Printed to PDF, not scanned, valid addresses). * For uploads in excess of 5000 documents per day, please contact customersupport@docusend.biz for scheduling.
Mail Service Comparison
If you're purchasing stamps online and sending mail manually, DocuSend has many cost-saving benefits to keep you healthy and safe. Mail your documents from your remote workplace without having to print, stuff and deliver them to a postal facility yourself.
Comparing Mail Services
Stamps Online
True Costs:
No monthly fee requirements

💬

Yes
No*
Pay-as-you-go service

💬

Yes
Yes*
Zero volume requirement

💬

Yes
Yes
Discounted postage rates

💬

Yes
Yes
Eliminates overhead costs

💬

Yes
No
Materials Included:
Stamps

💬

Yes
No
Paper

💬

Yes
No
Envelopes

💬

Yes
No
Services Included:
Print and mail documents

💬

Yes
No
Fold and stuff

💬

Yes
No
Seal envelopes

💬

Yes
No
Weigh mailpieces

💬

Yes
No
Apply stamps

💬

Yes
No
Deliver mail to USPS facility

💬

Yes
No
Touchless production

💬

Yes
No
Data:
No application software installation needed

💬

Yes
No
Automatic software updates

💬

Yes
No
No data mapping needed

💬

Yes
No
Additional benefits
Work from anywhere

💬

Yes
Yes
Cloud-based mailroom

💬

Yes
No
Document image archive and retrieval

💬

Yes
No
Enhanced customer portal

💬

Yes
No
Email option

💬

Yes
No
Automated postal processing (accelerated delivery)

💬

Yes
No
Postal expedited barcodes (IMb)

💬

Yes
No
* Monthly fee applies, whether or not you use the service
Why More People Are Choosing DocuSend
Upload PDF to Mail
Send Documents, Letters and Invoices Via US Mail Right from Your Computer, Simply and Securely. It's faster than buying a stamp!